Vancouver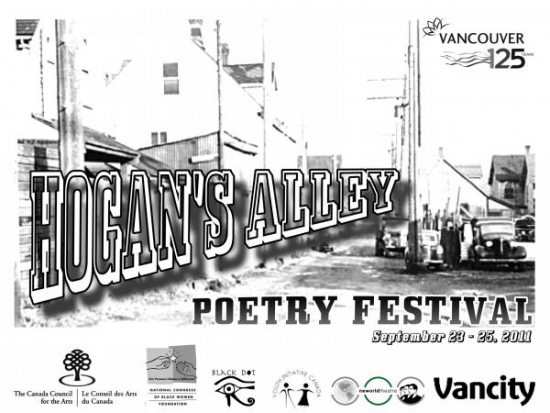 2011 saw a flurry of cultural events staged to celebrate Vancouver's 125th anniversary, including two major poetry festivals.
In late September, the Black Dot Roots & Culture Collective (BeDRoCC) organized the first-ever
Hogan's Alley Poetry Festival
in partnership with the National Congress of Black Women. Artistic Director Kevan Cameron, aka Scruffmouth, put together a week of events that highlighted not only the talent of African-Canadian poets in BC, but also the lost heritage of
Hogan's Alley
, a focal point of the black community in Vancouver before the area was demolished in 1970 as part of a failed plan to create an interurban highway.
The festival's opening night on September 23rd wove art together with history, spoken word with a slideshow by Wayde Compton and documentary film by Cornelia Wyngaarden and Andrea Fatona. Over the next three days, events were held at the Jimi Hendrix shrine, MacLean Park and The Brickhouse. Placing the festival in and around the original location of Hogan's Alley made the history tangible and gave the poetry an increased relevance and urgency. On closing night, Adelene da Soul Poet, aka Bertha Clark, spoke about how her family had lived just a stone's throw from The Brickhouse. Her stories of those times allowed the audience to better understand the roots of her poetic practice and lent her performance a shining intensity.
The second festival was framed as a poetry conference by poet laureate, Brad Cran, its organizer.
v125pc
concentrated on the best emerging page poets in North America ("emerging" defined as those who had published their first book after 1990). The festival was conducted as a series of readings and panels at SFU's downtown campus, giving the events a rather stodgy, academic feel. Of the twenty-five events, only one early morning panel included spoken word, which I moderated. Participants Sheri-D Wilson, Sean McGarragle, and Tanya Evanson all gave dynamic readings. During the questions, Tanya left the head table at the front of the room to join the audience, suggesting a pedagogical approach could be replaced with a communal one. There was no representative of the spoken word community on the final panel, labeled "Directions in Contemporary Poetry", showing a wish on the part of the poetic establishment to exclude spoken word from the discussion on the future of poetry in Canada. Just as disappointing was the bewildering lack of an invite to Sheri-D to be part of the poetry cabarets mounted in collaboration with the
Vancouver International Writer's Festival
. The Thursday night cabaret was hopelessly stiff and staid and could have benefitted greatly from a performance poet of her quality.
There were a few bright spots though. Matthew Zapruder presented poems that were clear and urgent, written in simple language yet filled with challenging leaps of imagination. Dave McGimpsey showed how stand-up comedy can breathe new life into light verse, a poetic genre that's due for a comeback. In the same spirit of reviving neglected traditions, Canada's golden child of page poetry, Jeramy Dodds, has begun to experiment with rhetorical poetry. He gave a powerful reading of his adaptation of Ginsberg's "America", entitled
"Canada"
, which was more homage than satire and demonstrated how oratory and lyricism could be elegantly combined.
Finally, the Vancouver slam scene has undergone several organizational changes in the past few months. In November,
Jessica Mason-Paull
was elected to be the first female slammaster in
Van Slam
's history. She will be working with incumbent slammasters Duncan Shields and Sean McGarragle, learning how to run the show, until May 2012 when she officially takes over as lead organizer.
Slam Central has also seen a changing of the guard as Candice James has handed over the main organizational duties to Reese McBeth and Zaccheus Jackson. The BeDRoCC slam series is on hiatus this winter and is not currently planning to send a team to CFSW 2012. The good news is that Slam UBC – which occurred irregularly last year – has been brought back to life by the new leadership of Alberto Cristoffanini and Mike Johnston.
More Scene Reports from Issue #4