Fredericton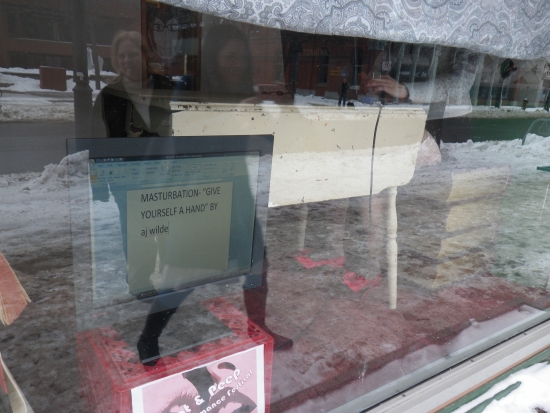 Trail of Poems and Hoot & Peep Mini Performance Festival lively up Fredericton
It was a quiet winter literature in performance-wise in Fredericton until Ground Hog Day. Just a few regular-type author readings on campus through the UNB Department of English, a number of Odd Sundays at Molly's readings, and a swarming of the Robert Burns statue on The Green on his night, but no spoken work performances.
Things livened up a little with the
Trail of Poems
installation by Joe Blades in the Charlotte Glencross Gallery of the Charlotte Street Arts Centre in Fredericton. During the opening Blades performed several pieces including breathtaking 'The writer writhing about writing about Fredericton/ …' and 'Island' — both textual artworks in the exhibition. He is in the gallery several days a week at a desk–office installation writing poems on a manual typewriter accompanied by computer and journal. The installation and writer-in-residence performance continues until mid-March. It can be followed online at
http://brokenjoe.blogspot.com
.
The following week, 6–11 February, saw the Hoot & Peep Mini Performance Festival happening in Owl's Nest Bookstore's storefront window boxes directly across the street from Fredericton City Hall. The festival, a project of the Charlotte Street Arts Centre and Gallery Connexion, was the idea of Jo Griffith, who works in criminal justice and education. Several of the artists and performances were text-based, including Jo Griffith's 'ArteFacts/x-Colonel Williams' windowbox performance wherein she hand-embroidered texts from the police interrogation of Colonel Williams onto a wedding dress.
Shaun Bartone, a sociology instructor at UNB Fredericton, queer performance artist, musician, and poet created 'Tempest in a Teapot: An exploration of sexual repression': Under a picture of Queen Elizabeth II, Cynthia Ryder, wearing fetish gear, and Shaun, wearing a light blue striped button-down shirt, red paisley tie, black sweater vest, jeans with black boots, black leather trench coat, black felt pork pie hat, black patent leather neck collar with red trim and a nickel steel o-ring, and matching cuffs on wrists, sipped tea while reading aloud passages from banned books, with the reading projected through speakers placed outside the store. They had a simultaneous screening in the adjacent window box of the video Slut: A Drama in One Word alternating with found film footage of tea services from around the world.
Joe Blades' 'Blue Brains' was a word association writing performance based on the idea of academic intellectual congestion and notions of attraction and the uncomfortable. While simultaneously blogging, he was obsessively writing — one day on a newsprint flipchart, and another day painting on a stretched canvas — a continuous stream of fieldnotes, lists, and word association, layer upon layer, in a text bricolage research-style both illuminating and obscuring itself.
Amanda Jardine's 'Decolumnization' explored the disconnect between theory and sexuality in the academic community by using live creative nonfiction writing performance — one day a sex advice newspaper-style column on masturbation; and another day lesbian love letters — projected in a large font on a computer monitor in the store window while dressed in red stiletto shoes, fishnets, and boy-style boxer briefs, sitting on a stack of giant books, with her upper body obscured from view.
Candace Mooers' 'Lessons in Loyalty / Confessions' performance was a reading of an S&M radio script, without following any of the "normal" emotional cues for audio performance, while using a voice mixer for distortion and a homemade pirate radio transmitter to broadcast an FM signal receivable in the immediate vicinity.
The festival garnered plenty of media attention in the lead-up to a Salon Connex critical discussion set to happen 6:30 pm, 25 February, in the Charlotte Street Arts Centre Auditorium, 732 Charlotte St., Fredericton, using Nathalie Daoust's Tokyo Hotel Story exhibition at Gallery Connexion and Hoot & Peep as its starting points.
More Scene Reports from Issue #4