Poesiefestival Berlin 2011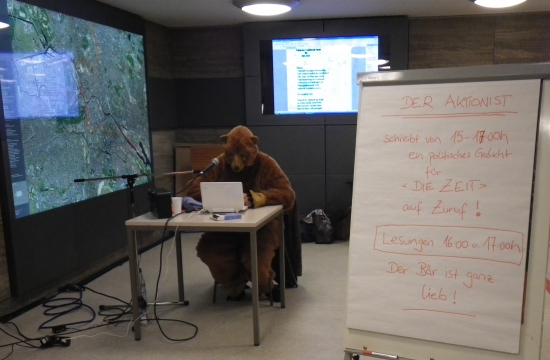 Poesiefestival Berlin is an annual festival for contemporary poetry fused with other arts and media. In 2011, it ran from 17–24 June. As the representative of the League of Canadian Poets I was able to attend the first three days—those surrounding an 18 June meeting of organizers representing at least 25 poetry organizations and/or poetry festivals in 19 countries—from around the world, but mostly European.
Poesiefestival Berlin
is an annual festival, in its thirteenth year. A project of the
Literaturwerkstatt Berlin
organization with Dr. Thomas Wohlfahrt, Festival Director, they organize activities year-round.
Poesiefestival Berlin 2011
had a budget of about 350 000€. Most events happened in the Akademie der Künste, Pariser Platz, on the East Berlin side of Brandenburg Tor.
The opening night's event 'Weltklang–Nacht der Poesie' ['Worldsounds–Night of Poetry'] featured Marcel Beyer (Germany), Iva Bittova (Czech Republic/USA), Tsead Bruinja (Netherlands), Kim Hyesoon (South Korea), and others in performance in the Maxim Gorki Theatre.
'Dichtraum, Denkraum' ['Space for Poetry, Space for Thought'] is an event I particularly like because it features writers writing in public in the Brandenburg Gate U-ban station included local fave, Der Bär, who performs while wearing a bear costume.
On the Saturday there were Poets' Corner readings throughout Berlin. A curious event for me was 'Poesie@Pecha Kucha' that allowed each performer to use only twenty text or picture slides (i.e. PowerPoint or similar) for twenty seconds each while they read–performed for a maximum performance length of six minutes 40 seconds.
'Neue Arabische Welt' ['New Arabic World'] presented traditional poetry, performance poetry, and rap featuring Deeb (Egypt), El Général (Tunisia), Hend Hammam (Egypt),
Hind Shoufani
(Lebanon), and Abdouldaim Ukwas (Libya), moderated by Pyranja Rapperin, journalist (Berlin). Pieces performed by
El Général
were rallying points – songs from the uprisings last year in Tunisia.
Former USA Poet Laureate Billy Collins discussed his poetry and gave readings with his German translator, the poet Ron Winkler. Another discussion I attended featured Silvio Rodríguez (Cuba) with Dieter Ingenschay (Berlin). Rodríguez is a singer-songwriter who was the voice of the Cuban Revolution. Since the 1970s, he has been also been known for his political work. Ingenschay interviewed Rodríguez about his poetry, his music, and his dream of a rightous Cuba.
The 2011 'e.poesie' event in Poesiefestival Berlin was concerned with perspectives or current positions in the border region between reciting text, instrumental music, and sound or sound performance. The music and poetry co-opted the real, spectacular architecture of the Academy of Arts' open, divergent and light-filled structure with its central staircase. The invited artists included Ondřej Adámek (Czech) / Sjón (Iceland); Mark Barden (USA) / Eliav Brand (Israel) / Michael Stauffer (Suisse); Dmitri Kourliandski (Russia) / Stanislav Lvovsky (Russia), Natalia Pschenitschnikova and the Chamber Ensemble Neue Musik Berlin. One complex performance included musicians, performance artists–dancers, wall projections, and the writer–reader.
A sidetrip within Berlin took several of us to experience the simultaneously occurring 48 Stunden Neukölln 13. Kunt- und Kulturfestival with many open galleries, opened artist studios, and poetry readings on the deck of the Spree-Prinzessin travelling the River Spree.
More Live Performance Reports from Issue #4