Toronto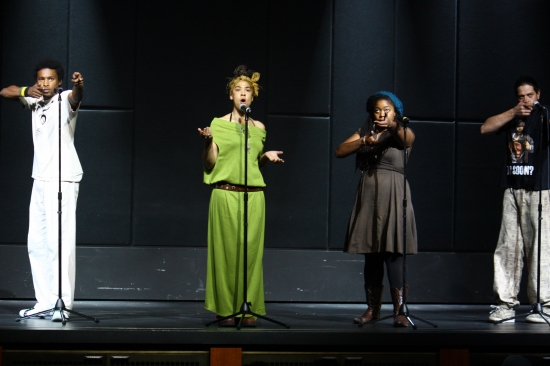 (Spoken Word) Noun 1. spoken word - a word that is spoken aloud
Synonyms: vocable
Spo´ken Pronunciation: spō´k'n
1. Uttered in speech; delivered by word of mouth; oral; as, a spoken narrative; the spoken word.
2. Characterized by a certain manner or style in speaking; - often in composition; as, a pleasant-spoken man. "Methinks you're better spoken."
Toronto - Some of the loudest movers and shakers in the province of Ontario reside here but by no means define the powerful and talented group of artists that are part of Toronto and the GTA. Make sure you take the time to check out your favourites and give those unknown to you the opportunity to blow your mind and tantalize your ear buds.
In the past several years an abundance of poetry slam events have popped up across the country, while Ontario remains the essential hotbed of activity. The Burlington Slam Project relies on the credentials of its co-founder (Tomy Bewick) and the ever-increasing popularity of poetry slams to engage new writers, performers and other multi-disciplinary artists. Many artists are entirely turned on by this wildfire expressive epidemic of an art form. The event itself has been running for over three years and has recently branched out into Theatre and the Arts in Hamilton. In 2012, the Burlington Slam Project will be leading youth-oriented workshops, bringing in big name performers (Dwayne Morgan) and expanding the understanding of how arts effects us socially, in and around the GTA. Photographer Michelle Darby has been instrumental in supporting the BSP since its early years and continues to attend regularly as a volunteer and audience member, capturing rare moments of brilliance gleaned from the live performances.
Contributor: Tomy Bewick
Some Open Facebook Groups you may or may not be aware of:
Check back for continued coverage for what's coming from Toronto and the GTA!
More Scene Reports from Issue #4