Volunteer Radio Showcases Spoken Word: "because freedom of speech is way too dangerous"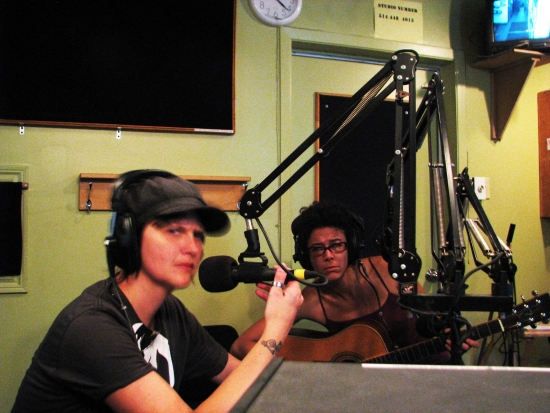 Back in the mid-nineties, there were high hopes for performative forms of poetry like spoken word, performance poetry, sound poetry, and dub poetry. The feeling was that at last, poetry was going to regain its rightful place in the cultural consciousness of the mainstream. In America, slam poetry was sweeping the nation. The Lollapalooza festival featured 'Reverend Samuel Mudd's Spoken Word Revival Tent', a performance space showcasing both international and local spoken word artists at each stop of the tour. In Canada, Jill Battson put poetry performances on MuchMusic via the Word Up video series, bringing the form to a wide audience. Poetry was in the cafés and bars of most cities, as it hadn't been since the sixties.
In the next decade, performers like Catherine Kidd, Motion, Seth-Adrian Harris and Shane Koyczan were featured on Bravo's Heart of a Poet series, and made occasional appearances on CBC's cutting edge youth-oriented late-night program ZeD. In the States, HBO's Def Poetry and Bob Holman's ground-breaking PBS series United States of Poetry showcased the form. In 2004, Lillian Allen conceived and hosted a thirteen episode radio program on CBC, Wordbeat, that featured a wide range of performance poetries. CBC's annual Poetry Face-Off series also gave valuable air time to spoken word artists.
Currently, however, none of these programs are still in production. It's as if all the innovative risk-takers producing mainstream arts programming fell off a cliff around 2007. If one wants to hear new spoken word recordings today, one can find them listed as a genre on CBC's Radio 3 website, with 56 artists featured. CBC International's
Link
(rebroadcast in the wee hours on CBC 1) offers regular poetry reports. Recently, slam poet
Ian Keteku
found valuable airtime on CBC's George Stroumboulopoulos program. But generally speaking, when it comes to the Canadian media mainstream, spoken word remains homeless.
This really seems the be a reflection of an ossified media elite that cannot sense which way the wind is blowing. Consider the current popularity of slam poetry across the country, the existence of an underground but burgeoning national touring circuit for performers, the health of the Calgary International Spoken Word Festival, The Canadian Festival of Spoken Word and many other literary festivals with spoken word components, and the recent stage works mounted by a diverse range of performers, from dub poet d'bi young to queer spoken word artist Luna Allison to the uncategorizable work of Moheb Soliman ... and yet for the most consistent media programming dedicated to the form, one has to visit the volunteer-driven campus and community radio stations across the country.
The campus-community programs are labours of love, generally hosted and produced by practicing artists. One such artist is
Fortner Anderson
, who recently launched the book and CD collection
Solitary Pleasures
. His radio program
Dromotexte
is one of the longest-running shows devoted to an eclectic variety of spoken word and poetry recordings, appearing weekly on Montreal's
CKUT FM
since the mid-80s. He was already a long-time activist in the Montreal spoken word scene, where he edited a poetry micropress, performed in a series of live poetry confrontations in punk rock venues, and curated a local version of Dial-a-Poet, where a new poetry recording was featured every day at a dedicated phone number. "At the time, CKUT was looking for its FM licence, and they needed a community component," Anderson said. "So I was approached by one of the volunteers, and they asked me to develop a half-hour poetry show. I decided to put recordings of poets on the air, similar to a Top 40 music show with no comment, no interviews, just the work in a rolling format." The show has since been expanded to an hour.
The format of
Dromotexte
is unique among those I surveyed for this article. More typically, programs feature a mix of interviews with performers, live readings, and recorded tracks. One example is
Howl
, airing weekly on Toronto's CIUT FM. Founded fifteen years ago, it has two programmers, Nik Beat and Nancy Bullis, who alternate the host's chair. Each brings their personal taste to their respective programs. "Nancy's show is more poetry and mine is more spoken word, which covers a lot more diversity of forms," Beat explained.
One of the founders of the Neo-Beat literary scene in Toronto in the early 1990s,
Nik Beat
is the author of two books of poetry. He's also recently released a music and poetry CD,
Love Among The Ruins
. His approach to radio is broad, ranging outside of the parameters of straight-up spoken word to cover various aspects of culture. According to Beat, "I especially book highly evolved performance / entertainment-based people on the show, from LA Psychic to the Stars, Barbara Mackey to Beat poet Anne Waldman to singer-songwriter Richard Hell of Television and The Voidoids to Canadian icons like Don Cullen and Afua Cooper to more community-based and local spoken word artists like
Liz Worth
, Monica Kuebler, Valentino and Dave Silverberg, to journalists like Linda McQuaig to 90s Rock Star Alannah Myles to spoken word alternative Queen Lydia Lunch to Rock Icon Grace Slick."
Joe Blades
, a poet and publisher who has been with
Ashes, Paper and Beans
on Fredericton's
CHSR FM
since 1995, has adopted his own style of broad-ranging eclecticism over time. "I expanded the show's scope for just poets / poetry to include translators, visual artists, filmmakers, and performing songwriters who were not getting coverage otherwise and who are in my spheres of interest. I have also made the program, in part, multilingual though a mix of published recordings and readings attended wherever in the world that I record for broadcast: languages broadcast include English, French, Spanish, Italian, Finnish, Portuguese, Serbo-Croatian, Slovenian, Shetlandic, German, Kurdish and more."
John Akpata
, a veteran spoken word artist who recently released the CD EP
Breadcrumbs
, hosts
Monday Night Scribes
on Ottawa's
CHUO FM
. "Over the eight years I've been doing the show I've had dozens and dozens of live guests come on the show to recite their poetry, perform their spoken word, read from their poetry books, read short stories, novels. I've had community activists as guests, I've had politicians as guests, and on the evenings when I don't have a live guest, because I'm a performer I have a pretty decent library of spoken word, especially Canadian spoken word, and I do my best to play spoken word CDs."
While not all hosts range outside the parameters of The Word, there is generally a willingness to embrace work across the genre divide.
RC Weslowski
, a founding member of Vancouver's slam poetry scene who recently toured Canada with a Fringe Festival performance, currently co-hosts
Wax Poetics
on Vancouver's vibrant co-op radio station
CFRO FM
. "Our goal is to expose poets of all stripes and experience to the listening audience. The basic criteria is that they can fill 30 minutes worth of air time and be a decent conversationalist. All experience levels are welcome. We have had GG-nominated poets to writers who are still trying to figure out how to put a chapbook together as our guests. So we're quite open and inviting and usually a lot of fun to chat with."
These programmers have a variety of opinions on the relationship (or lack thereof) between spoken word performance and mainstream media. Anderson said, "There was always this urge by poets, especially years ago, to gain access to the mainstream media. To get an article in the mainstream press or to get on television, which is a kind of an apotheosis of the presence of the poet. Looking back, I realize that all of those attempts were highly unsatisfactory.... They gave a distorted and perverse reflection of what we were attempting to do, which was altogether appropriate for the newspaper and television. they took what we were doing and conformed it to what they needed to tell the population at large. Usually it was quite different from the project we were attempting to do on the ground. Performance poetry still remains, for me, a bit of an oasis in one way. It is still free to take what forms individuals within the community wish it to take. It still speaks directly to communities and usually face-to-face, and that I believe gives it a vitality and a value which is quite important in our age, when most communication is highly mediatized and alien to us. Its absolute uselessness is something that I think is quite precious."
Akpata thinks it is in the nature of spoken word performance to speak the truth, and this sets up a natural barrier against its cooptation by the mainstream. "The difference between spoken word and hiphop is, I think the spoken word artist has to be perceived as genuine, whereas the hiphop artist can put on an act. Half of the hiphop artists that are out there are actors, they're pretending to be a particular persona, whereas the spoken word artist, because you're a poet first, you have to be brutally honest in what you're doing. So I understand why the mainstream media wouldn't touch spoken word with a ten foot pole, because the average spoken word artist can and will say things that are so controversial, through their honesty, that organizations like CBC stop doing it. In the last couple of federal elections that I ran in, I got to do a
TV commercial
for the political party. So I wrote poems, and I did spoken word pieces, and CBC's phones rang off the hook because people wanted to see it again and wanted to know who I was and they wanted to hear it again.... So even though it's easy for the mainstream media to do a lot with spoken word, they don't, because freedom of speech is way too dangerous."
Nik Beat doesn't see the mainstream indifference as an antipathy, however, and feels that spoken word can reach that audience within a more varied format. "The show is much less dry poetry readings, and more exciting and entertaining [...] to keep listeners interested and to expand our audience, since the poetry field is sometimes very small and esoteric. This has been a positive outgrowth of my getting more famous names on the show, who can entertain as well as edify our radio audience. Lets face it, this is a performance-, reality TV show- and celebrity-based era media-wise, and Howl has had to transform itself [...] to keep us on the air."
Akpata expanded on this concept of where and how spoken word might fit into the mainstream. "I've always been of the opinion that spoken word is the best side dish. It's not the main course. [...] If you're a spoken word artist and you're not using music, and you're going up against stand-up comedians, you're just a person with a microphone, so why is anybody really going to listen to you? I've always believed it's a side dish, and I believe that the mainstream media believes it's a side dish too."
Joe Blades agrees that poetry occupies a marginalized position in the broad swathe of Canadian culture. "We're not the raw, vast country. We're not hockey or really part of the entertainment industry. How often do poets show up on The National, Entertainment Tonight, in People magazine or on the front page of our newspapers?"
Apkata wants to stay away from any 'industry' or star-making impetus. "I really want my own personal career and my radio show and everything that I do to remain fairly organic. I'm trying to develop community with what I have around me. I'm concentrating on my peers and my contemporaries who are successful artists, but they're not necessarily household names or internationally known or super-famous. I'm not trying to make spoken word artists untouchable celebrities, but to make spoken word artists everyday people, so that the kids in high school can say, 'Hey, this is a guy that lives in Ottawa and he doesn't have a big house and he doesn't have a fancy car, but he just came back from Italy. And if he can do it, then I can do it.'"
The spark that drives many poets to become radio hosts is an urge to explore their artistic field of choice.
Penn Kemp
, host of
Gathering Voices
on London's CHRW FM, discovered the magic of radio early on. "My first book,
Bearing Down
(Coach House, 1972) was performed in four voices for a Seattle FM radio show in 1973. That performance opened up the door to possibilities for the spoken word in those early days. I've been lifting the word off the page any way I could since then, most recently in videopoems. But the ear remains my first love; hence, radio." After being interviewed several times on CHRW, she was asked to take over the time-slot when the host of the previous program moved on. "It seemed a natural way to greet the literary community, since I'd recently returned to London, my home town, but I'd been out of touch. I was accustomed to running reading series and MCing activist events, so the interviewing process has been fun."
Sandra Alland
co-hosted
In Other Words
on
CKLN FM
in Toronto from 2005 to 2007, when she moved to Scotland. (Unfortunately the Federal airwaves regulator CRTC has since taken the unprecedented and highly controversial move of shutting the station down.) Her segment aired on a monthly basis, and allowed her to produce a show featuring poets and performers she had a particular interest in. "I often invited guests from queer and trans communities, and I also focused on indigenous people and people of colour. There was a lot of great work coming out of those communities that was getting even less airplay than poetry usually got.
"I've always operated at the strange intersection between performance poetry and, for lack of better words, page poetry. I'm a full-on word geek, and I'm not a genre snob. So my idea for the show was to play recordings by people from across the spectrum of what was considered poetry, and to interview writers and performers about their process and their work. The show was only 30 minutes when I started, but shortly after was expanded to an hour. That made a huge difference in being able to properly interview people."
One of the first hurdles these radio programmers faced was finding material for their shows. Spoken word and poetry recordings rarely find distribution, resulting in various improvised strategies for securing material for broadcast. According to Anderson, "It's very costly to make the CDs and very costly to distribute them. Many people are content to distributing their work to their local circle where they know they've made a name for themselves, so finding work is a constant search through various means. Over the internet of course, sometimes through eBay, sometimes via a couple of poetry centers here and there. Saint Mark's Books [in New York City] occasionally has interesting material. There's Beyond Baroque in Venice, California, there's a few other places."
Akpata described how he combined his participation in the Four Continents Slam – a Slam competition that toured across the United Kingdom – with his ongoing search for on-air content. "I did a tour with eight different spoken word artists from eight different countries. I represented Canada, there was Sonia Renee Taylor from America, Elvis McGonagall from Scotland, Steve Larkin from England, Kojo Baffoe from South Africa, Andreattah Chuma from Botswana, Thom the World Poet from Australia, Penny Ashton from New Zealand, Henry Bowers from Sweden was there, I got to meet Rob Gee from England – so I got all those CDs and I played them. Every time I travel or do shows or tour, I meet a lot of spoken word artists that might not necessarily get a lot of play, so when I was in England and when I was in Scotland I picked up a lot of CDs from the United Kingdom. I've travelled with American performers and I've travelled to the States, so I've gotten a lot of CDs from the States. And when international performers come to town, clearly I want to meet up with them to get their stuff."
These spoken word radio programs serve as a virtual nexus, a meeting point between the local scene(s), and the national and international artists. This has allowed the hosts to build a broad picture of what's happening in the world of performance poetry and spoken word. According to Kemp, "It's vibrant, coast to coast to coast, with hubs in Calgary, Montreal, Toronto, Vancouver..." Alland agrees: "I would have to say the main impression is that there are a billion kinds of poetry in Canada. At the time of the show I would say communities were pretty divided, but now I get the feeling that most people aren't battling quite as much over genre. There is still a race divide in many scenes, though."
Nik Beat's analysis is similar: "The show has changed my idea of what poetry is. It is a lot bigger and wider a concept than I realized, running from Beat and Neo Beat to hip hop, Dub and rap to Sound poetry to pure comedic to Jazz poetry to Academic and traditional forms. Howl is named for the Beat poet Allen Ginsberg's poem precisely because it is / was performed in public for listeners of all stripes to enjoy, not just a privileged few. It is a pop form, not just to be read to oneself or analyzed in a think tank somewhere."
Beat continues: "Also, the show has put me in touch with a much wider diversity of the local scene activities and readings [such as] This Is Not a Reading Series, and demonstrated for me how huge the scene has become as well as eclectic compared to when I was first doing this show. I have heard from many poets [...] that Howl and myself and Nancy have played a big part in exposing and expanding the spoken word in Toronto and Ontario, and in expanding the meaning of what poetry and spoken word actually is."
Being open to the electic range of forms and genres available for broadcast has become an ongoing learning experience for the poets and performers who host these radio shows. Anderson said, "The show has been a tremendous education about the various types of poetry produced, from rap and rant to the various schools of sound poetry, the performance-based work, feminist work. It allows me to hone an ear for what works and what doesn't work. I believe that very strongly, that to determine the value of work you need to have an extraordinarily wide range of what you listen to, so that you can compare and develop an ear for what works and what doesn't."
Kemp agrees: "Concentrating on the voice in radio rather than gesture or physical presence in communicating poetry has taught me to listen acutely, and that's had an effect not just on my sound poetry but on all my work. My ear has been cleared through editing the shows."
RC Weslowski points to a general broadening of his sense of community: "With all our different guests over the years, I've been able to see the world in a wider and wider way. I feel like without the show, I wouldn't have been interested or able to track down some of the writers we've had in our studios. Hearing people's takes on a wide array of ideas keeps reminding me that any subject, thought, idea is fodder for poetry in the right hands. It keeps my mind and heart open. And I definitely feel more in touch with other communities of writers, thanks to the show."
Campus-community radio shows devoted to spoken word and performance poetry play an important role in promoting an otherwise under-represented art form in Canada. In cooperation with the many local live poetry, spoken word, slam poetry and dub poetry venues, they bring much-needed exposure for countless artists. The programmers I interviewed were unanimous in their willing support of touring performers. Kemp said, "The combination of national tour and sending out CDs to campus radio shows is a natural. Contacting the hosts is essential: it's always the personal contact that counts in this far-flung community we call Canada." RC Weslowski recommended doing some serious research when planning a tour. "Plan ahead. Use the internet and learn what sort of media supports poetry … lots of university stations have poetry / spoken word shows. Set aside a budget to mail CDs out to people, or track down their contact info and let them download some or all of your recorded work for airplay."
Campus-community radio is notoriously slow to respond, due to its primarily volunteer-driven, low-budget nature. Sandra Alland said, "Follow-up is important regarding CDs and other recordings. You're often not getting ignored – instead your CD was stolen, lost or tossed. It's usually good to call or email to see if they arrived. Also do your research in advance, don't just send to every radio show in the country. You wouldn't believe the number of folk music and death metal CDs I received for a literary show!"
Joe Blades pointed out some of the technical and financial limitations involved in dealing with campus-community radio shows. "With a once-a-week show, it's difficult to do interviews sufficiently far in advance to promote shows by performers passing through Fredericton, but they definitely are a good idea. I don't make long-distance calls on my dime for interviews, [while] campus–community radio stations usually have tiny budgets. I have bought portable recording equipment to take with me and can record interviews over the phone. Skype helps."
Akpata expanded on the logic behind making contact with radio shows: "For people that are doing a tour, you contact that host, you make sure they get a CD, you send them your resumé and a couple of YouTube links so they know you're serious. See if you can get in contact with them and do a live phoner on the air, because you'll get to talk on the air and then they'll play your CD. If you can do that four or five times in four or five cities, you'll be a successful artist."
We have entered a new era of media with the advent of high speed internet services. Campus-community radio stations are part of the mutation all media centers are currently undergoing, with many stations now offering live internet streaming of their broadcast content, as well as archived programs in podcast form available for weeks or months after air-time on station websites. This innovation creates, at least potentially, a much wider audience that reaches well beyond FM radio transmission range to truly global proportions. Kemp said, "I'm glad to be able to offer such a service in spreading the vocal word! Expecially when friends and fans can hear it in Brazil, in India, in Britain simultaneously!"
Other programs of interest:
Friday Special Blend on CKCU FM (Ottawa Ont.): http://cod.ckcufm.com/programs/158/7142.html
More Features from Issue #4