Tanya Davis: At First, Lonely, and Clocks and Hearts Keep Going.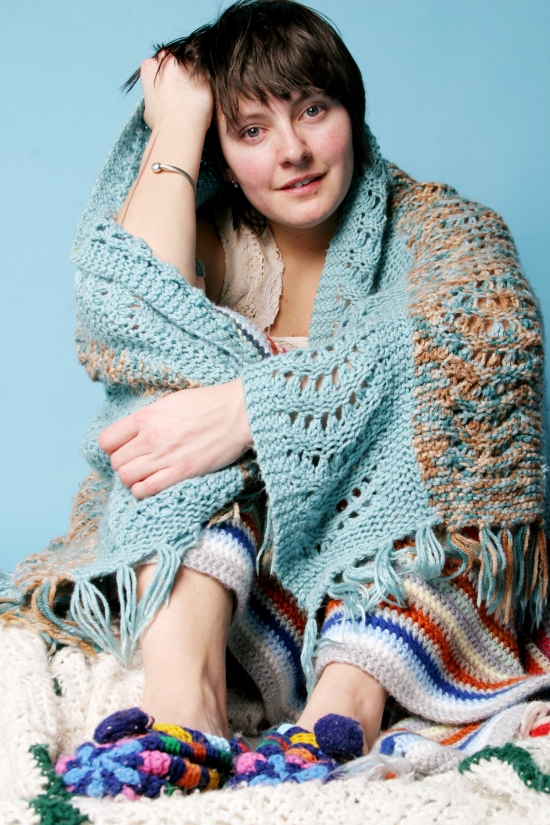 Over the last four years, Tanya Davis has been a virtual hummingbird, creating and releasing tons of new work in a number of genres: spoken word, songs, page poetry, video poems and theatre.
In this review, I'm going to discuss some of Davis' newer work – her first poetry book, released by Acorn Press last year, At First, Lonely, and her third and newest CD, Clocks and Hearts Keep Going.
Let's begin with the book. At First, Lonely is confessional and personal work that ducks and weaves through attempts at love and goodness – the shrapnel and gleaming of trying to live a meaningful, moral life. The poems move between playful humour, love poems and treatises on religion and social issues. A good chunk of the work is narrative prose adapted from songs and spoken word from Davis' CDs and video poems past – really nice to see page versions of pieces like 'Peaceful' and 'Crimson' and 'How To Be Alone' in this book.
I was interested to find out how Davis' work translates to the page, seeing as it's so musical – most definitely married to rhythm and sound play. Some poems are certainly more successful than others, but the same characteristic transparency that invites the reader in is found in this book. The words are from a heart touchingly thrown open, and the book has a playful and straightforward tone. Don't let the casual banter of At First, Lonely fool you, though – a handful of these poems will knock you on your ass from the beautiful turns of phrase.
A few of my favourites: 'Windswept French Girls' ("I will learn to love red wine / I will start to love it tomorrow"), 'Lapsed Catholic', which sets out a new list of punishable sins that are more relevant and acceptable to the author (including "stealing from the earth or people" and "lying just to keep the boat still"), 'Fragility Understandable' ("When other houses become lanky skeletons / dust settling / remember your own / heart in a collection of bones") and 'To Mary Magdalene who wept' (about Jesus: "The man wasn't clean until you made him").
Tanya Davis' newest CD, Clocks and Hearts Keep Going, has a melancholy beauty. Much of the music is about living with or through broken hearts – moving into or out of love. This includes songs like 'Mourn Your Losses' ("Name the names that made you know that your heart is something that you share / And every fine tear / All the sadness you wear"), 'Eulogy for You and Me' (I'll bow my head in praise and remembrance / This is a eulogy to you and me / I won't forget") and 'Sad Secret' ("I am both empty and full at once / And it's all for us").
This CD is definitely her slickest and most polished offering yet, care of Producer Jim Bryson, Ottawa's Little Bullhorn Studios, engineering and mixing by Dave Draves and mastering by Ryan Morey. The lyrics are evocative and the melancholy musicality plucks at your heart. Lyrically, it's not indulgent. It's emotionally honest, but not so much that it gets dragged down in darkness or navel-gazing. There's a lot of beauty in it. A special shout-out to Davis for the nice banjo on tracks like 'Sad Secret', 'Sweep the Dust'. Though 'Fauna' is hands down the star track on this recording.
This CD is something like a prayer on a highway at night. A nice little road trip for the heart.
To hear a sampler from Clocks and Hearts Keep Going, click here.
To read Luna Allison's profile of Tanya Davis, click here.
More Reviews from Issue #4