Influency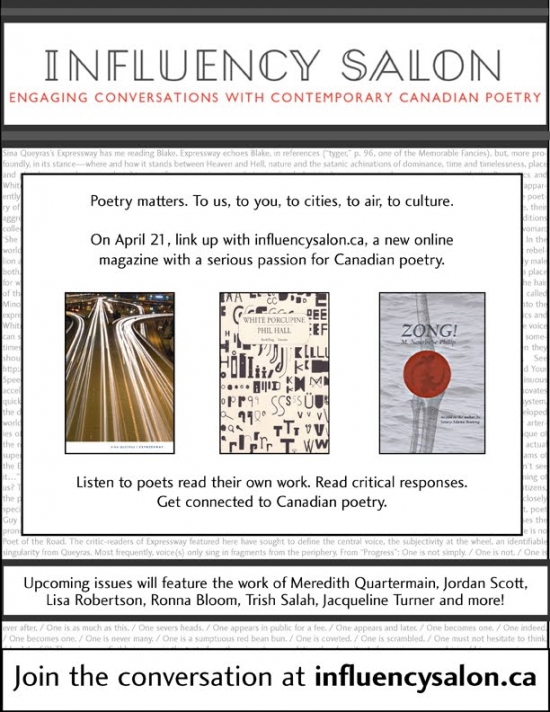 Suppose poetry was something people read, listened to, talked about, interpreted, argued over, wrote about, dreamt about, came back to, rethought, wrote about, argued over, read again. Suppose those people who read poetry read not only the poetry that they most attached to, but across a wide range of poetries and poetics. Suppose such readers of poetry learned to relish, if not all poetries, the encounter between them. Suppose they made a point of talking to one another, of gathering over poetry. Suppose people who were poets were among those people. Suppose we cultivated an ethic of reading and talking and writing (about) poetry that was generous, generative, unhurried and unapologetically critical.
These are some of the suppositions that I suppose might have been in Margaret Christakos' mind when she was first dreaming up
Influency: A Poetry Salon
, in the lead up to its first iteration in 2006. I suppose as much, because I believe it can't be an accident that these are the effects that Influency produces. (And because she told me so, and said so again, in print,
here
.) Influency isn't the only place where people gather thoughtfully over poetry but it is certainly a rare place where people gather so deliberately and consistently over and across poetries, and give such attention to what that gathering might require. As the pun in the neologism suggests, Influency's Salon thematizes and enjoins poetic influence, persuasion, argument, imitation and iteration, even as it cultivates fluency across and between multiple poetic tongues. More concretely, Influency is a class Christakos has convened through the University of Toronto's School of Continuing Studies twice annually since 2006.
I say convened, rather than taught, (though I've seen her teach and she is an extraordinary teacher), because the structure of learning within the class is so utterly collaborative, convivial, and inquiry-based. Also because for each iteration of the course, Christakos gathers together eight poets, inviting them to participate by both reading their work to a class full of people (whom have, crucially, already read it at least once, and begun to formulate responses, questions, theses on it which they will share over the course of the poet's time with them); and by having those poets respond, in turn, during another class with a talk on another featured poet's work.
It is, in my experience, and to my knowledge, a unique encounter, to read to a room full of already fluent readers of one's work, to be witness another poet's encounter with one's work in the form of a prepared talk, to be engaged by number of students in the class with their informed, careful and at times provocative readings, as well as by the formidable, if congenial, critical attention Margaret Christakos herself brings. It is not an accident Christakos calls the class a Salon, evoking a history of literary gatherings, theatres of wit and conversation and by some accounts, an emergent bourgeouis public sphere. And of course there is food, snacks during, informal drinks and dining after most sessions, and a banquet at the end. Poets featured at Influency are too numerous to list at this point but include Billeh Nickerson, Larissa Lai, Sina Queyras, Nathaniel Moore, Sue Sinclair, M. NourbeSe Philip, Rona Bloom, Kaie Kellough, Lisa Robertson, Susan Holbrook, Gregory Betts, John Barton, rob mclennan, Souvankham Thammavongsa, and many more….
Influency Salon is also, now, an online magazine, based on but extending out of the class. Online, Influency maintains the affective feel of the Salon, reading less like a magazine than as a rigorously curated and passionately mindful conversation, or series of conversations, on the state of contemporary poetries. The magazine,
http://influencysalon.ca/
, currently with four issues out (three launched in rapid succession, each month between April and June of 2011) reiterates some of the classroom Salon's components, (written versions of poet's talks on other poets, class members' critical and personal responses to poetry studied, recordings of poets' readings), without precisely re-presenting them. This work is supplemented as well, by 'likes' and 'tastes' (brief and longer reviews), frames (poetic text in dialogue with visual art), and outflows (including a chapbook digitally staging a poetry walk taken/written by the editors during a retreat on Wasan Island last summer). In other words, if in Influency online the conversation is ongoing and unfolding, there is also conscious translation going on, a recognition of the possibilities the medium and a larger audience, a broader, more diffuse, but still participatory public, might allow.
I've had the opportunity to participate in two different seasons of Influency: presenting on Rona Bloom's work, as well as reading my own work and being read by Lisa Robertson, during Influency 7, and just last May during Influency 10, being a guest for a public and epic, even for Influency, event, in which not just one, but two poets, Rachel Zolf and Erin Moure, were featured, gave readings, and talked about one anothers' work (Neighbour Procedure, Pillage Laud) as well as enjoying class participants' responses and analysis. That night, I was struck with the tremendous singularity of the occasion, not only two entirely brilliant poets reading at length from their work to an audience who had already grappled with it, but publicly grappling with one another's work, and with the collective intelligence and cultivated competence of an emergent public's reading of their work in an evolving dialogue, across a range of poetries. It made me suppose again, what if poetry was something (more) people read, listened to, talked about, interpreted, argued over, wrote about, dreamt about, came back to, rethought, wrote about, argued over, read again.
More Live Performance Reports from Issue #4