David Bateman at the Calgary International Spoken Word Festival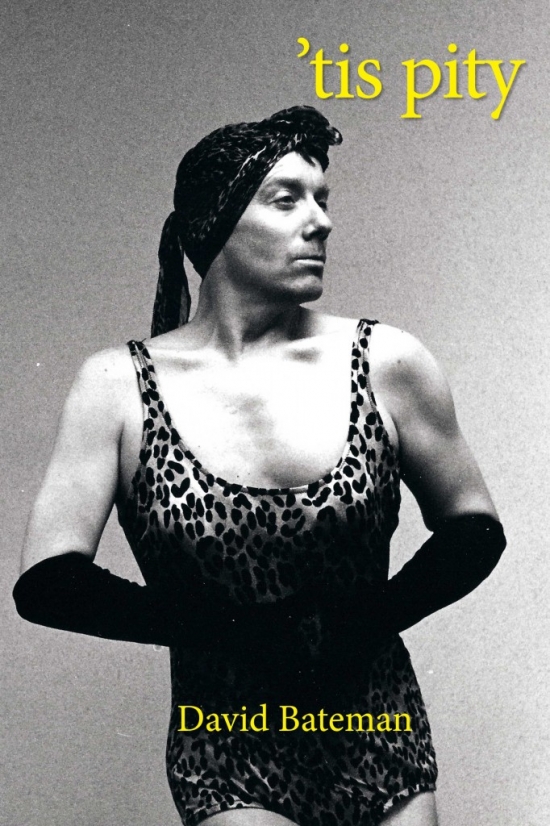 Amidst an action-packed Calgary 2012 International Festival of Spoken Word, one of the not-to-be-missed performances was given by veteran performer, David Bateman. Since completing his doctorate in English Literature and Creative Writing at the University of Calgary in 2002, David Bateman has become renowned for his daring and dangerous work as a playwright and performance artist who tackles and tickles societal taboos and mores. His reading took place at the Auburn Saloon, Calgary's premier poetry stage, and launched Bateman's fourth Frontenac House poetry collection,'tis pity (2012). Note, la contrepèterie has it, 'Piss Titty'. Also launching Frontenac House collections that evening were the languid Lisa Pasold and the firey Ali Riley. Somber and semi-formal, Bateman's matte black attire broke into pattern only for his tortoise-shell frames. The audience also looked fab butthose viewing the reading via the crystal-clear youtube video will have to take my word for it, as there are no crowd shots. Bateman had not only a well-groomed but very warm crowd to work with, encouraging many humorous in-between and mid-poem remarks from this *eh-hem* master-banterer.
David Bateman's reading began with a fresh piece: a meditative quip of a poem about the limited capacity for beauty and intelligence in the male bimbo, entitled 'Creation'. The audience was then taken on a journey through an eight minute epic poem spawned of a multi-media collaboration, 'erring - before the summer ends'. I don't know what other elements were originally involved but performed solo, this beast of a piece stands up perfectly well on its own four hairy legs! 'erring - before the summer ends' is a raucous onslaught of vibrant verbs, sporty sex, kink and quirk. The poem mixes erotica, elegant invective, societal farce, butt-plug rhetoric, euphuistic explosions, prophecies of the urban apocalypse and the ultimate longing of a soul shouted awake by the dream, amidst the sleepers, the whole wet, wiggling creation propped-up on the refrain "and then…," his poor audience, panting to keep up. But you don't have to take my word for it. Here, I'll quote:
arms stiff with blasphemy and the roaring flames of
your putrid hot-knifed sky-high bi-curious passion
rising then wilting between your pimpled thighs soaring
solemnly into my pulmonary parts like some little arrow
with my name burned in the first degree into heavy
breathing patterns in and out and in and out and here
we go, milling round the bush […]
(the only lily in your butt bouquet
resides in your sullied liver, you blue-balled, bad boy, baby
my baby, my rock-a-bye bad boy…)
Dr. David sings this monstrous ode of sexual longing and congress from the twinkling wing-tips of his toes, from both beating breast pockets, from shining, scalpy crown, earnest anus and the mythic third ball. The recital was dedicated to the far right-wing Alberta Wildrose Party, which is out to make Harper seem like the Dali-Lama. Advance opinion polls predicted that the Wildrose Party would win the provincial election that followed the reading, but it did not come to pass. It may have only been Bateman's performance of 'erring - before the summer ends' in downtown Calgary, before dozens of eligible voters that kept Alberta from sliding even farther away from centre.
That heady, hedonistic piece called for an intermission, during which the Auburn Saloon was drained of whiskey and the sex shop down the street sold out of fuzzy handcuffs. And then, all seats resumed, Bateman re-took the stage and delivered a few poems of more modest length from 'tis pity, as sensitive if not as impossibly energetic, as the longer piece. One of the most compelling and personal of these is 'why did you have to go through a car wash on the way to our mother's funeral?'
With one foot planted firmly on the stage and one eye to the page, David Bateman walks the line between two traditions. The "whorish tone" (his diagnosis) is balanced by the artistry of composition and pristine delivery. Bateman possesses that rare gift of making art entertaining and making entertainment art. Reference, for example, his queer-puns such as an alternate title for his latest collection, House of a Nancy or from 'erring before the summer ends', "St. Francis of a Sissy".
David Bateman has two notable upcoming performances: Montreal's Words and Music series, in June and Toronto's Plasticine Poetry Series, in July. Also this summer, Bateman will be working with Mysterious Entity theatre group in Peterborough under an Ontario Arts Council Integrated Arts grant, on ART IMMUNO DEFICIENCY SYNDROME, which groups together diverse poems about his experience as a person living with HIV. This coming fall, Bateman will be teaching Theatre at Trent University.
More Live Performance Reports from Issue #5