Calgary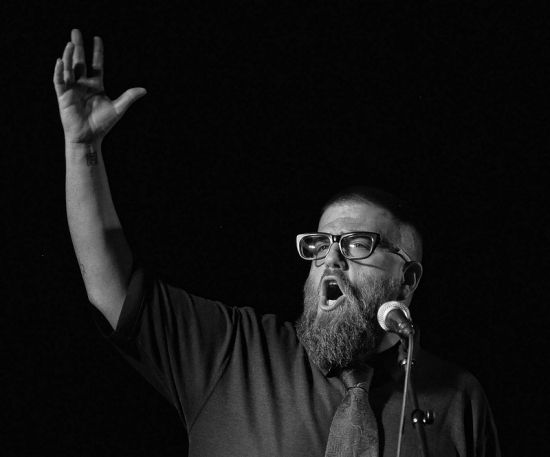 Evolution, through style, structure and language, is what most committed performance artists are hoping for when they climb onto stages or sit around smoky tables with their wordy friends. Once the applause fades or the 10 scores are put back on the table, the question of "Where do I go from here?" is often waiting on the next empty page, or in bottom of the next pint.
Here in Calgary, there are certainly endless opportunities to watch progress in action. With a league of seasoned local poets sprouting ideas month-to-month, and a bouquet of strong-stemmed writers wandering in for the International Spoken Word Festival, inspiration gardens the streets, parks and youtube channels of our city while the Stampede Grounds are still blissfully silent.
On March 3, 2012, Sheri-D Wilson launched her stellar new book, Goddess Gone Fishing for a Map of the Universe with a Goddess Party that promised we would "be teleported into the "now" of metaphysical possibility… fly between solitude and wild abandon…Buddha blink...cosmic flare"! Sheri-D's new book takes the evolution of the book into new places altogether with QR codes that lure a reader past the pages and into the unfolding artistic experiences of cyberspace. Its launch event promised to go to unusual places as well.
This event truly delivered on its promise of celestial adventure. It was hosted with wry aplomb by Billeh Nickerson, who shared a few personal anecdotes about Ms. Wilson while shaking a headpiece of golden beads. The audience was clad somewhere between casual and Narnia; jeans, masks, tiaras, button-downs, goblets and great snake headwear made uniform with wide eyes and ears hearing deep-space sound poetry sliding from Sheri-D's stage.
Sheri-D wrapped the naked words in her latest book with the mink of her voice and showed the audience how to wear a goddess on their throats. Then she accessorized: silk sliding across syllables care of Vi-An Diep's exotic Zhen, lurex syntax from a mad scientist of sounds on the laptop of Peter Moller, and berry-toned cottons draped over Chantal Vitalis's guitar. The innovative play between music and word was a spangled closet flung open on the stage of the Auburn Saloon. A closing dance party with DJ Sublight gave the crowd a chance to revel in the finery and shake their Goddess glory.
Encouraging the audience by invitation to wear masks, headdresses and goddess gear brought the crowd into the show and the performances in a more intimate fashion then I have seen achieved at many other spoken word events. Audiences often choose to step into performances by catcalls, cheers or smart-ass commentary. But as an artist, deliberately enhancing this interaction in more controlled ways is such a smart way to increase the investment that the crowd has in what's going on on the stage. Theme costumes, seeking performance prompts, asking questions of the listeners or opening up a dance floor at the end of the show closes the gap between the stage and the seating and brings so much community energy into the realm of the solo performer. In our evolving scene, I hope that artists continue to take note of events like Sheri-D's Goddess Party and explore Spoken Word experiences that step to the side of the Poetry Slam/Feature Set/Open Mic standard.
Calgary's Spoken Word Festival has certainly been home to innovation and unique explorations, and this year was no exception.
I was out of town for the Festival this year, but I watched everything I could via Live feed and on YouTube. It was quite an experience taking in all of these outstanding poets on my home stage from the late afternoon lanai in Maui. There was such a tumult of words and wildness that my laptop might have had a quivering literary orgasm or two. Given the unique nature of my Festival exposure, I'll offer up a stream-of-consciousness response to my live-feed frenzy:
Mike McGee gathering the crowd in his palm like a perfect cup of pudding; Ravensara shaping worlds like glass bubbles and suspending them in the heavens of an exquisite instant soundscape; Ian Keteku synthing and syncing with a crash of electric language; the rolling stone river lyrics of Truth Is; prayer poems chanted by Titi Sonuga; Regie Cabico sliding his tongue across the serrated knife edge of humour with scruffy slips of emoticon; Tibetan bowl verbal harmonics and chameleon tales beneath Tanya Evanson's crimson headband; Billeh Nickerson: blow jobs, cheeseburgers and the Titanic!; C.R. Avery keystroking in dissolute ruffles; seductive French flow from Fabrice Koffy and Josee Thibeault; technical and needlepoint linguistic precision from Richard Harrison; the smoldering vocal tones of Danielle French; Calgary's Poet Laureate Kris Demeanour and 2012 Golden Beret Recipient Kirk Miles bringing local artistry to the stage with a twist of local character…overall, a cyber climax of epic proportions!
I must give a special shout out to fellow Albertan and an outstanding talent Mary Pinkoski. I was quite taken with the simplicity of her set at the Calgary Spoken Word Festival. Her unique combination of self-deprecating banter, powerful poetic language and physical presence is evident even over WiFi. I had the privilege of seeing Mary and her team win at the 2011 Canadian National Slam Team Championships in Toronto. I am a fan of her language and her gentle but undeniable command of the stage. I was delighted to see echoes of that on my laptop in Hawaii!
This year's Calgary Spoken Word Festival was a toast raised to young artists and a torch carried for seasoned veterans. It also demonstrated how modern media can expand the reach of words beyond a single City. Over 3500 viewers caught live feed performances of poets from all over the world. Myself included!
Calgary continues to offer ongoing poetry happenings through True Lounge, on the First Friday of the month, as well as Single Onion on the third Thursday and the Ink Spot Collective Poetry Slam on the final Thursday of most months. And with our local Slam finals scheduled for the end of June, Calgary writers are going to keep getting rowdier…
Be Well. Be worded.
More Scene Reports from Issue #5