R.C. Weslowski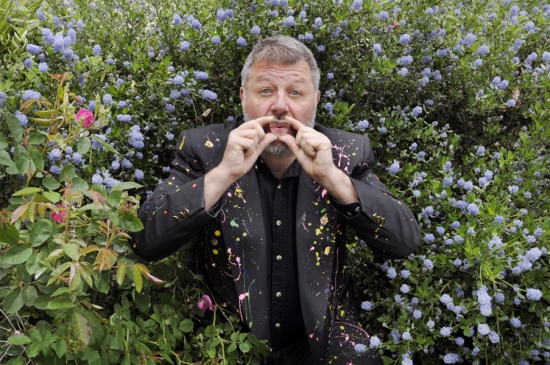 RC Weslowski's East Vancouver apartment is not what you might expect. Where you might expect a little kitchen table, there is a bed. Where you might expect a cupboard to hold Corn Flakes, it holds books. And there are toys. Everywhere.
If you're familiar with his work though-- his own brand of surrealistic, rambunctious, neologistic, unstoppably playful, hilarious but alternately vulnerable and gut-wrenching spoken-word-- then it might be exactly what you expect. Of course toys will stimulate his inner-child everywhere he looks. Of course he eats words for breakfast while finding new places for poetry to live. And of course there's a bed in the kitchen because... well, because it's a small space.
Watching Weslowski, 47, perform is often a revelation. He goes to extremes that few other spoken word artists can achieve. Poetry can be funny, sure, but Weslowski routinely has audiences howling. Poetry can also be inspirational, but his "It Begins" could raise an army of disaffected post-adolescents. His work hits many different notes loudly, but clearly enough to catch the nuance.
In a medium where the average lifespan of a competitive slammer is probably about three and a half years, RC is an oddity. With a career in radio production and some training in clown, he started writing in earnest in the mid-90s, and was quickly drawn to the stage.
"I was going to open mics and readings, doing some performance not even knowing I was doing, you know, 'performance poetry'. Just going out, putting on a mask and reading some weird shit at an open mic and freaking people out. Doing odd stuff."
He first happened upon the Vancouver Poetry Slam haphazardly in October 1998. "I didn't know what it was. I thought it was going to be like a rap battle. I sheepishly went to one, and thought 'I can do that... Here's just another opportunity for me to perform.' I just wanted another stage and found that slam offered that."
Since then he has scored highly enough, consistently enough at the weekly slams to earn a spot on the annual VanSlam team seven times. This spring he became the winner of the second annual Canadian Individual Poetry Slam championships at the Vancouver International Poetry Festival. He did not even plan on competing, but some last minute encouragement from festival director Sean McGarragle inspired him to get back on the slam stage after a nearly two year hiatus from competition. Typically, he notes, slam competitions are "a young person's game," it was a particular note of satisfaction to him the he and Greg "Ritallin" Frankson, another slam veteran, finished first and second. "It just goes to show that slam is something you can go away from and then come back to," he affirmed.
Far from stagnating in one comfortable niche, RC has used slam as a base to mobilize poetry, or more specifically, his brand of poetic madness, into new venues. Mashed Poetics is a project started with musician and poet Trevor "Spillious" Spilchen in which Spillious's ad hoc band learns an entire classic album, and Weslowski distributes each song to a poet, comedian, storyteller, or filmmaker to serve as a creative prompt. Song and poem are then performed back to back. The series is now ten installments deep, with its eleventh, Prince's Purple Rain, in the works.
Other side projects include the sometimes Andy Kaufman-esque performance art clown rock band Sweatervest, and Awesome Face. "Awesome Face came out of me and Brendan [McLeod] wanting to go into schools and do material together for children. But every time we'd get together to rehearse a lot of our material would end up getting twisted and being more... adult oriented. We finally decided that we gotta give this up as a kids group and do a kids group for adults." The result is an act that includes songs like "Don't Get Drunk and Sleep with your Friends" and a strictly enforced nap time for the audience, along with bizarre videos by Chris Gilpin as Dr. WTF.
In 2011 he decided to go where only a handful of other Canadian poets have gone before: the Canadian Fringe Festival circuit. He created The Wet Dreamcatcher as a hybrid of poetry and storytelling centered around the theme of shame. It featured a highly surreal narrative, wind-up toys, lots of audience participation, sound effects on cue cards, Whitney Houston on a stick, a giant eyeball, squishy rubber "orgasms" and disarming poetic monologues. It was out there enough to draw reviews at both ends of the spectrum. The show changed massively from its first performances in Ottawa to its final shows in British Columbia. "That was a process of changing it around... Finding what was the real real core [of the show] and making sure everything supported that."
The world of poetry has given Weslowski a lot of opportunity to perform, and he has given a lot back in return. "The RC Weslowski Christmas Special" has become a tradition at Cafe Deux Soleils, the slam's home venue. It's a holiday variety show that raises hundreds for local charities each year. Weslowski was a founding member of Vancouver Poetry House, was the director of the Canadian Festival of Spoken Word in 2005 and served as the head organizer, or slammaster, of VanSlam from 2006 to 2008. He now organizes the monthly Crackerjack Lipsmacker youth slam. He has served as a mentor to young writers and performers in East Vancouver cultural centre The Cultch's Ignite program for the last four years. This April saw the second edition of Hullabaloo, BC's high school slam team championships, which RC co-organizes with Chris Gilpin. Organizing youth events, he says "brings me tons of satisfaction. It makes me really happy when I see people who may feel like outsiders or outcasts find a place for themselves at the slam. When I was a kid I didn't have that kind of support. I always wonder what would have happened if I had a community, a venue where the 'weirdos', you know, the kids who write stuff, can go and express themselves."
These other ventures notwithstanding, Weslowski's publishing credits are very few. "Until recently, I really believed in the idea of being a 'spoken word performer' in that it was all meant to be experienced aurally," he explains, "but people who I respect and deal with the spoken word like Sheri-D Wilson, Regie Cabico, and Brendan [McLeod], they've all got published credits as well. It opens you up to doing writers' festivals. So I've been thinking about [publishing] more."
In addition to seeking out publication, RC will be performing a new show at the Winnipeg Fringe Festival this year. The new show will take a different tack than Dreamcatcher, structuring itself as more of a variety show of poems and stories with a different guest star in each, Weslowski says.
Those is Winnipeg would do well to buy a ticket this summer. Everyone else will have to content themselves to curl up in their kitchen and watch some of his videos on YouTube.
More Profiles from Issue #5