Taqralik Partridge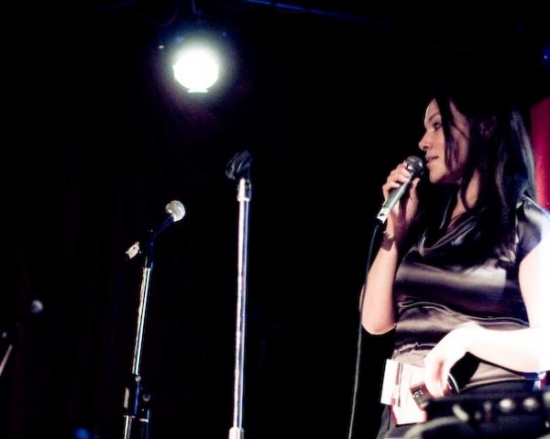 Taqralik Partridge is an Inuit poet and spoken word artist from Kuujuak, a town in Nunavik, the most northern part of Quebec. I first heard about her in a great article written by Jim Bell for the Nunatsiaq News, one of the local newspapers in Iqaluit, the capital of Nunavut.
I don't have a subscription to this paper. My friend Siobhan Moss, who cares for kids and sled dogs up there, sent the newspaper down with a note saying "Isn't this what you do? I think this woman lives in Montreal."
The article quoted another review of her performance, by Nordine Beason:
"The lyrical portrait she painted at the Urban Poetry Night in Ottawa was unforgettable. She was like a train that you didn't want to get off anytime soon!! So, don't ever stop Taqralik Partridge, your poetry is hot, hot, hot."
I had never met a poet from up north. Bell's article made it sound like she was an outstanding spoken word artist, and these are rare even in Montreal. They are rarer still when they connect with a culture that predates Columbus. So I was thrilled and I went searching for Taqralik.
She wasn't too hard to find. At that time she was working for the Avataq Institute, a cultural body that represents Inuit people in Quebec. Their office wasn't far from the Quebec Writers' Federation, which I was involved with at the time, so one dark afternoon in November I rode my motorbike over and found her.
It was one of those wet autumn days when the sun has gone down by 4:30 and wet leaves are blowing and the wind is telling you just how much colder it plans to become. I don't know what she thought of me, but I thought a lot of her. There is so much silence about her. She has these dark eyes and a face that can seem almost impassive at first until you realize she is just quiet. I think it is shyness a bit, that and the silence of not living in cities, of living out on the land, or of having made that life part of you at some point. But she does not live in Kuujuak anymore, and hasn't for years. Nevertheless there is a rhythm to Taqralik's language I have not heard before, a rhythm of her connection to a culture I hardly know.
If you have ever seen Taqralik Partridge perform you don't need to read this article as she has already left part of that wide open northern landscape inside you. You know the intensity and the beauty, the silence and the danger. And you know that you are in the presence of a great artist.
She performs all over the world now, but it is only a few years since I first saw her perform some of her first poems as part of an evening the CBC put together at the McCord Museum.
That night she spoke with music by Phillipe Brault and Guido del Fabbro. These two musicians had been doing standout work at the Voix d'Ameriques Festival in Montreal, on the evening shows called Shift de Nuit they would work with different poets and performers each night, and they were very, very good.
With Taqralik Partridge they became transcendent. In a stunning work commissioned by CBC, Taqralik talks of the scars on both parents and the Inuit children who were taken from their homes and sent to live in residential schools. Her work that night was one of the two or three peak moments I have ever experienced in spoken word performance.
With the impetus of that one evening produced by CBC, Taqralik and I founded a festival called Tusarniq, an Inuit word meaning "beautiful sound." The idea was to make an Inuit-hosted spoken word and music festival where First Nations performers and their colleagues in the larger performance community got together to find out how they could entertain each other and the public. One year the festival celebrated the darkness of winter, creating a show specifically for the solstice, the shortest, darkest day of the year. Taqralik counts her work at Tusarniq as among her favorite shows. And she still works with musician Guido del Fabbro. The two of them are awesome together.
Taqaralik is not just a good spoken word artist, she is a great artist, one of the best in the country, and this I say about a woman who has yet to publish a book or a CD. Her take on the culture of Nunavik—which encloses the the area at the northeastern tip of Hudson's Bay once called the Ungava Peninsula, as well as the northern part of the Labrador Peninsula, which spans both Quebec and Labrador—carries with it an off-hand confidence in the absolute value of picking berries in spring-time, of friendships and kinship and boat trips and camping out on the land. In other, harsher pieces she carries this sensibility into the more broken world of living as an Inuit in urban Canada. In its reach across this divide it reflects the experience of a people.
One afternoon as I was parking my motorbike near Atwater I started talking with an Inuit man who was sipping some wine at Clossé and St-Catherine. I asked him where he was from and he said Kuujuak. I said I had a friend from there called Taqralik and asked if he knew her. "Everyone knows Taqralik!" he said, looking at me as if I was some kind of rookie.
And where is she now? Well the last time I saw her she was sitting with her fourth daughter,10-month-old Anne Marie, on her lap at the Nga restaurant on St. Catherine. Having wrapped up her job at the Avataq Cultural Institute, she was looking wonderfully calm and happy and so was Anne Marie.
And she has branched out a bit from spoken word and throat singing. In 2010 she won the Quebec Short Story Competition. This year she will appear at the Gothenberg book fair in Germany, on a panel about circumpolar literature.
Next spring she will be performing again with the Montreal Symphony Orchestra and conductor Kent Nagano. It is a reprise of throat-singing performances they've done in Montreal, Nunavut and Nunavik.
In between, if we can find the time, I would like to put out a record of her work.
In the mean time she had Anne Marie on her lap and she was loving it. "I sometimes feel that when the others were born there was always so much going on I didn't even have time to think. Now I have more time.... They come out and they're little people that don't really belong to anybody... they just belong to themselves."
This is how I think of Taqralik. A charismatic performer and an original poet, she doesn't belong to anybody.
Her performances are another story. She tends the spirit of the north in its journey into urban Canada as if it were a flame. And after you have heard her words, their rhythms and images belong to you.
Though some poems I haven't heard for years I can still tell you what it was like when I did hear them. And tell you the words, and remember vividly the feeling I had when they first happened to me.
More Profiles from Issue #5