Sophie Jeukens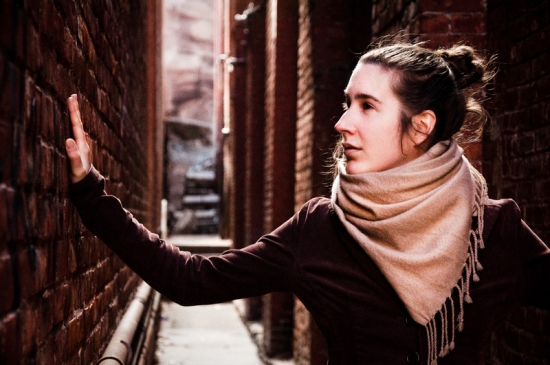 "I think that as humans, it's one of our biggest strengths, to be creative. I have the will to make poetry CONTAGIOUS, to find where it sleeps and wake it up! Poetry has always been my weapon." – Sophie Jeukens
Still surfing the energy of the "festival du texte court", I had the chance to connect with Sherbrooke's spoken word poet, enchantress and cultural seamstress: Sophie Jeukens. Not to be fooled by the subtlety of her voice, Sophie is full of character, energy and determination.
We connect at a crucial time in Quebec, with the Carré Rouge movement still taking a strong hold of our collective consciousness. Our conversation begins with a discussion of the movement and Sophie's statement "I never thought the movement would go that far. There is so much strength in community right now." We connect on the line early enough so that we can take to the streets for the evening's casserole (pots & pans) manifestation.
In April, Sophie was able to study in the spoken word program at the Banff Centre. With spoken word artists flocking from across Canada, Sophie studied alongside many professional poets and received mentorship from Geneviève Letarte, among others.
LitLive: Tell me about your experience while at Banff.
"It was a huge life change for me, both artistically and personally. I felt very privileged to attend. As a francophone artist, the spoken word community has a more recent practice. I feel like more of an artist since I came back from Banff. Most people couldn't really understand the meaning of the words when I was performing and so I really became associated as the person who did stuff with my voice. I really went into a lot of sound/singing. This was strange because I've always felt that my voice & body are the weakest parts of my performance. I realized, while in Banff, that exploring with my voice and body are very spontaneous for me, contrary to what I thought of myself going in. People could understand that my work goes beyond the meaning of words."
LitLive: What was it like working with Geneviève Letarte?
"She really helped me focus my work by putting her finger on certain things to help me find where I wanted to go. Each time after our one-on-one sessions I felt like I wanted to rewrite all my pieces, in a good way. I finally understood better what wasn't working in my writing.Genèvieve was also really sensitive as a person."
LitLive: And what was it like to meet other peer artists?
"There were many beautiful and intense encounters and collaborations that I didn't expect. It was inspiring especially for me since I often don't get to meet people that do the same thing as me and are very dedicated to the art. There is so much background and culture in the spoken word movement."
LitLive: Was it challenging being one of the only francophone artists?
"I speak English and understand it pretty good so that helped. We weren't writing in the same language, but at the same time, we were: in the language of poetry. I felt solidarity. Personally, I felt incredibly listened to and understood. Some people said that hearing me made them wish they understood French better. That was really moving!"
LitLive: What would you say to other Francophone poets or writers to inspire them to apply to the Banff Program?
"It helps to have basic English comprehension to integrate and get rhythm for workshops and dialogues, but you can still write in French. I'd tell people: 'Go when you feel you are ready in order to have breakthroughs and to uncover parts of yourself. The key is to let the energy of Banff make things emerge.' I went there with a specific path. I arrived feeling small in my shoes, and not only in an artistic sense, but I returned feeling like a superhero! I was able to grow and stand tall. The experience takes you out of everyday reality and gives you time to write. It's like a parallel universe to be there, to be able to touch the space in yourself where creativity is."
LitLive: Beautiful. What does that space look like for you?
"I think that as humans, it's one of our biggest strengths, to be creative. I have the will to make poetry CONTAGIOUS, to find where it sleeps and wake it up! Poetry has always been my weapon."
LitLive: Who is your biggest influence in poetry?
"If I had to say one figure that is really important, it would be Michèle Lalonde. She lives in Montreal, and as a poet she was really active in the 70's. She was one of the first woman poets (in Quebec) to take her work to the stage. I admire her writing a lot. She's a very strong woman that has great sensitivity and political twists.
LitLive: Let's come back to Sherbrooke and Quebec. Can you tell me a bit about the "festival du text court de Sherbrooke" that just finished up in the last weekend of May?
"This year was our seventh annual festival. The theme was FRONTIÈRES: Borders. In Sherbrooke there is a divide between the North and South side of Wellington Street. The North side has more beautiful, rich little stores while the South has more bars and weird, old buildings that hardly get used. We drew from this theme and had a show that was built around the structure of a political debate, somewhere in between poetry and political discourse. There were two teams, one representing the North and one, the South. Audiences had to vote for which poetic party they preferred. To raise money for the festival, people could buy the privilege to have more impact in the vote. They could buy more voting cards. They could buy the right to ask a question. They could buy the right to veto something. It was sort of cynical, but really tied into the current political movement. And, we raised almost $1,000.
This was my year first time coordinating alone. It has always been collective, originally emerging from a writing circle I was part of. But this year, people were going elsewhere in their lives: having jobs and less time.
LitLive: How was it coordinating a festival alone?
I decided to do it by myself, because I really take this to heart, but of course I had a huge amount of help from the community and collaborators. Festival is really important. Amazing how community has appropriated festival and feel that it's their own. A lot of people have read publicly for the first time at the festival.
LitLive: How was it having the festival during the Carré Rouge movement?
It was especially intense. One of our traditions is to reclaim the street. We block off Wellington, put out a stage, furniture and plants, then invite circus people, musicians, etc. The same day of this event there was a big demonstration planned. I contacted the organizer of the demonstration and suggested that they end the demo at our event. In the middle of the afternoon, the demonstration came and invaded the street. Hundreds of people all dressed in white showed up. Artist Marie-Claude DeSouza had been building an intervention of postcards with excerpts of poems that people could complete. With all the postcards she wrote a poem. It was really marked with the student movement as a theme. As people arrived, she welcomed the demonstrators with her performance. I was crying! When art takes the street it is really revolutionary!
I really saw the festival as a moment we gave of ourselves as a community to reflect upon ourselves and create. It's a time of fighting, protesting, just to have this moment where we come together with what we want as a society.
LitLive: You and I are on SPOCAN's francophone integration committee, to improve the framework for francophone integration at the annual Canadian Festival of Spoken Word. As a francophone artist working in spoken word/slam, how do you see the Franco-Anglo communities cross pollinating?
We all speak the language of poetry. We can still be inspired by what others do and there's an energy that can be different in the francophone community that can enrich the movement in the Anglophone community, and vice versa.But it is always a challenge. I have the easy part since I understand English well, I can speak it. In my head the language barrier doesn't exist as much. The challenge is to erase the barrier. I'm really inspired by SPOCAN (Spoken Word Canada) as an organization and as a community. There is a lot of strength, from BC to Halifax.
LitLive: What was your response to "Poésie 78", the movement that was initiated by Alessandra Naccarato in response to the "loi spéciale":
Poetry has always been one of the best ways to fight! Poésie 78 made me cry. It made me feel less alone. It took me 10 hours to write a piece for the movement. I was reading all the other submissions and seeing Johnny MacRae who pledged 60, was incredible!
LitLive: What is your casserole sound maker of choice?
When I go to a demonstration of casserole I choose it for the sound! I am proud of my casserole sound-maker! (See photo below)
LitLive: What is something most people don't know about you?
There is probably a lot people don't know about me. The first thing that initially came to my mind: Most people don't know how much I love them. It's still something I have trouble to say, except with poetry.
That is only some of the beauty, the grace that makes up Sophie Jeukens.
Excerpt from her submission to Poésie 78:
<<devant tout ce qui voudra nous faire taire
nous opposerons des mots qui n'existent pas
inventerons un vocabulaire nomade
plein de mots ambulants
et de phrases sans virgules
nos semelles sur l'asphalte
parleront d'elles-mêmes
c'est par instinct de survie
que nous ferons des poèmes.>>
Listen to Sophie on Reverb Nation
More Profiles from Issue #5