Echoes of the Dead: Braiding the Ghosts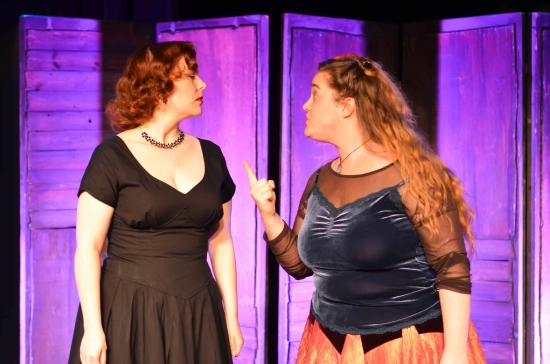 It's rare to be completely transported into another world by the power and beauty of a story.
The genre-blending stage adaptation of CSE Cooney's short story, Echoes of the Dead: Braiding the Ghosts, is impressively adept at doing so—perhaps because it weaves storytelling and theatre together in a compelling, original way? Or perhaps because it starts off with a shockingly graphic image that cements the roles of the characters immediately and sets the story off at a gallop.
And it's a great story.
To call Echoes of the Dead a ghost story would be too facile. It would be fairer to call it a ghost-laden family portrait or a fictional family scrapbook that lingers in your memory like a ghost town you happen through. It tells the haunting story of a woman named Reshka, family matriarch, who raises the souls of the dead as her slaves and makes them do her bidding: "They did what they were told, silent and unseen; slight freezing breezes in Reshka's great grey house."
The action centres around Reshka and her granddaughter, Nin. Nin comes to live with Reshka after her mother, Noir, passes away from a long, unnamed illness. Within minutes of meeting her grandmother, Nin finds out just how calculating, cruel, emotionless and single-minded Reshka can be. She is so cold, in fact, that she serves Nin a funeral feast in honour of her mother's passing that is covered in the dead woman's ashes.
"Instead of salt or herbs, Reshka scattered ashes over the meat. The buttered bread and the broccoli she dusted with Noir's remains. Ash in Reshka's wineglass, and in Nin's chocolate milk. The taste never left Nin's mouth. Everything she ate or drank after that was death and dust—but it was also Noir."
Reshka prefers the dead over the living and says as much to her granddaughter, who she has taken to calling, "Nin the Dim". Year after year passes in the dark, solemn house that Nin is not allowed to leave—even to go to school—because Reshka would prefer that she not consort with the living.
Nin is only 8 years old when she arrives, and she experiences her grandmother's world with a mix of terror, apprehension and boredom. Nin sleeps most of her days away and chooses to spend her waking hours writing letters to her dead mother and reading every book in the house. She also puts an inordinate amount of time and energy into trying to stay out of the way of Reshka's ghosts, who number more than 20.
"Many nights, Nin went to bed short-sheeted or with crickets in her pillowcase. She was careful not to gasp or laugh or do anything to draw attention. She did not want the ghosts to notice her at all. Reshka depended on them for everything. They drew her bath and chose her clothes, groomed her, perfumed her, prepared her meals."
But, when Nin turns 13, Reshka begins turning her attentions onto the child, determined to train her in the art of ghost-raising; to pass on all her knowledge and skill to the last girl child of her line.
"Reshka will teach you the four winds," says Noir to Nin in a dream. "Piccolo, flute, oboe, bass recorder. She will teach you songs of luring, of binding and braiding. She will teach you how to break a gravestone and make a grave-ring. She will teach you about silver, about lilies and bitter red myrrh, for you are the last of her line, now that I am gone."
In plot twist moments like these, I found myself grateful that the two performers, Ottawa storyteller Ruthanne Edward and the author of the original story, CSE Cooney (who hails from Chicago), opted to use invisible mics that allowed us to pick up all the subtleties of the performance, which was, at times, quiet and quite nuanced. Throughout the show, the two artists moved seamlessly between monologue, dialogue and storytelling, which shaped the story without getting too heavy-handed with the dramatic interpretation of the text. The energy and movement that this mix of performance modes created made the story shine.
The language of the text—and the imagery it evokes—is quite beautiful. Lines such as, "Nin's laughter was rusty, like a lawnmower left out in the rain." or "[Reshka's] complexion had neither the flush nor pliancy of flesh but seemed to ring like pure hard porcelain." or "Her smile was like a lilac blooming in the snow." These well-placed phrases offer up details that make all the difference in our growing understanding of both the story and the characters.
Echoes of the Dead: Braiding the Ghosts is, in some ways, a classic coming-of-age story, but it's the originality of the world that CSE Cooney that makes it stand apart from typical two-handers that deal with themes surrounding the growing-up years. Ironically, it's the elements of magical realism that make the story ring true.
The show's set was simple and unobtrusive, and the venue (the National Arts Centre's Fourth Stage) was well-suited to the format of the show, with its cabaret seating and a lit candle on every table. The dynamic stage presence of the two storytellers made it seem like time wasn't even passing, though the show took place over two acts. The performance was satisfying and engaging, shot through as it was with dialogue and monologue, but it was never over-acted. The characters were all crisp and well-defined, both in physicality and voice.
Overall, Echoes of the Dead is a fabulous piece of storytelling theatre that questions notions of lineage, destiny and loyalty and is strangely life-affirming for a story about death and ghosts.
"There are no sorcerers in the real world, Nin," says Noir. "There are used car salesmen. And lawyers. Boys in black overcoats who pretend to be wizards. Pregnant teenagers working at McDonalds who call themselves High Priestesses of Discord. Peyote-swallowers and acid-tasters—even true shamans. But there is no one like Reshka Stix of Stix Haunt, or like her mother before her. There was no one like me, born of a sorcerer and a ghost on Dark Eve. And no one like you, my Nin, although I chose for you a living father, that you might be more alive than dead when you came into this world."
More Live Performance Reports from Issue #5