Amiri Baraka: New Music - New Poetry (1982)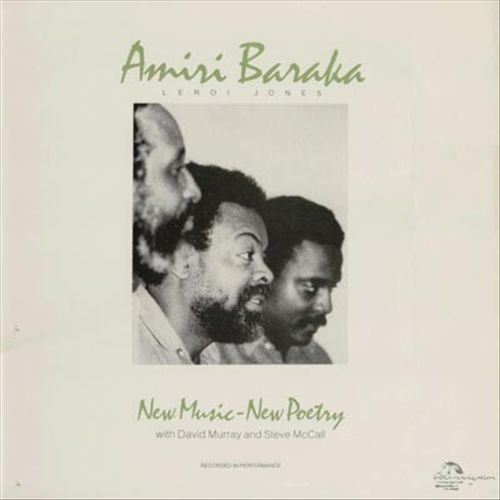 Some time ago in April of 2009 I got a phone long distance call from my wife. She was in the Vancouver, BC participating in the Canadian Individual Poetry Slam Championships at the Vancouver International Poetry Festival. In between battling it out will some the best poets in the country, she took some time out to do some record shopping, one of my favourite pastimes in the world. She was in the jazz section and had made some selections and wanted by opinion on which albums to pick.
She had some real gems, so much so that I told her to not tell me what else she saw otherwise she would end up broke. After her giving me a short list of the albums in her hands, I settled on a vinyl reissue of Bitches Brew (which coincidentally was the first jazz album I ever bought, on cassette) and the Amiri Baraka album New Music – New Poetry, featuring David Murray on sax & bass clarinet and Steve McCall on drums.
About a year later Amiri Baraka was in town for Black Theatre Workshop's Playwrights Conference. I went to see him speak on a panel with other prominent writers of the African Diaspora and after wards I had the fortune of sitting down to talk with Mr. Baraka. It was not an interview but just a chance for me to thank him for his brilliant work and his contribution to the tradition of Black Arts. I told him the story about finding his album as well as my recent purchase of an album by the Original Last Poets. We spoke about Gylan Kain, who is on the Last Poets album and he highly recommended poet Amus Mor, he mentions on New Music – New Poetry. I had the honour of presenting him one of my books, thanks to my trumpet mentor Professor Charles Ellison, who so graciously donated his signed copy of my book to Amiri when I realized I didn't have a copy on me. It was a beautiful moment, to be in his presence and to see that his mind is just as sharp as it ever.
The album New Music – New Poetry is a fascinating piece of work. Mr. Baraka is accompanied throughout by Steve McCall on drums and David Murray on tenor sax and bass clarinet. The album was recorded live at the Soundscape in New York and was released in 1982. As with any live performance, the trio starts strong and gathers strength as each side of the album draws to a close.
Side one begins with The Last Revolutionary(for Abbie Hoffman) which unleashes a sarcastic yet poignant critique of Mr Hoffman and his revolutionary opportunism as he came out of hiding and into the limelight post his involvement in the Chicago 7. The soundscape is a soft meandering swing. The piece is interesting and as always Baraka is sharp. In many ways it serves a warm up of what is to come. Next Against Bourgeois Art, in the same way raised the bar in an attack on art without meaning and substance, art as a bourgeois diversion. Strunza Med follows asa brief tense mediation on the world as a poet. The true unleashing of brilliance begins with I Love Music an explosion of music and sound dedicated to John Coltrane. It begins with a quote from Coltrane "I want be a force for real good. In other words, I know that there are bad forces, forces that bring suffering to others and misery to the world, but I want to be the opposite." The trio with a combination of poetry, sound and noise swiftly offer us a tornado of emotion, encapsulating the moods and desire of Trane's canon of work: his sound, his passion, his life force and his calling. The performance's power lies not in the words but in the conviction. The performers take an intermission and return with Dope, which ends the side. Dope speaks to the pie in the sky philosophy that says that suffering should simply be endured knowing that greater things lie for us in heaven. A philosophy that fails to look at how poor persons are systematically and methodically oppressed for the benefit of the rich.
Side B keeps the fire burning with Class Struggle In Music (parts I & II). The poem deals with the battle to validate the Afro American Musical Canon as more than "an appendage" to Classical music. The album concludes with a long form piece In The Tradition, dedicated to Arthur Blythe and the full breadth of the Black Arts Canon.
As with the majority of Baraka's work what makes this album special is his mix of wit, candour, humour, politics and conviction. Amiri Baraka has never been one to pull punches and there is none of that here. He nose dives square into the middle of America's racial double standards without fear. But all the while, in the middle of letting us know that jazz is America's true classical music he never leaves his sense of humour behind. There is a force in his words but also sensitivity, sensitivity to justice and a very strong will that it be done. He is a true poet, not just because of the words he uses but because of the conviction with he uses them. It is clear.
As much the need for justice in relation the litany of injustices suffered by the African Diaspora (in Baraka's case Afro-Americans in particular) is a dominant theme on this album, his outcry is intertwined with celebration. An exalting of all the amazing accomplishments that Africans have achieved, not only in the Black Arts but the totality of our contributions to the world in all areas. Baraka's fire and passion come from his supreme desire to have the depth of what has been done be acknowledged, something very evident on this album. More importantly there is the need to transmit the message to the coming generation of Black artists that excellence is part of our tradition. Listening to New Music-New Poetry, I am humbled but I am also greatly encouraged to seek out excellence for myself in my work.
More Reviews from Issue #5