Falling Open at the Montreal Fringe Festival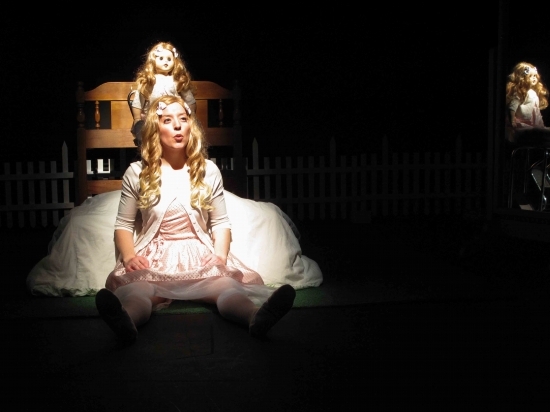 Luna Allison and Lib Spry's fantastic solo play, Falling Open, is now playing at the Montreal Fringe Festival.
You can read LitLive's review of a previous production of it here.
This remount is at a Fringe Offsite Venue which appears to be someone's semi-basement apartment. It's a rare show that can be enhanced by such a makeshift venue, but for a story whose crux is sexual abuse, it does just that. The domestic setting is a constant, subtle, but poignant reminder of narrator's struggle; no matter where she goes, she'll never be too far from the site of the trauma.
Luna Allison's performance is as dynamic and crisp, her characterizations are as precise and vaired, and the direction as solid now as it was when LitLive first reviewed it last year. I particularly appreciate how despite the theme being full of tempting sentimental clichés, the treatment is always honest-sounding, fresh, and unexpected.
Despite the show moving along briskly --the narrative spans about 50 years in the one hour play-- there was one section that dragged. The final act has to do with the victim reclaiming her identity by revisiting her childhood home, the site of the chronic abuse. She is uncovering deeply buried memories of the incidents. The problem is, the fact that she has forgotten them is hardly known to us and never postulated as major conflict. We watch her discovering what we already know, and what we didn't know she'd forgotten. In my mind the re-empowerment had happened in the scene before when she shouts down a would-be attacker.
Even though the mechanism for epiphany was a little clunky, Allison's transformation from doll to grown, still damaged-but-healing woman is expertly accomplished. I highly recommend seeing it while you still can!