"On the Road" with Bob Holman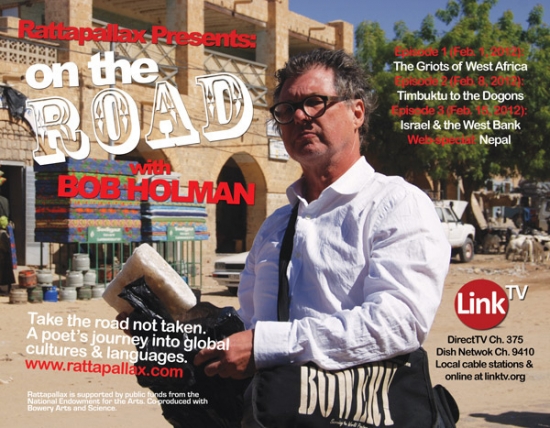 "Language is the essence of humanity, but half the languages on earth will disappear this century. This is our last chance to connect with the sounds and tastes and wisdom of these people in their own languages."
This is quoted from the opening lines of On the Road—a video-based language documentation and preservation project undertaken by Bob Holman: poet, performer, teacher and founder/owner of The Bowery Poetry Club in NYC.
It's Holman's dream to capture, on video, the poetry, culture and stories of as many threatened languages as he can before they disappear. The project began when Holman was invited to Gambia by his long-time friend and teacher, Papa Susso, to learn more about the art of the griot and see how a 21-string harp-like instrument called the kora is made. So far, the project consists of three 30-minute episodes.
Episode one focuses on the "inexplicable yet essential" 900-year-old poetic and musical tradition of the griots of West Africa, who are the keepers of the oral history in any given community and deeply connected with Islamic tradition. Holman also goes in search of the story of Ted Joans, an American jazz poet who spent half of each year in Timbuktu and was Holman's mentor until Joans' death in 2003.
Episode two focuses on Timbuktu—the intellectual and spiritual capital of the African continent in the 15th and 16th centuries—and the city's ancient manuscripts, which are being preserved under glass by a lone librarian-historian. This episode also offers a glimpse into the patrilineal oral traditions of the Dogon people. Their sacred mask ceremony, Sigui, happens once every 50 years, in synch with the cycles of Sirius (the dog star). Part of the Sigui ceremony was captured on video as part of the On the Road project, but it can take several years to complete.
Episode three focuses on the endangered languages of Ladino, spoken by Sephardic Jews, and Yiddish, which has been replaced by Hebrew. Interestingly, Hebrew was "as dead as Latin" before being resurrected but, now, it is both Ladino and Yiddish that are in danger of extinction. At the urging of poet Ronny Someck, Holman visits Ramallah in the West Bank, where he encounters a group of Palestinian hip hop artists who discuss the harsh realities of living near the Separation Wall. Episode three actively laments the now-crumbling multilingual reality of the region—at the centre of which is the resurrection of Hebrew and its designation as Israel's national language.
While On the Road sometimes smacks of a colonial rescue mission and is, at times, hard to watch because of the awkwardness of the cultural collisions, the motivation behind On the Road is obviously sincere and the documentation work that Holman is doing is both moving and urgently important.
As Holman says in the very first episode of On the Road, "Dreams, like poems, never die." But languages can. And do.
"It's a living thing: Mouth to ear, person to person, generation to generation."
Watch the series here.
More Reviews from Issue #5