Robert Priest: Feeling the Pinch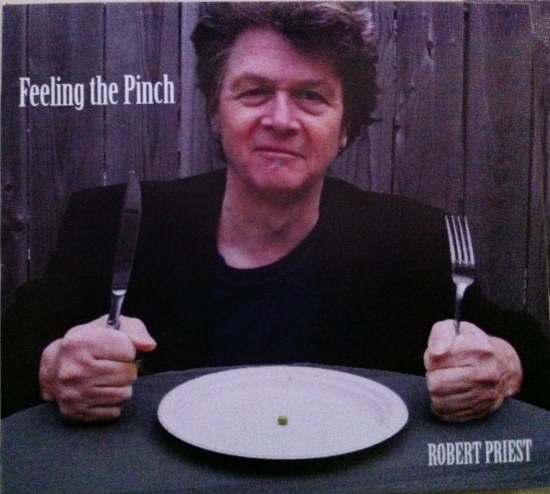 Toronto poetry icon Robert Priest could be spoken word's Bob Dylan. That feeling of whimsy mixed with emotional resonance comes through clearly in his most recent album Feeling the Pinch
If you expect straight poetry on the album, you'll instead be hearing Priest's words floating atop folksy chords and sweeping choruses, the stuff of sing-a-longs. The album carries a hopeful spirit, as if Priest is saying, yeah, there are tar sands and battlefields (from "Nowhere Anywhere") but let's not be so down on what's wrong and see what we can do to turn things around.
The man with 15 books to his name can get romantic and sentimental, such as in My Favourite Word, lyricizing about a woman's delicious lips, and then turns playful with Bonne Chance Marie, which carries a bit of a Quebecois flavour.
The best wordplay comes up in "The Bomb in Reverse", a song seemingly extended from Priest's book Reading the Bible Backwards. In the book, his poems travel backwards from incidents such as Jesus' crucifixion. In the song, he looks at violence gone wonky, as the bomb "sucks out the fire…and they unscream their screams…and unsay their prayers." It's as if Priest is pining for a more utopian world where he envisions us employing weapons of mass miracles.
He veers off from the standard folk clichés by writing a humourous song you might have seen Priest play at a recent gig (he really likes jamming on this one live). "Who the Fuck Knows" might come off as vulgar at first glance, but it's truly an inquisitive song about the mysteries of the Earth. "Don't ask me, ask who the fuck, cuz who the fuck knows," he sings as backup vocals grace the chorus.
Speaking of vocals, Priest's voice sounds strained at times, but when he doesn't force too much in one breath, he sparkles. The well-connected poet was also able to enlist the help of a few top-notch guest musicians, including Canadian pop star of yesteryear Alannah Myles. The strings courtesy of poet/musician Phoebe Tsang are especially lovely on several tracks.
This excellently produced album appeals to the musician in all of us poets yet those with a keen ear can absorb more than just toe-tapping tunes. Priest does a fantastic job conveying his literary talent into folk and light rock songs you won't soon forget.
More Reviews from Issue #5