Zorras: Doctor Says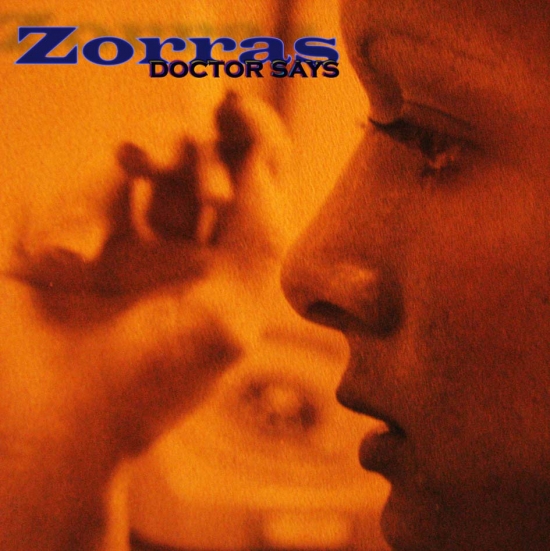 Zorras' EP Doctor Says blends music, poetry and the art of story telling. While at times the EP can appear to lack direction, it definitely has poignant moments—particularly during the first two tracks ("20 Seconds Difference (live)" and "Tilt/Flip"), and especially its last song "Paper Cut (live)." Doctor Says is a conceptual journey that explores the aesthetics of feeling as it pertains to an interchangeable string of characters going about their vastly different lives, contemplating the landscape of people around them.
The album begins with light guitar setting the mood. The tone is a sort of rainy-day-calm. You know the one—coffee in a favorite mug while staring out a window and thinking about other things calm.
The second song is more electric, more nineteen-eighties seedy. This mirrors certain quotable gems like: "She said, 'Better off banging your head on that lamp post' [...] some politics are that sexy." The speaker is now a little coercive, as though she were shamelessly saying "fuck me." I admire her boldness: "Love is the cure for colonialism, I laughed heartily knowing love had failed at ambitions far less lofty." Then a multiple legged octopus woman is introduced. The nature of the interaction between these two women is homoerotic but something else too. I read it as less about sex between women and more a candid back and forth exchange between two girls, perhaps alluding to the interior conversation of a single multifaceted woman, with her multi legs she spreads for multiple people. A many sided woman, a woman with secrets, a woman you may run into at a bar—dark eyed women who ooze sex without baring skin. These are women you find late at night in every city, they are the kind of women occupying this song.
The EP is ambitious—on their website, Zorras stake out their habitual thematic territory as "such topics as mental health, disability, gender, violence, poverty, racism, Life In Scotland, love affairs gone wrong, bizarre dreams and queer culture" . Like I said, ambitious, and there are points where such a wide array of subject matter comes together perfectly but there are also moments where it falls short, seems confused and disjointed. One particular instance comes to mind; the third track "Doctor Says+Crazy" is mostly a cover of Gnarls Barkley's "Crazy." This too is a bold choice but I'm not certain it works and it sort of wreaks of bad cover, especially with the superimposed descriptions of pills which has been done before, and feels tired.
Finally, the last song is an epiphanic and beautiful finish. It returns to the urban environment only this version of the city space is calm, more daytime, less aggressive. It begins with the line "I'm in my home 20 hours a day" set to a backdrop of laid back, sunny ukelele. "My body glides, gloats..." It feels real, and the singing is free and honest, caught in a candid moment behind a shower curtain. In performance poetry, there are essentially two parallel mediums the artist is speaking through, the art of performance and the written act— that both these elements sound believable is key. This song hits both on the mark. It creates an insular apartment and the earnestness of the speaker coupled with the lazy ukelele makes it believable. Once the speaker has earned our trust we can follow her through the space she occupies and experience it through her senses. I hope Zorras continue in this direction because it is haunting and beautiful. Play the first two tracks getting ready for a date with an ex, ignore the second two, and save the last for the morning after. This isn't an "all at once" EP, it's a collection of stories that have their own specific time and place.
More Reviews from Issue #5