Shane Koyczan: Our Deathbeds Will Be Thirsty (book)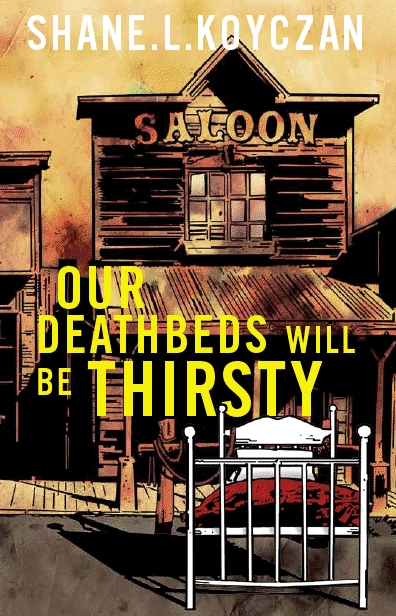 Shane Koyczan is a world-celebrated Canadian performance poet who has toured North American concerts, high schools, and artistic events. He put performance poetry on the mainstream map when he appeared during the 2010 Olympics Opening Ceremonies. What follows is a review of his new book, Our Deathbeds Will Be Thirsty (McKellar & Martin). Koyczan presented this new work when he performed at The Vogue on April 21, 2012. With the help of his band, The Short Story Long, and violinist Hannah Epperson, he combined artforms to awaken the spirits of his audience in laughter and heartbreak alike. Watching him perform his work truly shows how much love he has for those about which he speaks: from his impression of his protective grandfather to his vocal illustration of a kindergarten sweetheart, his relatable stories easily invoke his audience to view precious moments in their own lives with new wonder.
Few people have been able to successfully describe what it is truly like to be a child experiencing the world. There's always been an acceptance that the magic and insight of being a new person is something we've lost and we can only describe it from afar. William Blake, Dr. Seuss, and William Carlos Williams have all given us small glimpses of that forgotten feeling, and Shane Koyczan has succeeded in much more in his new written compendium, Our Deathbeds Will Be Thirsty. He reveals the dreamer – the visionary – each of us once was not as something lost, but something misplaced, and just around the corner.
The collection of poems speaks like a journey through each formative moment we'd forgotten we had: the monster under the bed and the intricate rules about how to overcome its powers; the ability to talk to girls or boys we liked; the fear of being bullied; our first experience with real anguish. More uniquely, his sophisticated, lively vocabulary and devices are in stark contrast to the youth of his narrators. This is his magic tool: when we were five, or even fifteen, we had feelings and needs for which we simply didn't have the tools to communicate. By replaying these moments with the help of Koyczan's elegant use of language, the reader relives such feelings with a new understanding, and can't help but feel an ancient wound begin to heal, finally finding the words to unsung moments that slowly, painstakingly made an adult.
Our instinct is to not talk about the difficulties we face in school. Shane speaks to a deceptively broad population of youth and ex-youth that faced these struggles in silence. Shane has not just broken the culture of silence, but said something beautiful above and beyond "it gets better". He's revealed an open secret: it quietly happened to us all; and therefore we are not alone. Koyczan has revealed that the greatest ally of childhood fear is silence; "Despite your instinct to say 'it's alright I'm okay' be honest / say how you feel without fear or guilt… if you think for one second no one knows what you've been going through be accepting of the fact that you are wrong".
The poems that speak most to these forgotten yesteryears are "When I Was a Kid" and "Powdered Milk". The speaker in these poems is a voice that has a kind of joyous disdain for the mundaneness that is the pessimism of everyday life. The sentiments are reminiscent of Peter Pan, who resists the imperative to hurry and grow up, or William Blake, a poet of the Romantic age who contrasted between the wise innocence of youth and the dreadful pessimism of experience. However, Koyczan does not condemn experience and age, but rather modern society's narrative about what adulthood is supposed to be. He wants to smuggle this optimism across the border of adulthood, and change happiness' immigration laws as an ex-patriot of Innocence.
The speaker frequently alludes to adults interfering with a child's spirit and wonder at the world, describing their frequent attempts to stop anything approaching originality or unabashed joy. This is key: the deflation of the inspired young soul is described as the result of interference, not age. Unlike Blake, who told us adulthood is an inevitable but terrible state, Koyczan seems to be telling us that the only reason that adult life is frequently dreary is because we mitigate the wonderful imagination we are each given. In other words, adulthood, in the Peter Pan sense, is only dreary when cheeriness and wonder are discouraged. There is a perseverance and an invincibility in the youngest characters of Koyczan's poems, whose spirit is sometimes bottled, but never tamed. Even the oncoming checkpoint of death is seen as just another point in Koyczan's poetry, just as important: "The failing use of Sara's heart is not the failing use of Sara's heart… it's just another way to tell the time. And she's ticking."
And so, we're left with a feeling that people are beautiful unless and until it is shaken out of them, and, even if it is, that it's not too late. This message continues in poems about love and death. In much of Koyczan's work are stories about how people can change each other by being in each other's lives. There's a sense of responsibility that comes from this power, like the old campsite metaphor about leaving a person better than you found them: "She held him like a video rental: no sense of ownership, just a gentle knowing that he would have to be returned in working condition". The speaker's descriptions of malicious silencing of free spirited thought reminds me of watching rioters destroy Egyptian artefacts. There is a horror at the gall and the sheer destructive nature of the act; and yet there is optimism.
More Reviews from Issue #5