Canadian Poets in Schools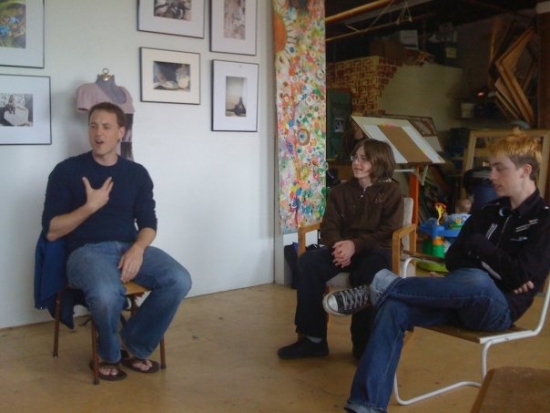 In this month's feature articles, LitLive is getting an A+ keener head start on a "Back to School" theme. Hopefully this article profiling a few poets-in-the-community programs across the country, along with Moe Clark's feature interview with Bronwen E. Low will facilitate more successful interaction between the educational and spoken-word communities.
The 2010 documentary Louder Than a Bomb follows a group of high school students as their teams prepare for the Chicago youth poetry slam tournament of the same name. It reveals the degree to which spoken word (in the form of slam) has developed and organized itself into an accessible and popular medium for young people to express themselves.
"Spoken Word is about getting people to think about themselves, and to know themselves," says Sheri-D Wilson, a strong proponent of teaching spoken word to youth. "[You use] the ideas that you have and the feelings that you have that you observe in the world that you live in. You don't have that in a lot of other forms."
Spoken word then is a valuable commodity for the development of young people, and items like Louder Than a Bomb are slowly but steadily cluing in educators to its potential. Educational institutions can be rigid, somewhat byzantine structures though and navigating into and through them can be a daunting task for an individual artist, even if they are carrying a precious payload. Happily, there are organizations across Canada that are building the necessary bridges to facilitate this interaction.
Perhaps the most successful effort in the country is Vancouver Poetry House's WordPlay program. "We sent poets to 40 schools and libraries this year, [for a total of] 54 half-days of workshops," says Chris Gilpin, coordinator for the program. Since poets are always sent to classrooms in pairs, "that translates to 108 days of work for poets, and WordPlay has paid out over $18,000 to poets so far this year, all of which is the most ever for the program." This despite the looming threat of a teachers' strike.
According to Gilpin, WordPlay started in 2004 by three poets from the Vancouver slam community: Magpie Ulysses, Matthew Glick, and Daniel Wood. They began by leading free writing and performance workshops in schools, in exchange for testimonials from the teachers and administrators. These testimonials then became a key feature of their application for funding from Canada Council for the Arts. Their application was successful, and the program has been running ever since. The purpose of the funding from Canada Council is threefold, says Gilpin: they allow poets to be paid to participate in professional development sessions; they supplement the fees of the more chronically underfunded schools; and they cover administrative costs, including an honorarium for the coordinator.
Early in the fall, Gilpin leads one of the professional development sessions to orientate new poets to the programs. Generally there will be one or two more PD sessions during the school year, open to all the poets on the roster. Here they share their experiences, swap writing exercises and brainstorm activities for students.
"Probably 3 quarters of the booking we get is due to word of mouth... It really is driven by the impact we have in schools," says Gilpin. He credits much of that impact to the spoken-word performances that the WordPlay poets deliver in classrooms. He notes that he has observed a lot more success with WordPlay's spoken-word based curriculum compared to conventional page-based approaches; "Schools want us to come in, and they want us to come back."
The Toronto Poetry Slam, run by the Toronto Poetry Project collective, has also branched out into schools. For the past three years they have run spoken word workshops in high schools in the GTA an average of three times per month during the school year. Having a regular event, the slam, connected with the program has helped immeasurably, says Dave Silverberg, who serves as the program's coordinator. "Most of the bookings we receive are as a direct result of a teacher seeing one of our slams. Now that we are producing them twice a month [as opposed to once, as before], that bodes well for getting even more exposure."
TPP has received funding in the past from public granting agencies, and in those budgets were lines to cover administrative costs involved in running all their projects, including their poets in schools initiative. Funds are also sometimes allocated to cover some of the costs for underfunded schools, as they ocassionally are in the WordPlay program as well. "I hear often that is is a problem for schools to find the funds. I've also heard from teachers that getting at them early in the year yields better results.
Michelle Dabrowski is a Toronto native who has been living in Melbourne, Australia for four years, and, incidentally, plans to mark her first visit back to Canada with a summer tour dubbed the "Soles of Australia Tour." Australia is well-known for providing considerably more support for arts and culture than Canada, and this perception fits into her experience in the state of Victoria. "Compensation which comes from the arts funding bodies pays a decent wage," she says, "still, poets and artists from other disciplines in Melbourne who teach usually have another job as well... The state of Victoria has a grant scheme for artists across all artistic disciplines to go in and do this kind of work with school. It is just phenomenal. I don't think access to funds is a barrier to getting poets in schools." Instead, the problem is one that is echoed by poets in Canada; "Sometimes, the problem is getting the schools to understand all the benefits of having poets come into their classrooms."
Silverberg laments similarly, but not hopelessly. He finds GTA schoolboards somewhat stuck in their ways, adhering too closely to a poetry curriculum that doesn't recognize the power of spoken word poetry. He finds some teachers use more established programs, like that of the
League of Canadian Poets
, that feature poets with more publishing credits to their names. "A lot of teachers when they have us in aren't even aware of the kind of content we do until we perform it, and they are just amazed by the kind of energy and stage presence we have, and at how engaged their students can be," he says. "We might have to change the perception of what poetry is able to offer to students. Hopefully teachers will talk to their department heads, enlighten them to what poetry is like in Toronto."
I spoke to Sheri-D Wilson, founder of the Calgary International Spoken Word Festival, about Word Travels, her project that not only brings poets to schools, but now brings schools to poets. In conjunction with the CISWF, Word Travels brought busloads of students to the Calgary Public Library to see performance poets like Truth Is, Ian Keteku and Regie Cabico. Three of the four events were sold out entirely.
"It started out trying to help the community understand what spoken word and slam was. Then slowly getting artists in schools. And then moving into bringing schools to venues," Wilson says of the development of Word Travels over the last six years. In the 2011-2012 school year, the program reached over 6000 students. Receiving public and corporate funding has been crucial to the program's development, Wilson says. "Corporate funding is out there," she says, "It's easy to find if you look for it!"
She explains that she is very deliberate in the pacing of the program's growth: "I don't think it's a good idea to grow quickly. Relationships take years to evolve," she says in reference to the all-important relationships she and Word Travels build with teachers. "I think it is wise to go slowly. This way things progress and develop, and take on a life of their own. Instead of you trying to force feed the fork into the garburetor, you're basically just offering something and people come and say 'that sounds cool.' But they already know you, they know you're legit... the relationship has already developed far enough that there is a trust there."
The importance of this relationship was echoed by all the coordinators I spoke with. Dawn Knight is a performance poet, visual arts teacher and creative consultant for schools in the Winnipeg area. Being right in the middle of the educational community, she says she has no trouble at all getting school gigs performing poetry with her collaborator Steve Holbrow who have both worked in middle and high schools for over ten years."I can't think of a single workshop we got hooked up with because of our posters, any advertising, or even our website!" she says. "It's all personal connections and word of mouth so far."
Gilpin and Wilson are both advocates of soliciting feedback or evaluations after visits to learn from their clients how they can better meet their needs. This dialogue is another opportunity to improve on the quality of the service that artists are providing, and also to guage the impact the work
"The income from my school bookings is a significant portion of my living," says spoken word artist and educator Greg "Ritallin" Frankson. "I couldn't make a living without doing these workshops. No question about that." Frankson relocated to Toronto from Ottawa recently, but still spends time in the capital region. The bulk of his bookings, he says, come through two arts organizations in whose catalogue he is listed: Toronto based
Prologue for the Performing Arts
, and Eastern Ontario's
MASC
. Both of these organizations offer an online catalogue with profiles of approved artists in various disciplines. It seems a rather convenient, if somewhat consumerist, way for educators to program their lessons. They can see the price, length, logistical requirements and even some availability information for each artist (of which they are a limited number) and workshop. Artists like Ritallin with the savoir-faire to package their offerings with high-quality photos and succinct write-ups can interface effectively with this format. Similar organizations, like
ArtStarts
in BC.
The danger of these catalogues, it seems, is when they create what marketers call "the paradox of choice:" there are so many to choose from, the consumer is quite likely to choose none for fear of making the wrong choice. For instance, the Saskatchewan Writers' Guild website and the Writers Federation of Nova Scotia website both have information on how to book a writer into your school, but both profile around 100 writers. If a teacher didn't already know who they were looking for, it's not hard to imagine a them being too daunted to browse through dozens of bios to find the perfect match.
Sheri-D Wilson takes a more hands-on yet organic approach to delivering content to schools. She (or her hired administrator) speaks with every teacher or department head that books Word Travels in order to create a workshop suited to their needs and budget. While there are a number of schools that choose to do whatever was done the year before, or to just opt for the program's basic workshop template, Wilson is prepared to shape the workshop to span whatever length of time or cover whatever material is most beneficial, and then she will source the best artist for the situation. Her program has also produced a series of spoken word teaching guides which have culminated in the 2011 release
The Spoken Word Workbook
, edited by Wilson. This is now available as an online resource for all. (
http://www.spokenwordworkbook.com
)
Having an intimate knowledge of the ministerial teaching objectives is a great place to begin as well, as Dawn Knight knows. "Everything we program connects very clearly to the goals the Manitoba Government has outlined as 'levelled outcomes' for each grade. If we can come in and basically teach a piece of what the teacher's expected to teach anyway, we're even more welcome!" she laughs.
What seems common practice is to start a session with a performance to draw students in and excite them about some of the possibilities of spoken word. From there, students are more receptive to participating in writing and performance-based exercises. "The overwhelming majority of young people will get onstage and perform" during his workshops, says Frankson, because right from the start of the workshop, where he explicitly lays down the principles of the space, he proactively creates the sort of environment in which young people feel comfortable sharing with their peers.
Vancouver-based poet Barbara Adler often points out early in her workshops that, contrary to popular teenage belief, one cannot die of embarrassment; taking a performance risk and possibly making a bit of a fool of yourself actually makes people feel good and like you a little more.
While many poets who act as spoken-word educators have a background in competitive poetry slams (or are still "heavy slam users"), the competitive format is largely eschewed in class. Knight and Holbrow say they use the term "slam" in classrooms because it sounds engaging to youth, and they may discuss what the format is without putting it into practice then and there. "[Among educators] there's a lot of focus right now," says Knight "on celebration and skill-building without comparing child to child."
Silverberg though says that in the right circumstances, schools can embrace the format. One school in particular has had him come in more than once to run a series of mini slams for which students are invited to prepare in advance and volunteer to perform. It is run during class time, with each grade spending a period in the library hearing and cheering their eager peers.
Poetry slam clubs have been forming in high schools across the country. BC and Quebec both have their own provincial tournaments for high school slam teams.
Radio Canada
co-produced a very good web documentary,
Le Bruit des Mots,
around a high school slam tournament. Frankson and Gilpin are currently developing a national tournament, Youth Can Slam, that will have its inaugural edition in 2013. These clubs represent another area where poets and organizations from the community can and, as in the case of WordPlay, often do offer creative and logistical expertise.
Youth outreach groups have also clued in to the power that spoken word can have for young people. Unity Charity (
http://unitycharity.com
) is a Toronto-based non-profit that uses hip-hop to engage youth and encourage them to make positive chocies. They run programs in schools and other venues around Toronto and also in Calgary, Fort McMurray and Halifax. Lishai Peel is the coordinator for Uniffect, Unity's spoken word crew. She works with the group twice per month to help these young spoken word poets and emcees to develop their writing and performance skills. "The focus of the group is on inspiring and engaging young people between the ages of 15-21 through spoken word, while addressing and expressing health concerns that are relevant to them.," Peel says.
Every province has a writers' association of some kind running poets-in-schools programs, utilizing spoken word in varying degrees. The Quebec Writers' Federation administers three programs that get writers into elementary and high schools, CEGEPs, and community groups. The Writers in Schools and the Writers in CEGEP programs are run in collaboration with QWF's francophone equivalent Union des Ecrivaines et des Ecrivains Quebecois and receives funding from the provincial government. Of the dozens of writers on their "Eligible Authors" list for the CEGEP program, a small few are performance-oriented in their work, including Norman Nawrocki and Catherine Kidd. Funding from the Ministère de Culture, Communications, et Condition féminine covers 80% of the poet's $500 honorarium for a full day of readings, lectures and/or workshops, while the school covers the remainder.
QWF's Writers in the Community program connects poets with community groups to bring literary arts to young people left out of the artistic mainstream. Since 2007, the WIC program has been filling that mandate at Mountainview School in Montreal, where writers have been facilitating workshops in writing and occasionally performance roughly ten times per school year. Past facilitators include spoken word artists Jason "Blackbird" Selman and Moe Clark. In 2012, the Writers in the Community fundraising drive raised $8000, according to Lori Schubert, QWF's executive director. QWF also received some small foundation grants, and a larger grant from Intact Insurance.
Poet, storyteller and musician Barbara Adler has been working regularly with youth for over six years. She was one of the first poets in the WordPlay program, is a mentor for young writers and performers in East Vancouver arts centre The Cultch's Ignite program, and is a presenter and band leader for ReachOut Psychosis, a program that educates young people about mental illness. While much of this work is satisfying to her, she is at least somewhat conflicted about the long term effect it has had on her as an artist. "This is a really complicated question," she says, "because honestly, I think a lot of the work I have done with teens has actually been pretty awful for my creativity. When we go into a classroom... we need to entertain and impress them [with our performance] so that we can teach them about spoken word, or, with ReachOut, mental illness. Internalizing that judgement has been really difficult for me, because honestly, I don't want to write with this imaginary ninth grader in my head who doesn't understand any of my jokes or my references. I think that this kind of balancing game is something that anyone who does this for a long time might have to deal with. I don't think Patti Smith would have become Patti Smith if she were spending most of her time performing to grade nine students."
Nevertheless, she concludes, "the benefits-- a place to practice a new skill, promoting and rehearsing my new band, steady pay-- have outweighed the angst about entertaining teenagers."
Whatever anxieties or reservations poets may have about undertaking this work, no poet or educator that I have ever spoken to has ever concluded that the effort is not worth it for the students. Reccently, while performing at the National Roudtable for Teacher Education in the Arts, Greg Frankson was approached by a teacher in whose school he had performed six years prior. The teacher informed him that one student who at the time, Frankson says, "was a very quiet kid with a speech impediment. He was very shy and didn't really fit in. The teacher told me that when I did that 2 hour workshop with them, it was a pivotal moment for him. He has now gone on to university and is performing spoken word. He's slamming. It's heartwarming to me, but also speaks to the power of introducing particular art forms to young people at the right time. It can really change their lives in a positive way."
An informal poll of poets I know personally revealed a varying degree of exposure to poetry while in high school. But Jeremy Loveday expressed a sentiment that is common among those who were exposed to spoken word: "The experience of being given the space to speak my truth in class never left me. It has led to my efforts to facilitate creating that space for as many youth as possible," said Loveday, who now organizes Victorious Voices, Victoria's citywide high school slam championships. "It was so comforting to have an adult that wanted to hear what us youth really thought and felt, and what we needed to get out. "
As exhausting as it is, this article is still in no way an exhaustive list of all the programs across the country. If you are involved with poetry in schools or community groups and have something to add, then please leave a comment below!