Saskatoon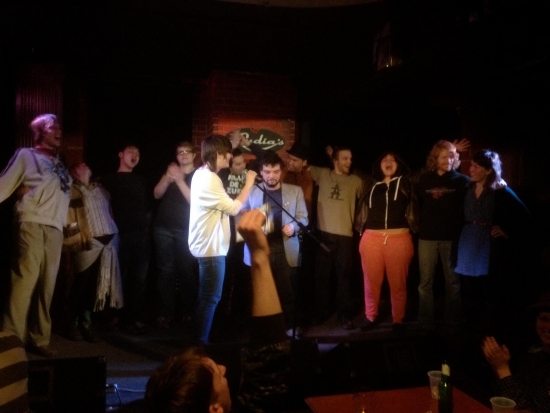 It's a Sunday night in a dingy Irish pub in a small prairie city. The place is packed. There isn't an empty seat in the house and people are squeezed into every corner of the place. A hush washes over the room and then there is total silence. Everyone's attention is focused solely on the stage. The performer spends a few moments looking at the ground, collecting her thoughts before making her way to the microphone. Then she unleashes. This is a scene that unfolds almost every Sunday at Tonight It's Poetry in Saskatoon.
Who would have thought a quiet little prairie town in the middle of nowhere would become one of the hottest poetry scenes in Canada? Well, it has happened. There is no denying that Saskatoon has become a top destination for Canadian spoken word and literary performance.
The one show that changed the entire landscape of poetry in Saskatchewan was Tonight It's Poetry (TIP). TIP began four years ago in a small bar in downtown Saskatoon. On a good night, the show would boast of crowd of 20 or 30 people. In those days, it was your mainly traditional, subdued readings.
Then came spoken word. Poetry slams and performance-based poetry events exploded onto the Saskatoon poetry scene. In no time, TIP had moved into a larger venue and now regularly attracts 100 people or more a week. Aside from monthly poetry slams, TIP features a professional spoken word poet every single week. The show has brought in some of the top names in spoken word, including Shane Koyzcan, Mary Pinkoski, Mike McGee, Ian Keteku, Magpie Ulysses and so many others. These performers and their words have inspired a whole new generation of poets and poetry lovers alike. So many people who thought poetry was lame or uncool, have now became spoken word's biggest fans. It's insane to sit in that bar and watch people's minds get blown every week.
Outside of the regular Sunday nights, TIP has had a large impact on the poetry scene, both at a provincial and municipal level. In the last three months alone, TIP poets have gone into high school classrooms throughout Saskatoon and have travelled as far as Moose Jaw, SK to give workshops on the art of spoken word. Most recently, we gave a workshop for the Saskatchewan Writer's Guild, and introduced a whole new generation of poetry lovers to spoken word performance. Outside of workshops, TIP poets are regularly asked to perform at public events. I opened for Shane Koyscan at a nearly sold out show at the Broadway Theatre.
I was also personally invited to perform in front of 1,500 people—including the mayors of both Calgary and Vancouver--at the closing gala for the Federation of Canadian Municipalities conference in Saskatoon. TIP poets also took part in My City Speaks—a fundraising event hosted by our local community radio station. Members of the 2011 slam team also took part in Saskatchewan Arts Board gala dinner, where we performed a half hour set to much acclaim. We cohosted a "Social Justice" showcase featuring Ahmed Majid—a member of the 2011 poetry slam team. More recently poets have been performing regularly at a coffee house concert series at Souleiothe Foods downtown. Later this summer, TIP poets will be performing at Festival of Words in Moose Jaw and on the main stage of the Ness Creek Music festival.
One my favorite things about TIP is seeing new faces every week who get up on stage and pour their hearts out. There is relative newcomer to TIP who doesn't exactly fit the mold of a "spoken word artist." He's over the age of 50. He's a radiologist. He showed up at the show one week because of his daughter. He was hooked. He began writing poems again for the first time in 20 years. Within in a month he was up on that stage delivering some of the most original and heartbreaking poetry I have ever seen or heard.
He once said that before poetry slams, before TIP, he had a hard time figuring out the younger generation. To him we seemed lost and out of touch. It wasn't until he was in that room, with a hundred other people listening to someone on stage spill their guts that he realized what we were all about. He is now a member of the 2012 Saskatoon Poetry Slam Team.
Spoken word has made its way beyond the Sunday night stage. TIP poets have performed in classrooms and done workshops. They have opened for touring rock bands, performed at music festivals and literary events throughout the province. Spoken word is now featured regularly at conferences and showcases, festivals and fundraisers.
I could list off all the places spoken word has taken Saskatoon's poetry, but the list would be longer than the space would allow. But all I will say is that poetry here is huge and is getting even bigger. People in this little conservative town are eating it up. More and more newcomers are out every week to watch and perform poetry. Poetry. I know that sounds crazy and it really is.
Sometimes during the poetry show I don't even look at the poet. I look around the room at the people's faces. There is something really magical about seeing a room full of people from all different walks of life in complete unison, their emotions in sync with every word, every breath, every movement, and every moment. We are on to something. And in Saskatoon, we aren't going to stop any time soon.
More Scene Reports from Issue #5