Missie Peters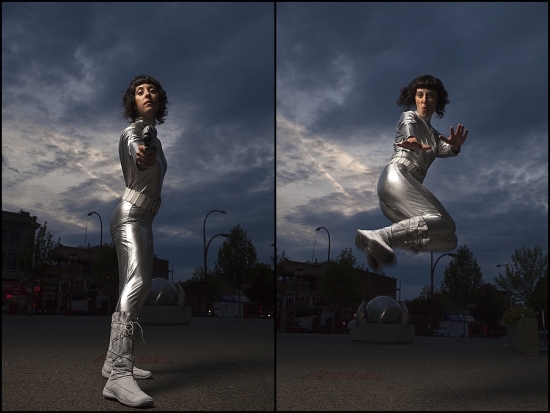 Poetry slam is sometimes thought of as a great training ground for artists to get stage time while discovering the taste of their words, offering higher stakes and the opportunity for greater exposure than ordinary open mics. Missie Peters has made herself part of the crop of talented Canadian writers who cut their teeth on the slam stage and then branched out into tangentially related art forms.
Beyond just branching out though, the petite, wide-eyed Victoria resident has actually made connecting various manifestations of the oral tradition central to her artistic practice. She regularly combines improv, poetry, storytelling and theatre into fresh, original projects.
In 2009 Peters was part of the team organizing the Canadian Festival of Spoken Word in Victoria. After hearing hundreds of poems that week, she noticed a an unfortunate amount of consistency in the subject matter and the style of most poets. It was also disappointing, she says, to meet so many interesting people in one week, but then have the sheer volume of poets there make it difficult to form other than superficial personal connections. Fifteen months later, she was opening the first annual Victoria Spoken Word Festival.
The VSWF invites ten to twelve emerging poets from across the country to form the festival ensemble. Together, they spend four days participating in workshops on topics that are not directly related to poetry-- clown, beatboxing, character, improvisation-- then challenges them to work with a theatrical director to create and perform an hour-long show for which the only stipulation is that it can't have just one poet after another reading a poem. The final product, which I had the pleasure of seeing at this February's edition, features segments like persona poems written that week, performed with very strong characterizations, "improvised" haiku written during the show on subjects suggested by the audience, and the enesemble delivering poetic introductions of each other that gave a palpable sense that the ensemble had indeed made more than superficial connections to each other. All segments were tied together nicely with theatrical transitions and lighting.
Peters, who got creative and turned to
crowdsourcing
to help fund the festival, hopes that exposure to different mediums will drive the artists who participate to evolve and push their personal envelopes enough to seed change in the communities where they live. "That's not too lofty a goal, is it?" she laughs. She notes the absence of spoken word courses in universities, and sees the program as a stepping stone in an artist's development, with the Banff Centre's longer, more established spoken word program as a subsequent step.
"The second year solidified for me that the model works, and that we have a solid festival concept that people buy into and bring their all to," Peters says, "It's the most artistically compelling thing I do all year."
Along with Dave Morris, another Victoria-based writer, improviser and storyteller (who also happens to be her boyfriend), Peters runs Paper Street Theatre Co., a project that has produced some noteworthy improv shows recently. Under the direction of Morris, the pair, along with a cast of fellow improvisers, take on the task of creating a full-length improvised show in a predetermined style using audience suggestions. The ensemble spends many hours studying the source material, Peters says, before getting up in front of an audience. For instance, this season they took on Tennessee Williams, Samuel Beckett and Film Noir, and will perform an improvised Fairy Tale this month.
Morris is also directing another project with Peters: her new one-woman show, Where's my Flying Car? The show is a series of poetic monologues from the point of view of various characters in the future. "The central theme of the piece is the gap between the optimism we have towards the future and what it ends up being," she explains. "And also that I'm a huge sci-fi geek." The two developed the piece to be performed in a proper theatre, but also made it scaleable so it can be performed in bars and cafes and other conventional poetry venues, as it will be when she tours the show across western Canada this summer.
Collaboration has become a strong theme in Peters's work. "I think one thing that spoken word artists don't do enough is work with a director or producer. By that I mean an outside eye on how to make your project, your art, better. Writers of short stories and novels do this all the time with an editor. For some reason in spoken word we think we can float around on our own. I've never had anything but good returns working with another artist in this way."
"Most of the work we did was about storyboarding the fully formed pieces, developing transitions and seeing how these pieces fit togethers" she says, elaborating on her experience working with Morris. "Or, I like to say that I know where a joke should go, and I'll say to Dave: 'write the joke'. So if there's something particularly funny or endearing in the piece, it's probably because Dave said 'do this.'"
Peters started doing improv, she says, to develop her overall performance skills, she says. "So often we write from an implied personal perspective. I wanted to work on my characterization so I could do poems that weren't from my own perspective but still sound believable, so you could still hear the essence of the piece." So far, it would seem, mission accomplished. Her performance poetry is marked by an acute awareness of the audience's journey; they are accessible but evocative narratives with memorable hooks, clever punchlines, and believable characterizations.
In her day job as a professional writer for the government, Peters says that she uses many of the same skills and sensibilities she employs in her creative writing, like repetition for the sake of rhetoric, and the use of metaphor to aid in telling a story. This job was also the inspiration for her 2010 one-woman show Public Confessions of a Public Servant.
Although she has done her fair share of organizingin the past, notably with Tongues of Fire, the group that produces, among other things, Victoria's poetry slam, she feels she has learned to maintain a balance between her work as an organizer and as an artist. "As organizers we have to be gentle to ourselves and makes sure we are creating as much as we are organizing. You can get so focused on creation that you forget to feed your own creative soul and you lose touch with that," she says. In times like that, when a low creative output makes one feel like less of an artist, she says it's important to remember that one's identity needn't be tied to their production; "You are a writer or a poet because you look at the world in that way."
More Profiles from Issue #5