Banff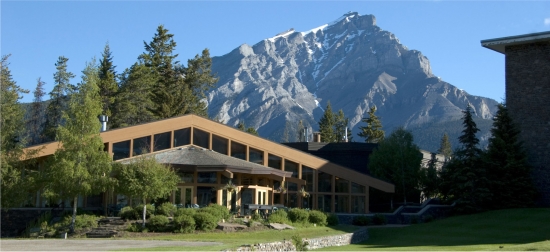 One of the best known secrets around the Canadian spoken word community is the Spoken Word Program at The Banff Centre. Spoken word poets have come to know it as a life-changing/life-giving sanctuary, where their work and their lives as poets take dramatic shifts and grow in leaps and bounds.
Beginning in 2005, the Spoken Word program boasts a list of alumni that includes Canadian Festival of Spoken Word champions, acclaimed singer-songwriter poets, and poet laureates. But beyond that, the Spoken Word program has rooted poets in the notion of what it means to be a vital, national – and international - community. The program has come to be one of the most innovative, highly regarded programs at The Banff Centre.
Steven Ross Smith, Director of Literary Arts at The Banff centre, says, "Spoken Word at The Banff Centre brings a dynamic energy to our writing programs here. Its performative aspect engages young artists and appeals to audiences. Along with our In(ter)ventions program, Spoken Word adds a very contemporary vitality to the Centre's traditional writing programs in poetry, fiction, and non-fiction."
The program originated under directorship of Sheri-D Wilson and a summit meeting. Wilson, a Calgary-based poet and an elder in the spoken word scene, brought together a group of 16 of the leaders in the spoken word community for the Spoken Word Action Network summit.
"What I had observed through conversation with various people was that there was nowhere to go to speak about spoken word," says Wilson, on her original impetus to start the program. "I had the idea to create a networking circle, gathering people from all over to speak about spoken word; where we are and where we might go."
Wilson notes that out of the discussion came the realization that Canadian spoken word artists needed a place to come and discuss spoken word, and move spoken word forward as a community that represented a broad range from neophyte to experienced, but that it was always a community that moved forward with graceful inclusion. Thus the Spoken Word Program at The Banff Centre was born.
"The program was meant to be circular, non-hierarchical. I brought people with vast experience to lead a circle everyday and a discussion of spoken word, creating a language to speak about spoken word," explains Wilson of the original intention for the Spoken Word program.
She adds that most people coming to the program had a 'poetical spirituality' that provided them with a community-minded Eros. "I did it for the community."
Wilson has come to see the rewards of her work yearly. "It is alive in front of me wherever I go. I go to the national slam and see former program participants ascend to new heights of their own possibilities. It gives me goose bumps to see that within the genre we are holding each other's hands instead of competing. We have evolved to another way of being, which gives me hope in the bigger context of the world, of supporting each other and our possibilities. Everyone is part of the dialogue."
This creation of community, something that has been crucial for Wilson in all her work, has remained one of the most important aspects of the program at the Banff Centre.
Vancouver spoken word artist RC Weslowski who was at the original summit and then returned as faculty in 2012, has seen the original intentions of the program spread throughout the Canadian spoken word community.
"[The program] has encouraged people to be more expansive and that is rippling and growing stronger in the Canadian spoken word community," says Weslowski, noting this happens when poets see other poets taking risks.
Over the past seven years of the program, faculty from around the world has been brought in to enhance this mandate of creating a spoken word community that has constructed for itself a critical, valuable dialogue around spoken word.
Acclaimed American spoken word artist, Regie Cabico was the most oft-returning faculty returning, working alongside Wilson for sveral of years. He notes that his time at Banff allowed him to "witness the electricity of brilliant writers and performers already committed to the art form of spoken word poetry."
Cabico explains further, "These people, as Sheri-D Wilson would say, are mostly 'give backs,' artists who are community-oriented and who organize readings or who galvanize talents in their local literary scenes. ... I think artists leave the Spoken Word program at Banff wanting to give back to their community even more, and leave with a sense of generosity and gratitude."
Poets chosen to the Spoken Word program are placed in a unique setting that both steeps them in tradition but also electrifies them and moves them into new work.
"Sheri-D was committed to making this an intergenerational experience. So many young poets start thinking that they have invented the spoken word wheel but there is so much to learn from an artist who has pounded the pavement for decades," says Cabico.
This unique experience allowed poets to begin to dialogue critically together about spoken word and create a language to discuss. Weslowksi also notes that this was is a vital aspect of the program, "it is fundamentally valuable for the Canadian spoken word scene to have a place to go and work amongst peers on projects and to talk about the art form in a practical way and get feedback in a practical way."
Canadian national slam championship and World Poetry Slam winner Ian Keteku participated in the 2012 cohort. Keteku echoes the sentiments expressed by Cabico and by Weslowski. "I'd heard about the program and how it was an inspirational and beneficial experience for many of the poets that I know. ... I wanted to work alongside poets passionate for their art and excited about using new methods to bring them to life."
Keteku goes on say that what he gained most from the residency was "the space and days I got to just sit and write, or walk and write. I was totally committed to producing new work or at least experimenting. I was literally creating poems in my sleep."
This year, after seven years at the helm Sheri-D Wilson stepped down as the program director to create dynamic and cutting-edge programming for the 10th anniversary of her annual Calgary Spoken Word Festival. In her place, the directorship of the Spoken Word program has been handed over to Tanya Evanson.
Evanson is a Vancouver-based African-Canadian poet, spoken word and multi-media artist, among other things. She is also an alumni of the Spoken Word program. "We are all part of a continuum and I come through Sheri-D," says Evanson.
When discussing her new role as director, Evanson is quick to cite how formative the program was to her as an artist to be able to be fully immersed for two weeks and "surrounded and interacting with other poets all the time."
"It is a gift to the Canadian poetry community," says Evanson, excited that her new role now allows her to be fundamental in ensuring that others continue to receive this "gift."
Evanson hopes that under her directorship the program will continue Wilson's vision of the spoken word tradition and the fostering of community and the exploration of the multi-variant forms of spoken word.
She details her hopes for the program, saying she would like writers to leave knowing of the history of spoken word, the diversity and range of spoken word (from dub and hip-hop to slam and beyond), new and multimedia, working with sound, working with body, and issues of spirituality, language, gender, youth and even business production.
"I want to touch on all of those somewhat," explains Evanson of her global vision for the program. "I hope that I can continue to push boundaries and focus on having poets create work that knows no borders and can be performed anywhere."
With big dreams for the program, Evanson is off to a great start with the 2013 faculty. This year's 10 day Spoken Word program from April 3 – 12, 2013 will have Jean-Pierre Makosso and D'Bi Young as its faculty, with workshop leaders Christian Bok and Alexis O'Hara.
The Spoken Word program at The Banff Centre is indeed, as Evanson notes, a gift to Canadian poets. Every year it takes poets from all over to the heart of the Canadian Rocky Mountains and teaches them how to work as a community to build their own mountain, and it reminds them of how important it is to honor each other and each other's work to ensure that mountain remains standing. So it is with honor, and grace and dignity, that the program will transition now, that the momentum will shift, but the mountain will remain standing.
For more information on the program or to apply visit The Banff Centre's website. For more information on the program or to apply visit
The Banff Centre's website.
More Scene Reports from Issue #6