bill bisset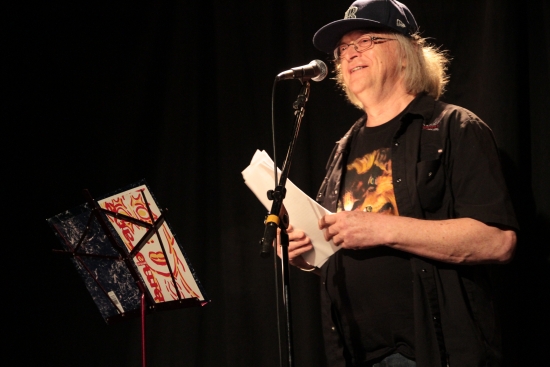 who can 4get th futur
not 2 mensyun th past
n th present hello n
who can evn remembr
th futur can yu can
aneewun remembr th
futur whats it thr 4 if
we cant remembr it Y
dusint evreewun med
itate all day n nites
Or who could forget bill bissett, once they've encountered him? An unstoppable icon of Canadian art and poetry, bissett is "a one-man culture" where the avant-garde and the shamanistic converge. His prominence springs as much from his wildly expansive art as his authentically loving approach to life which has won legions of friends alongside the fans. As Linda Rogers puts it, he is "family to everyone who knows him." bissett's influence (in writing, art and personality) have inspired generations of artists to cast-off would-be societal shackles and awaken their own raging excellence. Because of the visionary quality of his poetry and his commitment to visual art, bissett has been compared to William Blake, and to no one else.
Born in Halifax in 1939, bissett's childhood was marked by illness. At the age of ten, in an oxygen tent after 12 operations for peritonitis, bill gave up his ambition to become a dancer, due to limitations brought on by illness and surgery. His young mind turned to painting and poetry as less physically demanding mediums through which to communicate his bubbling-over spirit. bill's art and voice still move with an elegance and vitality that maintain the ghosts of those old ballet dreams.
His mother succumbed to cancer in 1953 and bill, the youngest child, lived alone with his father who disapproved his son's interest in Hollywood and art, hoping he would study law. bill attended Dalhousie University beginning in 1956, but found academia stifling to his creativity. He joined a circus which brought him to Vancouver at the end of the 1950s. Often described as pre-hippie but post-beat, bill became Vancouver's un-crowned prince of a movement destined to become the 'counter-culture' of the 1960s.
In '62, he founded the influential and pioneering blew ointment magazine and press. Over the next two decades, blew ointment helped expand reading audience of bp Nichol, Steve McCaffery, Margret Avison, Andrew Suknaski, Lionel Kearns, D.A. Levy, Margret Atwood and Michael Ondatjee. The press survives to this day as Nightwood Editions.
In '65 he co-founded
The Very Stone House
with Patrick Lane, Seymour Mayne and Jim Brown.
VSH
published bissett's first art/poetry collection,
Th Jinx ship nd othr trips: pomes, drawings, collage
followed by four collections in 1967 alone. In a
1968 interview with the
Paris Review,
Jack Kerouac named bill bissett as the greatest living poet.
Such quick recognition within the underground visual and literary scenes of the 60s came with a heady price-tag. The art establishment, fearful of his bohemian aesthetic, politics and lifestyle, launched a fierce resistance. At the height of the backlash, bill was denounced as a pornographer in the House of Commons. (Oops. Have I conjured an image of an impromptu, nude photo-shoot under the Queen's portrait? Off with their gowns!) I'll rephrase: denounced as a pornographer by the House of Commons. (Gavel bang.)
bissett's individually determined orthography extends from a positively anti-authoritarian and anti-hierarchical philosophy. For the poem, the poet is the creator supremo. Why would the artist, in the moment of creation, bow to externally established expectations? bill doesn't. As he wrote to me in a recent email, "thr reelee is no sanitee as long as thr is kontrolling or fighting or jelousee or envee". Or, more explicitly, "tho th forces against art n kultur may try 2 stamp us out we continu on with sew manee voices sew manee platforms ull uv wch is totalee necessaree 2 a civl n demokratik societee…without support uv th arts a countree will sink in2 brutalitee...th rite wing nevr sleeps".
The decade of revolution came to a harsh end for bissett in 1969. After a three-month incarceration for marijuana possession, he suffered a fall during a Kitsilano house party, through a gate that was normally latched. Landing on concrete from a height of 20 feet, he was left paralyzed and catatonic. Emergency operation saved his life but could not ward off edema, epilepsy and loss of language and memory. The federales were suing for a stiffer penalty for bissett's narcotics charges but when they served papers at the hospital, doctors told them he would be dead in a matter of days and the case was dropped. A dedicated neurologist re-instructed bissett in movement, speech and alphabet.
He has published nearly a collection per year since and become one of the premier acts in the nation. His relentlessly energetic performances blend sound poetry, chanting and percussion. In the 1980s, he collaborated with rock groups, acting as lyricist and vocalist for the Luddites and Mandan Massacre. In 1991 he was awarded the Milton Acorn People's Poetry Award; in '93 and '03, the Dorothy Livesay B.C. Book Award; the George Woodcock Lifetime Achievement Award, in '07; and in 2008, an honorary Doctorate of Letters from Thompson Rivers University. At that ceremony, he told the convocation:
"Against my will I was born. I kept putting it off. When I was born, I weighed 12 lbs, 8 ozs – I could not put it off much longer. I could have been born earlier. I did want to be a Scorpio, of course, cuz it's very intense. Also, I started to forget all the horrible things I'd heard about life and got curious and began to consider the strain on my mother who of course thought I was twins."
This past summer, bissett released a spoken word album with collaborator and musician Pete Dako, Nothing Will Hurt. His second novel is anticipated from Talonbooks in 2013, hungree throat which bill describes as a novel in meditation. bissett continues to produce a staggering amount of visual art which displays in Toronto's 'Secret Handshake Gallery'- run by and offering peer support for people with schizophrenia –events there occur on the last Sunday of every month. He will continue his work as a poetry mentor this fall with the finding our voices workshop at Workman Arts (Toronto), a centre devoted to artists who have struggled with mental health issues. bissett is currently the Workman Arts poet in residence and continues his extracurricular pursuits of meditation, swimming, tai chi and friendships.
More Profiles from Issue #6