Southern Ontario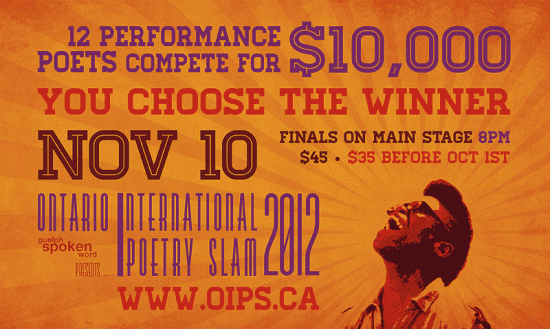 When I first walked into Guelph's River Run Centre on November 10, it felt like an Ontario slamunion (aka slam reunion): Ottawa poet Sean O'Gorman was chatting with Burlington's Tomy Bewick; hugs were heartily exchanged between London Poetry Slam's Holly Painter and Up from the Roots team member Patrick de Belen; Toronto Poetry Slam Team's Cathy Petch was all smiles catching up with her coach and fellow poet Alessandra Naccarato.
This was no potluck, but the first Ontario International Poetry Slam, a massive day-long competition featuring six prelim bouts of 10 poets each. The brainchild of Guelph Spoken Word's Beth-Anne Ellipses, Truth Is Ellipses and Mark MacKinnon, it's the first slam of its kind. They decided to stage a poetry slam giving away $10,000 in total cash prizes, the biggest purse in North America, let alone the world. The booty attracted not only Ontario poets, but performers from Winnipeg, Vancouver, and states such as Illinois, Utah and New York.
As much as this slam lured more American competitors than any other recent Canuck festival, OIPS provided a forum for Ontario poets to recognize what they've accomplished in the past five years. The Ontario scene has exploded, to put it bluntly. Besides the six regular slams in Toronto, Ontario is also home to spoken word competitions flourishing in Burlington, London, Kitchener-Waterloo, Guelph, Kingston, St. Catharines, Peterborough, Mississauga, Lanark County and, of course, Ottawa.
The scene has gotten so busy touring poets regular do "the circuit," featuring at slams over two weeks, at least five events' worth of gigs.
"OIPS is a culmination of all these slams spread across Ontario," says Tomy Bewick, founder of the Burlington Slam Project. "It's a good idea to create an event to catch that wildfire, that enthusiasm."
For any of the attendees at OIPS, they saw the love, the comraderie and their fair share of heavy poetry, from 11 a.m to late into the eve. The range of poetry made for an entertaining day, whether we saw the more practiced American-style of spoken word or the humour shining from some Toronto competitors. It sounds cliché, but almost every style of poetry was reflected in the 58-poet competition.
When Finals poets were announced (2 poets from each bout made it through), only two Canadians got the nod – Tomy Bewick, Alessandra Naccarato. Americans dominated Finals, a result Bewick wasn't surprised to see: "The U.S. has been doing this for so long, they know strategy, they've been talking in advance about this competition for awhile." Bewick adds he was determined to make Finals Stage so it wouldn't be an all-American affair.
Alvin Lau from Chicago was crowned the winner (much in part to his break-dancing final-round closer) and two other Americans took home the other hefty cash prizes. When the after-party rolled around, featuring some slick DJing courtesy of Ian Keteku, the competitive spirit had long faded and we all danced and clinked glasses like the reunion jam it was destined to be.
Poets will have to wait more than a year to return to Guelph for this international slam. MacKinnon says OIPS will take a break in 2013, as its proposed date conflicts with the Canadian Festival of Spoken Word in November. Don't miss OIPS in November 2014, poetry fans, it's a rare display of talent spanning an entire province and beyond.
More Scene Reports from Issue #7