Ray Hsu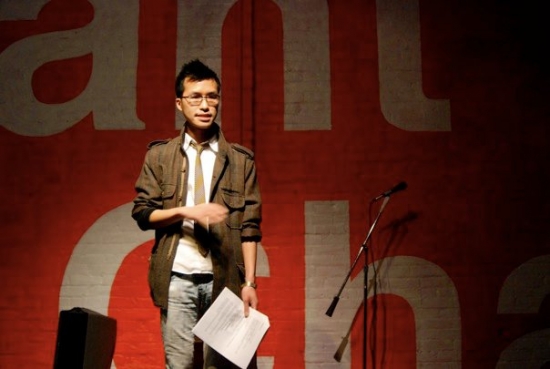 Ray Hsu challenges what can be expected in poetry readings, performances and even from an interview.
Perched on top of a pile of black stacked conference chairs, Ray Hsu waits with a boyish looking grin for someone in the audience to hit him with a page of poetry from his book. The audience is up on their feet, passing Hsu's book around, ripping out their favourite pages, bunching them up into tight balls, and then pitching them in Hsu's direction. This is the deal that the poet has made with his audience at the Voice showcase at the Open Space Festival, in Victoria, B.C. If they hit him, he reads. If they overshoot their target, they miss the opportunity to hear the verses contained on the scrunched up page in Hsu's voice.
Every time a poem-ball is thrown, Hsu hops down and adds another chair to the pile, until it grows to a whopping 16 chairs in height. The reading ends when the chairs topple over, launching the poet into the music stand.
Not everyone in the room will understand Hsu's intention behind this unique reading; but almost everyone in the room can agree on one thing – they are not bored.
Hsu is the author of two award-winning books of poetry: Anthropy and Cold Sleep Afternoon (from Nightwood Editions). Originally from Toronto, Hsu is an adjunct professor at the University of British Columbia, and was recently invited to give a TEDx talk on creativity.
Hsu is innovative in both his writing and his readings. In addition to earning a PhD in English Literary Studies from the University of Wisconsin-Madison, he has also earned a reputation for pushing the envelope of what a poetry reading can be, and occasionally tears it up altogether.
Hsu prepares for a poetry performance by placing himself inside the headspace of the audience, and asking himself what he would like to see.
Even as a child, Hsu has never liked the feeling of being bored. Over email correspondence he describes being a kid at "the dreaded summer camp", with a whole summer ahead of him filled with activities failing to engage his imagination. He recalls, "I still have flashbacks about sitting atop picnic tables weaving stupid plastic bracelets."
Hsu's readings are all quite different, from reciting poetry into the inbox of the Prime Minister to performing new work in the voice of an evolving dinosaur. Hsu draws inspiration from everything present in the room: the people, the objects, the furniture, the music, the architecture, and the history of the venue.
At a recent reading in the lounge of the Wild Rice restaurant, in New Westminster, B.C., Hsu developed some unusual performance ideas from a discussion he had over Facebook with the other readers a few nights earlier. One of the poets expressed concerns of being distracted by the music and the chatter of restaurant guests. Hsu played off this idea by devising his whole set around the idea of distraction. He danced wildly on stage to cheesy 80s music while Twitter messages and snippets of poems were projected behind him.
"To give a kickass performance," Hsu says in a recent interview, "you need to capture what is unique about what is happening right now." In this way, much of what Hsu does on stage could be considered performance art.
Hsu has collaborated with many artists from varying artistic disciplines, including: filmmakers, video artists, sculptors, manga artists, as well as his students and publishers. He enjoys collaborative work because "it opens possibilities."
For him, collaboration is not about asking someone to set his poem to music or video. Instead, it's about "that abrupt turn in conversation between two collaborators when someone says: wouldn't it be awesome if..."
Hsu is the co-founder of Art Song Lab in Vancouver, a week long intensive interdisciplinary program that brings together poets, composers and musicians to create and showcase new collaborative work. Art Song Lab is about collaboration as a process giving rise to new, fresh work that evolves out of the collaboration.
When asked what he thinks makes for a good performance, Hsu replied, "A successful performance creates good documentation that can be repurposed, remixed, reused. Our audience is not just who is in the room, it is who will be watching the video of the performance later. The documentation becomes permanent."
A few days after a video of Hsu bopping about on stage is uploaded to YouTube, his mother called him with concerns that her son's stage shenanigans might be damaging to his professional and academic career. When asked if he was also worried, the look of boyish zeal that was previously on his face as he talked about his performances faded. A more sombre look took over as he replied, "I am starting to think about it now."
Some of Hsu's performances are met with bafflement, or even anger from the organizers of festivals that have invited him to read.
"Even if organizers of festivals know that I might do weird stuff," Hsu reveals cautiously, "There is still an assumption that I am a part of literary group. There can be expectations about what a literary reading is."
Hsu enjoys challenging all of the forms associated with poetry, including: literary readings, marketing, and even giving and writing interviews. For him, it's all an art form.
Within minutes of sitting down to ask Hsu some questions, he began bouncing creative ideas off me about altering the form of profile writing. He even came up with a new word: memeviewing, to describe the pairing of Memes or pictures with quotes. I told him I wasn't up for the challenge at the time, as I was concerned what my journalism colleagues might think of me if I attempted to alter the accepted format. But days after my interview with Hsu, I confess, I couldn't get his memeviewing idea out of my head.
More Profiles from Issue #7