Kevan Cameron, aka Scruffmouth the Scribe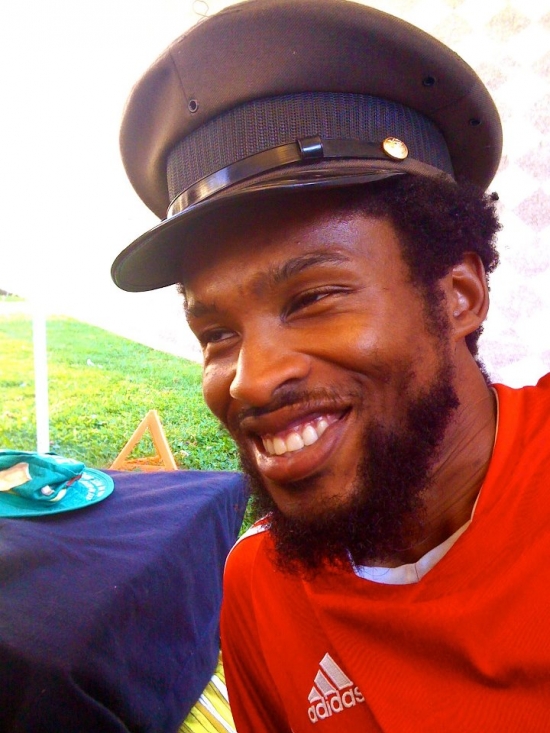 Kevan Cameron, being co-editor with Valerie Mason-John, is half of the driving force behind the recently released and much awaited The Great Black North: Contemporary African Canadian Poetry, an anthology that is "a primer" for the broad current range of poetry by those who identify as black Canadians.
Also known as Scruffmouth the Scribe, Cameron describes his roots as "indigenous, or autochthonous." When asked about his artistic influences, such great names as Chuck D., Big Daddy Kane, KRS-One, Nas, Jeru the Damaja, A Tribe Called Quest, Maestro Fresh Wes, Wesley Snipes, and the late Tupac Shakur were listed; but Scruff, as known by many friends and fans was ever-definitive with his ultimate response, stating the following: "Muhammad Ali was the Greatest Of All Time...he used poetry before his fights to invincify his birthright. I just used my poetic license (which I actually possess in the form of a Poetry Slam Inc. Certificate of Slambership) to make up the word 'invincify,' meaning 'to make invincible.' The greatest influences for me are the artists or individuals who create something functional and invincible with their creative expression and inspire greatness to be found in self." The reason for his dedication is based in his belief, that "the documentation of the 'black experience' is a connection to the ancestors from which we are ascended from."
Scruffmouth has been a committed inspiration for others in his years of poetry. This is reflected by the vast community work he spearheads as the Creative Director of
Black Dot Roots and Culture Collective
, a Vancouver based collective which was formed out of a desire to knit together the artists and educators in Vancouver, acknowledged Coast Salish Territory, to form a creative community of "likeminded individuals who were concerned with the production of creative and educational curricula for indigenous peoples of Afrikan ascent."
Hailing from Sherwood Park Alberta, Kevan's first poetic inspirations came in Saturday school, as his mother told stories of Caribbean folklore, instilling "music and poetry" in him from early on. He recalls "Afrikan-ascended kids in and around Edmonton, Alberta that were connected to those elements of the Jamaican community" through this sharing, and asserts that everyone in his family were creative influences throughout the years. He has always had poetry within him and emanating from him.
When asked of his own publishing history, he told of a success in grade three: the County of Strathcona's Stepping Stones Anthology, in which he was first published. He remarks that "it was called 'Chickens on Strike' and it was about the chickens on Old Macdonald's farm taking labour action during Easter. " All of his other original work has been self-published through BDRCC.
Scruffmouth's performance poetry journey began when he got involved in Poetry Slam at the Vancouver Poetry Slam in 2002. It was a welcome break from his regular soccer schedule. Yes, he is an athlete too. Mr. Cameron was, formerly, a player for the Vancouver Whitecaps Football Club. The first poetry show he attended was a Vancouver Poetry Slam Final featuring the likes of C.R. Avery, Shane Koyczan, Fernando Raguero and RC Weslowski. Who wouldn't have been hooked? "I likened it to a lecture in three minutes. Because I was in university at the time, I appreciated the scene for its intellectual merit, comedic relief and hip-hop lyricism."
Mr. Cameron, an avid traveling performer and speaker has toured through Canada, the USA, Kenya, Ghana and Jamaica. He connected with Valerie Mason John at the Black Canadian Studies Association meeting at the University of Alberta in 2009. Some time later, when Valerie conceived of the idea for an anthology of black Canadian poetry, she approached Kevan to co-edit it with her. Working with Kevan on a project is always an inspiring experience. He is passionate about poetry for "the Word, Sound and Power of it" and his passion is contagious. The anthology, whose scope is national, was co-designed and seeks to answer the question, "What is Black Canadian Poetry?" This survey revealed a breadth of submission material that "was enlightening and enjoyable and resulted in the biggest binder I have ever compiled in the history of my life so far." Is has a structure with two sections, "Page" and "Stage" which he admits "remain arbitrary categories for a unified whole."
Somewhat a graphic designer in his spare time from writing, Kevan designed a greyscale medicine wheel for the anthology's logo which is "based on the four-directional medicine wheel of many First Nations...to symbolize that although we have four genres at play in The Great Black North they are all part of the same functioning whole...[and] speak to the overlapping of genres as well as the irony of the very usage of colourable terms such as black and white." Both editors affirm that this is "by no means an exhaustive compilation of African Canadian poetry" but as Scruffmouth says, is "a primer for a community that is growing and contributing new languages, literatures and forms of expression into the global arena."
Apart from his busy schedule full of book launches and soccer games, he is working on an upcoming album entitled Spoken Notebook.
Scruffmouth's ultimate lesson thus far in his career as a scribe is: "Always do the write thing."
More Profiles from Issue #7