Gender Failure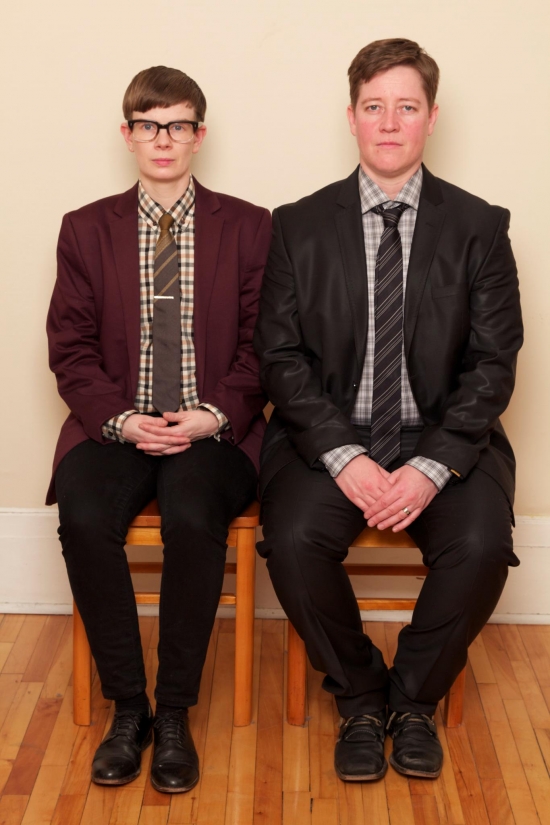 Gender Failure has friends and seven years long collaborators Rae Spoon and Ivan E. Coyote break out of genre and gender boxes to deliver a heart wrenchingly honest critique of the gender binary.
Fitting, as Rae Spoon, country-turned-experimental/electronic musician based in Montreal, just released their first book, First Spring Grass Fire, in fall 2012. Ivan E. Coyote, writer and storyteller, "faces the music" by playing the guitar and glockenspiel, as well as accompanying Rae on back-up vocals. Despite the big crowd at Montreal's Sala Rossa last November, Gender Failure managed to feel cozy and intimate. Maybe it had something to do with the glockenspiel. Maybe it was that most of the queers I know were there. Something about Sala Rossa's velvet curtains were reminiscent of a school play, or how I wish show and tell had been in elementary school.
Whereas the last Spoon and Coyote collaboration I saw, You are Here, had both artists sticking to their respective domains, Gender Failure layers and mixes their words to create something entirely different than what each story could mean separately. By meshing their stories together, they not only succeed at keeping audience members at the edge of their seats but also connect their individual experiences to the larger context at hand. Touching upon topics from bullying that does not end after childhood, to chosen and non-chosen family dynamics, the duo managed to move the crowd to not only cry and laugh, but also think. Gender Failure makes you question the ways in which you fail at gender and more importantly, how gender fails you.
Specifically, Spoon and Coyote speak about growing up and living in Alberta and the Yukon, respectively, and how those experiences informed their understanding of what masculinity and femininity mean. Growing up in more conservative settings highlighted not only the ways in which they were different, but also how their environment failed to create a safer space for self-identity and exploration. This kind of analysis, brought forward through storytelling and music, broadens our understanding of how sexism not only boxes people into assigned or perceived gender presentations but also invites and encourages hostility towards people who are gender non-conforming.
To say that Gender Failure only critiques the gender binary would be missing half of the point. It also speaks to queer communities about their inclusion, or lack thereof, of trans*♦ folks. At a time when queer forms of masculinity are most visible at Montreal queer events, it was also refreshing to witness both Spoon and Coyote's tribulations at not only fitting into feminine, but also masculine presentations.
Gender Failure wasa plunge into unfamiliar waters for both artists. And I'm so glad they took it.

♦ Trans* (with the asterix) refers to a widely diverse group of gender identities. The term trans refers to a crossing or shifting. Trans, without the asterix, often refers to individuals who identify as trans masculine or trans feminine.
The asterix comes from geekdom, in that when used at the end of a search term, the search engine understands this to include what you typed, plus any characters after. Thus, Trans* makes space for a host of non-cisgender gender identities, including but most certainly not limited to transgender, transsexual, transvestite, genderqueer, genderfluid, non-binary, genderfuck, genderless, agender, non-gendered, third gender, two-spirit, and/or bigender, identities.