Halifax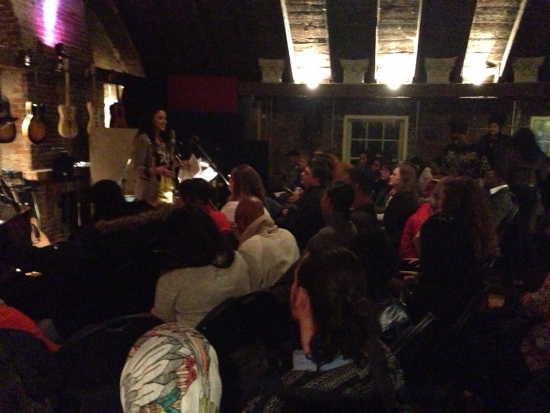 As 2013 gets underway, the spoken word community in Halifax, Nova Scotia is poised to have one of its best years in a long while. With Word Iz Bond's Speak! series entering its 13th season and a few new regular nights up and running there are more opportunities than ever before for poets on the East Coast to come out and play.
Speak! happens on the third Thursday of every month at the Company House (2202 Gottingen St.) and continues to be the city's best known spoken word showcase. Recent features have included Queen of Sheba (Atlanta, GA), former Halifax Poet Laureate Tanya Davis, and AFRAKAREN (Toronto, ON), all of whom have lit up the stage and shown the audience what diverse talents exist within Spoken Word.
In recent months, Word Iz Bond has also reached out to youth by holding Let The Youth Speak, an all-ages open mic prior to the start of regular Speak! shows. This is a great opportunity to foster youth involvement in the scene and nurture the future Halifax poets.
Halifax, as some may know, does not have a regular poetry slam. Instead, poets are invited to participate in open mics, and are allowed approximately five minutes to share their work. This can lead to some furious editing and last minute memorizing when it's time for the annual slam that decides who will be part of the Halifax Slam Team each year. This has also led to much debate over how the Team is ultimately chosen, and how Halifax spoken word shows should be structured, in order to align the city's methods with the national spoken word community. There is, however, a great fondness for the non-competitive format that allows poets and patrons to share and enjoy poetry without the constraints of time-limits and scoring. Only time will tell what will ultimately happen, but the ongoing debate is a good sign that spoken word is alive and well in Nova Scotia.
A newer series that is challenging the traditional approach is CommUNITY, run and hosted by former Halifax Slam Team members Verena Rizg and Shauntay Grant (who is also Halifax' former Poet Laureate and the organizer of CFSW 2007) at the beautiful and intimate Sonic Temple recording studio (1674 Hollis St.). The format for these shows is an open mic, which has brought out some amazing talent in the city, followed by a charity slam. In the slam, three poets compete per official slam rules with pieces that reflect the charity on whose behalf they are slamming. These competitions are as close to a regular slam as Halifax has at the moment and have proven to be both entertaining and informative to an audience not entirely familiar with the format. Following the charity slams are the features, and CommUNITY has hosted two incredible guests – Native Son (Montreal/Halifax/Bermuda) and Leshai (Toronto, ON) – whose powerful words and vibrant energy brought everyone in the room together, exemplifying the name of the series. Next month's double-header show with Dwayne Morgan (Toronto, ON) and Tomy Bewick (Burlington, ON) promises to be just as exciting.
The new kid on the poetry block is Oral Tradition, a bi-monthly night of "dirty poetry, steamy sonnets, sultry stories, and lascivious limericks" held at Gus's Pub (2605 Agricola St.) and hosted by Hermitofthewoods (that's me) and Jay Rawding. So far, each show has been a splendid (and kind of naughty) affair with an exciting open mic and features from the Halifax Slam Team, Vanessa Furlong, and Ann Denny as Anna Danova.
There was a bit of controversy early in the season. It was reported by
The Coast
and the Halifax Media Co-Op last summer that a local spoken word artist had been paid $200,000 to facilitate a series of community discussions regarding the development of a major downtown building project. His involvement, it was reported amounted to making notes from community input into the development and reiterating them in short poetic verse at the end of the evening. Word spread quickly through the community, but no one could identify the poet in question. It was later revealed to a self-described slam poet from the South Shore of the province who operates a motivational speaking business with connections to the developers. With half of his fee paid by the city, and because he was ostensibly hired as a 'local slam poet' with a connection to Halifax and its arts community, many felt that it was an egregious slight, particularly in a city with an active spoken word scene who had never heard of the alleged slam poet until the news broke. Nevertheless, the deal had been done, and there was nothing to do but carry on.
Poetry and politics are never too far apart in Halifax but, in the end, it's the poetry that matters. There have been several poets who have started to make a name for themselves in the scene. Vanessa Furlong, Sophie Kaufman, Josh Dunn, and Dominique Oliver-Dares have all started appearing regularly at poetry shows and giving impressive performances. They are definitely poets to watch for in the future. They aren't alone, either, lots of new faces have been turning up at open mics and holding their own while throwing down next to scene veterans. It's a wonderful thing to see a new generation of Halifax poets on the rise.
Halifax is a city with a great wealth of talent and an odd way of doing things but, with these venues in place, more and more poets are coming out and sharing their work. More and more seem to be coming to shows, as well. CommUNITY's season opener, showcasing ten poets, was filled to capacity, with people standing outside in the rain, huddled by the entrance just to listen. Oral Tradition's season opener was also a full-house, with the audience taking up every bit of free space. While spoken word has mostly lived on the fringes of the Halifax arts scene, packed venues are a good sign that the community is getting wider recognition in the city. With any luck, spoken word will continue to grow and evolve throughout 2013.
With love and respect from Halifax, NS,
Michael McGuire
aka Hermitofthewoods
More Scene Reports from Issue #7