Jonathan Goldstein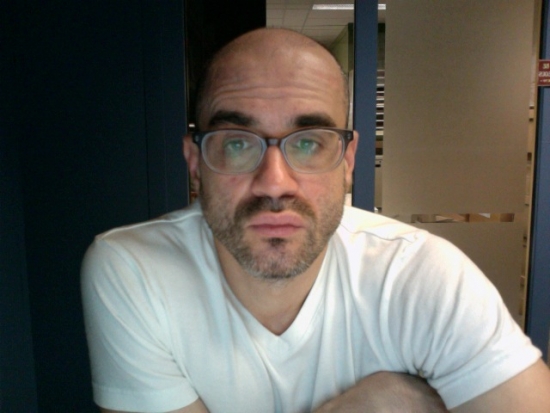 Twelve years ago in my CEGEP English class, my teacher attempted to teach thirty very apathetic eighteen year-olds about the twentieth century literary currents that lead to Postmodernism by handing out package of poems by various writers: Tristan Tzara, William Carlos Williams, Frank O'Hara, and at the back, a recent poem, "a car wash the size of a peach" by Jonathan Goldstein. The professor, in his world-weary way, told us that Goldstein had been tragically killed when run over by a dune buggy on Coney Island.
A few years later I heard on CBC a phone interview so straight-faced yet bizarre that I didn't know whether to interpret the piece as real or scripted. Added to my confusion was the fact that one Jonathan Goldstein conducted the interview.
Goldstein, whose CBC Radio show
Wiretap
is now in its ninth season, wasn't killed by a dune buggy. Maybe my poor teacher was sick of feeling like nobody was paying attention to his carefully prepared notes and started to add outlandish non-facts for kicks. Or maybe I wasn't listening very closely, and he was actually talking about Frank O'Hara on Fire Island. (See: Postmodern distrust of memory.)
The sense of restlessness between fiction and fact was an apt set up to hearing Wiretap for the first time. The half-hour weekly show is one of the very few on the continent to include fiction and non-fiction side by side, often in ways that blur the distinction between the two. One may hear an interview with the winners of an actual "best couple" contest in one episode, and a sketch featuring Goldstein, and his real-life parents, as themselves, acting out some loosely scripted comedy.(See: Postmodern preference of open over closed forms, and its multiplicity of voice.) Most of the characters on the show are Goldstein's actual friends, playing versions of themselves in fictitious scenarios, drawing on ostensibly true things from their shared history. (See: Postmodern metatextuality.) Meeting him in person, it quickly becomes evident that even his on-air persona is a distorted version of himself. (See: Postmodern paranoia.)
Goldstein told me that the fictional aspect of the show was born out of necessity. "It's hard to find stories, particularly stories that have beginnings, middles, and ends." This was frequently a problem they encountered, he says, on This American Life, the NPR program where he cut his teeth producing radio segments. "With Wiretap it's like 'well, let's just make up the middle and end, because we have a really good beginning.'"
But Goldstein says he still feels conflicted about the chimerical nature of his program. "There's something unsettling about straddling both worlds," he told me. "Initially everyone thought it was true and very real because it's on the CBC and it's a very news-y medium. At this point I feel like everyone thinks everything is bullshit." If he were to start the whole project again, he says, he would probably choose a format that was explicitly all fiction or non-fiction.
However, the earliest influence that the Montreal-based writer can cite is imbued with a deep sense of unreality: Alice in Wonderland. "It made me want to create the feeling of dreams in writing. When you're writing, you're trying to achieve that kind of intuitive, unconscious, unmannered mode of not letting anyone see the wires of creation. That happens spontaneously in dreams. The downside is it's often incomprehensible bullshit. When you can harness it, that's the Holy Grail."
Goldstein earned both a BA and an MA in Creative Writing from Concordia University. He was rejected "at least one time" from each program before being admitted. In the 90s, before being encouraged by a CBC producer who heard him live to try his hand at radio, Goldstein mostly worked a telemarketing job to afford himself space to focus on writing. He released numerous chapbooks, and was a staple in Montreal's vibrant spoken word scene, including some performances with his poetry and music outfit Blowhard. "Those gigs were the hardest, but also great because you could have no experience and get an audience of hundreds of people. It beats the feeling of preciousness out of you. Performing your work live takes it out of the theoretical realm and lets you see how the stuff that you're torturously labouring over is actually consumed by a bunch of people who are paying it half a mind."
The lack of direct feedback from an audience inherent to radio can feel isolating, he says, and he occasionally seeks out live audiences, "just to keep it real." After 250 episodes of Wiretap, this is certainly understandable. Goldstein says he also tries to "keep it fresh" by changing up the content and/or his process considerably. For the recent episode "Alana" he changed a few elements: opting to produce the program from New York instead of Montreal; telling a story from his personal life; and taking a more holistic, medium-centric approach to creating text. "[Working from a script] is basically how I was taught at This American Life. But there are other shows that don't it that way, like Radiolab. They don't write anything down now. They're starting with the medium of radio, not a script. I don't know if it's smart or not, but it's something I wanted to try for the fun of it."
The only other program on the CBC that regularly produces literary performance is Stuart McLean's Vinyl Café,* a show whose tone is much more populist than Wiretap's. "I'm not a man of the people, for the people, like Stuart McLean is… Wiretap is made to be niche-y. I find it difficult to talk about the show sometimes because nothing I say will enhance the experience of it for you. There's something to be said for the enigma... I love stumbling across art that is particular and bizarre, and you are the one who gets it. It's powerful. There's less and less of that in stuff in general because there's so much access… I mean, how many people did Jesus end up being able to speak to in his life? Now any asshole with a microphone in his parents' basement can reach a lot more."
While community and campus
radio programs that play poetry recordings
abound, literature created specifically for radio, with that medium in mind, is much harder to come by. Radio still represents a vast unexplored territory for poets and storytellers in Canada to carve out, and
Wiretap
represents a broadcast toehold for the art form.
"I still have boxes of rejection letters in my parents' garage," Goldstein said of his early writing career, "I'm not talking about rejections from The New Yorker, I'm talking about local zines and chapbooks. My aspirations were very low.
"I'm ambivalent about a lot of things, but that was one thing I knew, I would just keep writing, regardless of whether I made money at it, regardless of whether anyone thinks it's good, because I have no choice."
* If one does not include any of the fine, scripted shows like This is That which are explicitly comedic.
More Profiles from Issue #7