Toronto Poetry Slam Finals 2012 - Live at The Royal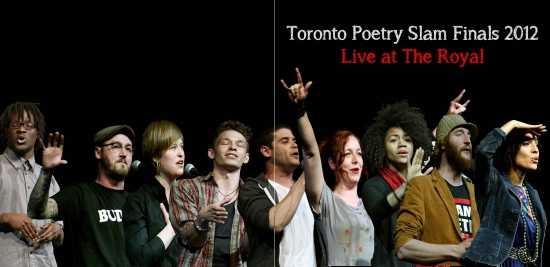 What can a live performance poetry recording give us?
Without the use of studio recording equipment and techniques including post-processing effects— or in other words, without the designing the performance and production to be consumed in a recorded format— it can't really take full advantage of the medium.
It can't really give the full experience of a poem either. No doubt, there are some really smart, exciting and moving words here, more than enough to surprise any listener who hasn't been initiated into the phenomenon of slam and overturn their preconceptions about poetry. But an experienced performer embodies a substantial amount of additional information that can't be separated from the words, and needs to be experienced visually.
What live recordings like this can do is be a thoughtful, vibrant document of a scene. Toronto impresario Dave "Big Deal" Silverberg and the rest of the Toronto Poetry Project have put together a fine double album that gives an admirably accurate representation of what you'll hear on the best of nights at a poetry slam in this country. Choices like the inclusion clips of host Silverberg introducing artists, and the decision to apparently not edit any flubs or false starts by the poets reinforces the sink-or-swim nature of the three minute format, and ultimately lends a sense of immediacy to the recording.
Disc one begins with a showcase from the BAM! Youth Slam Team. Actively including youth, as Toronto Poetry Project does through their regular youth slams, has become almost an unwritten rule of the slam. This team has all the qualities that the best youth slam teams have: unstoppable energy, raw vulnerability, and striking honesty.
The structure of the two discs nicely mirrors the usual structure of a slam, with the youth team in place of an open mic segment to start the night, followed by a sacrificial poet (the ever-charismatic former BAM! team member, Shoolie), the first round, a feature performance (from skillful former TPS team member Kayla Fraser), another sacrificial poet (a memorable performance from TPS veteran Lara Bozabalian) and the final round, brought to a thunderous close by the inimitable Spencer Butt.
More Reviews from Issue #7