The Litlive Guide for Poets at the Fringe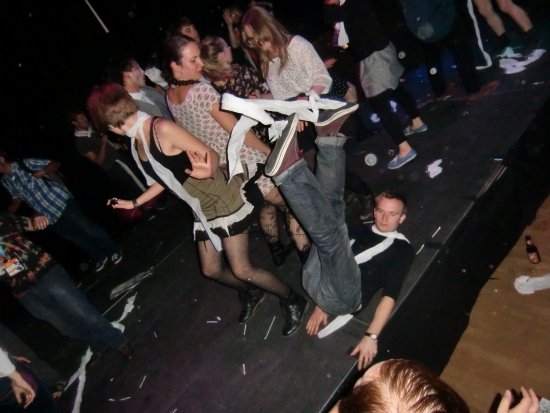 An increasing number of poets and spoken word artists are taking advantage of the Canadian Fringe Festival circuit as a performance opportunity. These theatre festivals charge artists an entry fee but pay all (or almost all!) of the ticket sales back to the artist. Each city's festival is independent of all others, but they are all regulated by the Canadian Association of Fringe Festivals (CAFF).
Here are some important details about what they're like, what you'll need to know, what the deadlines are and how to enter.
The time to apply to Canadian Fringe Festivals is in the autumn: i.e., right now. If you`d like a list of links to all the Fringes, go here.
Note that some of the deadlines may have already passed.
What it Costs
Applying to the Fringe costs money – about $20-50 per festival. Most festivals choose their lineup in one of two ways: first-come-first-served or by lottery. For the latter, if your name is chosen, you're in. If not, you're not. Either way, your entry fee is non-refundable.
If you don't make it into the festival on the first try, most cities have a waiting list, which is `usually organized by category: local, national, international (and sometimes youth). On occasion, performers that sign on at the beginning of the process can't make it for one reason or another. If you're on the waiting list, you have a chance of getting in at that point.
If you are chosen, there's a fee to participate: an average of approximately $800 for a run of 6 or 7 shows at any particular Fringe. You will have to pay the entry fee in advance. The fee entitles you to a venue, generic advertising in their catalogue and festival program, an audio and lighting technician and front-of-house volunteers to sell tickets at each of your shows. They'll also give you a list of local media contacts to approach, although it's good to remember that everyone else is promoting their show, as well. Essentially, keep in mind that the media may not hold their breath in anticipation when you tell them you're coming. Basic lighting and sound is provided, but you will have to bring every other prop or piece of equipment that you'll need to run your show. You'll also have to go through the process of creating a show that can enthrall an audience for 30-60 minutes or so. That can be time-consuming and expensive.
What You Get
You get all the ticket money from your shows. For solo shows, this means that, if 15 people show up and pay $10 each, you make $150 that night. Lately, though, a number of cities are starting to take service charges out of the ticket revenue, so it's worth checking what the policy is before signing on with any particular Fringe.
Choosing Cities
Fringefestivals.com has a list of all the Canadian festivals, along with info on the number of companies participating in each festival and the amount that will be returned to artists from the total ticket cost. Only a few hit shows make large money, a few make hardly any and all the rest are somewhere in between. But the numbers do give you some idea of how big the Fringe is and which cities are the most likely to be money-makers. Each festival has its own application process and rules, although all of them have to conform to CAFF (Canadian Association of Fringe Festivals) guidelines.
Each year there is also a CAFF lottery. If your name is chosen, it allows you to participate in multiple Canadian Fringe Festivals without having to apply to each separately. About 200 companies apply to be part of the CAFF lottery (the entry fee this year was $25), and only 5 or 10 national or international artists win. Obviously, it only makes sense to enter the lottery if you're prepared to take your show to multiple cities. The deadline is usually late September or early October.
BYOV
This stands for Bring Your Own Venue, which is another option at most Fringe Festivals. Essentially, you find your own venue in a particular Fringe Festival town, then ask to be included in the programming as a BYOV show. You pay whatever rental fee your venue requests, plus a fee to the Fringe to be included in their advertising and festival schedule. This option is a good one if you're a real star on the Fringe circuit or have a good national fan base as it often costs more than the lottery option. But it does allow you to do as many shows as you like at the time that you want to do them rather than being restricted to what the Fringe says you can do. If you didn't make the cut in a city that you really wanted to perform in, this can be a way to make that happen.
Travel
You are responsible for booking and paying for your travel between festivals. Many of the Canadian festivals are timed so that you can tour from East to West throughout the Fringe season.
The Border
For international artists coming here and Canadian artists touring in the U.S., there is a lovely little complication: the border.
Canada to the U.S.
Some Fringes in the U.S. require international performers to secure permits. There is an info pamphlet online that outlines a lot of what you need to know, but the information looked out of date and, therefore, should only be used to ballpark the costs.
Most Canadian artists touring to the States say that they're going to visit their friend Malcolm in Chicago or some other story that's partly true. But one caveat: if U.S. customs can find info about you and your performance career on the internet, they will. Some artists send any flyers and pre-publicity materials across the border by mail; others just create the publicity once they're safely on the other side of the border.
One artist I talked to said she was driving to the U.S. with all the lighting and sound equipment for her show in the car, and she was sweating like crazy as she didn't want to tell them she was performing. She cooked up a letter of invitation to an "artistic exchange for no money", rigorously avoided all internet pre-publicity and when she got to the border, they just asked where she was going, how long she was staying, looked at her passport and sent her on her way. Like with anything else, your experience at the border depends on a lot of factors. But it's best to be prepared for the worst.
Other Countries to Canada
Foreign nationals coming to Canada have a much easier time coming into the country as performers. All the details can be found here. I've heard that there's a nominal fee to come into Canada as a performer, but I don't know what it is.
Lodging
Artists are strongly encouraged to find their own place to stay, but if you can't crash with your cousin Louie or your old friend Sandra or that ex-lover who still has a crush on you, the Fringe does have a list of people who volunteer to supply travelling Fringe artists with a roof over their heads. These are nice people who give up part of their homes to unruly artists, so please treat them with respect and care. Otherwise they won't do it again the next year. The list is also limited, so you are not guaranteed a billet.
If you do have a choice about where you're staying, it's best to be relatively close to the Festival neighbourhood. If you're out partying with your newfound Fringe buddies and it's lively and the buses stop running, it can be a major expense to take a cab home – and it's also just a drag not to be reasonably close to home.
Posters and Flyers
You are responsible for creating and reproducing any posters and flyers you will use to advertise your show. You also have to find legal locations for posters and put them up yourself. I'd suggest printing 10-50 posters and 300-500 flyers for each festival. Note that if you don't want to put the effort into promoting your show, the Fringe isn't really for you.
The Downside
It's not always smooth sailing. You get a bad review and six people show up to your show and three of them are comps. Or you get sick and still have to perform. Or the person you're billeting with hates you – or you hate them. Or they play heavy metal all night or start their days at 7AM with trumpet practice. If you are touring alone, and you hit a down cycle in your mood or in the tour, this can be really hard; if you're touring with people, you can at least complain to each other (unless of course the problem is said people).
The Upside
One big upside is that you do get to do multiple shows in the same city. For touring poets who are used to getting on the bus or into the van at the end of each night to head to the next city, this is a real luxury: six or seven shows in the same venue in the same city over a 10-day period! It feels like paradise in comparison.
If you do a good show and it gets good reviews and you promote it well, you can make quite a bit of money. This is especially true in towns where the Fringe is a big deal, like Winnipeg, Saskatoon, Edmonton and Victoria.
If your work touches people, entertains them or makes them think or laugh, often they will tell you, in person, right after the show – or when they see you on the street – and this feels really good.
The tour circuit is fun, too. All of the performers are in the same boat, and they're the same kind of people as performance poets. They're independent artists working hard at creating shows that people like. So it all feels like a really nice, close, supportive community. The festivals generally create a lounge or beer garden or a bar where you can hang out with other performers (and your thousands of fans) afterwards.
All that practice will also most likely hone your performing skills. Of the poets I saw on last summer's tour, this was a really obvious upside. The shows were really good: thought-out concepts, sharp timing, strong punchlines. Overall, really entertaining and provocative work.
As a poet, you should Fringe if...
..you are creating or have created a show that you really love or you think will really work.
...you don't think you'll mind road life.
...you're looking to really work on your performing chops In terms of holding an audience's attention for a longer period of time.
Remember that people will want to see more than 3-minute slam poems. You will need a cohesive show that can carry their attention for much longer, which often means a storyline, an engaging character or characters, or perhaps a group of poets touring together.
There are all sorts of ways to participate in the Fringe. If you want to stick your toes in the water first, you can try it in your home city (if it's on the Fringe circuit, of course). That will help you avoid all the complications and expense of lodging and travel. Plus, if you're well-known in your city, you'll most likely get a steady audience without having to twist anyone's arm.
If you want to go all-out and tour, I would suggest doing the above step first, just to see whether you're comfortable with the whole experience. If you've done it once and liked it, it's easier to sign on for more.
If you do it once and like the experience, watch out! Maybe you're the next Jem Rolls, and it will take over your whole life. He does the Fringe circuit every year, creating a show in the winter and touring it in the summer. On the tour last summer, he was given an award for having performed in 100 different Fringe Festivals.
Ian Ferrier is a professional spoken word & music performer but a newcomer to the Fringe. Last year, he toured the Fringe circuit with For Body and Light, a show featuring his words and music alongside the work of three contemporary dancers. The troupe presented more than 30 Fringe shows in New York, Saskatoon, Edmonton, Victoria and Vancouver. This year, Ian's Wired on Words Productions won the CAFF lottery, so he and the rest of the troupe will be off again next summer to tour Toronto, Winnipeg, Saskatoon, Edmonton, Victoria and Vancouver.