In memoriam: loss of words, words of loss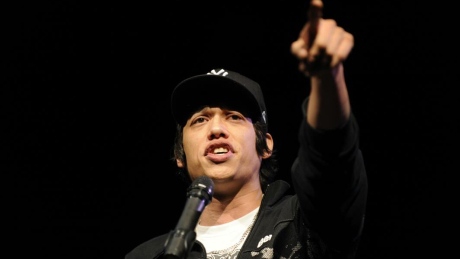 "In the end, all we have are the words we share."
Poignant words of Nik Beat's that reflect the feeling of a community left struggling with two sudden and unexpected deaths in Canadian spoken word.
Zaccheus Jackson
The accidental death of Zaccheus Jackson in a Toronto trainyard on August 27 had poets across Canada reeling. Jackson, 36, was on a solo tour of Canada at the time and was at the height of his career. His passionate, electric poetry was a big part of his power as an educator and one of the many reasons youth flocked to him and felt confident enough to write in his presence.
Jackson found poetry on the same East Vancouver streets where he fought his addiction and had been a fixture in the Vancouver slam scene for nine years. He was a six-time member of the Vancouver Poetry Slam team between 2005 and 2013 and reigned as the Vancouver GrandSlam Champ in 2007 and 2013. A celebrated educator and youth advocate, Jackson worked as an artist-in-residence in many schools and youth groups from 2011 to 2013 through the WordPlay and Full Circle programs.
Luckily, much of Jackson's larger-than-life poetry has been preserved on the VanSlam YouTube channel and in the notebooks he left behind.
Nik Beat
Nik Beat, aka Michael Barry, had been a mainstay of the Toronto spoken word and music scenes for the past 25 years. He passed away suddenly on September 17 after suffering a heart attack. For 17 years of Tuesdays, he co-hosted the CIUT show HOWL with Nancy Bullis, which offered a leg up not only to Toronto poets but to traveling artists of a variety of disciplines as they breezed through town. He was well-known as a poetry mentor and a friend of the arts.
Beat, 58, had just completed two new projects: a novella called The Other Side and a music CD called Famous for Falling—inspired by the stories of fallen pop stars. The Other Side was scheduled to be released at a launch party at The Wind-up Bird Café on September 21, just a few days after his death. The owner of the café, Sang Kim, didn't want to event to be cancelled and stepped in to read from Beat's new work.
Robert Priest summed Beat up this way: "He was certainly no saint. But definitely a poet. When he wrote a good poem, as in his classic Unkill or his more recent Che Guevara, he was right up there with the best of them."
To read more about Nik Beat, go here.