Review: Language for Gods by Tanya Evanson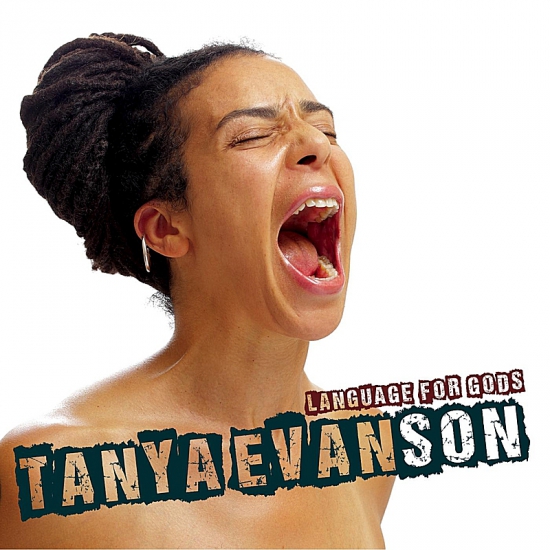 Tanya Evanson's Language for Gods (Mother Tongue Media, 2012) is an atmospheric simmer of reflections on roots, origins, mythology, silence and the current trajectory of humanity. It's composed of slow builds, supple ideas and a spacious circularity of music unfolding in what only wordless space can offer: a density of contemplation.
In this 16-track recording, Evanson collaborates with a host of world-class musicians, including bRiFo (France), Jerry the Cat (U.S.), Lisbon Alien Orchestra (Portugal), Linx (Trinidad/Canada) and Stefan Smulovitz (Canada), mixing in her own polished and evocative spoken wor.l.d music compositions. More than any of her previous projects, we can hear how the pursuits of poetry and whirling are united for her. The cyclic nature of the beats you'll find on Language for Gods has the feeling of turning: the turnings of the mind, the process of seeking and not finding, the roots and fruit of heritage, creating and undoing who we think we are. Turning, always turning. In place and across spaces.
This recording covers a lot of ground: dub poetry, dancehall, jazz, soundscape, blues, experimental noise. It's so fundamentally and surprisingly different from track to track that the experience is like turning a jewel slowly under the light. In a few tracks, none of Evanson's words appear at all, but the shape of her ideas is still masterfully clear. Maaa, for example, shows a confident wordlessness that addresses the need for silence, whereas in Sema (My Heart Is Full of Numbers), she hits us with a wall of wordsound that dissolves into an arrythmic pulse of electronic music. Throughout Language for Gods, Evanson shows us the turnings of humanity; where we are broken and where we turn for answers.
"I guess that's the path to becoming a whirling dervish," says Evanson. "You have to break and not know where to turn, and then turning seems logical. Just keep turning."
To sample some of the audio tracks from this recording, visit
here
.