Review: Coming and Going by "For Body and Light"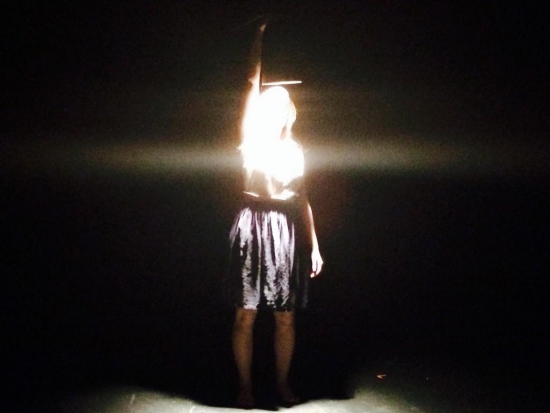 A long-time genre matchmaker, Ian Ferrier is always putting his creative energy into the places where art forms might meet and fall for each other. And he's done it again.
Ferrier's newest collaboration is with Montreal choreographer Stéphanie Morin-Robert. Their show is called Coming and Going, and I had the chance to see it at this year's Wildside Festival on January 10. This live show brings Ferrier together with three dancers (Stéphanie Morin-Robert, Linnea Gwiazda and Allison Elizabeth Burns). Seated on the side of the stage throughout the show, Ferrier weaves a narrative of gravity and movement to melancholic guitar as the dancers flirt with light and shadow and bring in the literal and figurative tide.
Coming and Going was born during a residency on the Bay of Fundy, and you can see the profound influence of the sea in the creation and expression of this piece. The haunting clash of spoken word, music and dance is all water and moon, you see. And you are the tide – pulled in and up and back out again by the hypnotic narrative of body and light. One single pot light, hung far above the stage, is manipulated by the dancers throughout the show – and it proves an endless source of imagery. It is the moon high above, it is the smallest puddle of light in a forlorn place, it is the dawning of understanding. The push/pull of the choreography is love and cruelty and prayer and mysterious uncertainty all at once.
Ferrier's stark, poignant poetry is a striking counterpoint to the liquid movement of the dancers. The choreography features solos, duets and trios, but the work is most alive and effective in the duets. The dreamscape intimacy of Ferrier's stories (the near-whisper of them) calls for a raw, soul-bearing engagement between the dancers, and the duets fully answer that call. One of the most beautiful moments in the show happens when two of the dancers stand face-to-face and place their foreheads to opposite edges of the light, which has the effect of an over-exposed photograph. For just a few moments, they are blown-out by light, and the slightest movement casts sharp shadows. It felt like confession or surrender. A dangerous nearness to something. The vulnerability was painfully beautiful to watch and, at other points in the show, I found myself craving more of this kind of stillness and slowness in order to better taste the words. But I quibble.
This show is a masterpiece: inventive and generous. Its subtle beauty is the inky night-time movement of water. The push and pull of tides in the body. The church of the moon.
A taste of Coming and Going.