Aaron Simm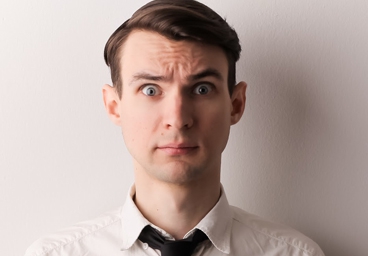 Born and raised in Winnipeg, Aaron Simm was drawn to the clever wordplay in hip hop lyrics and had begun writing his own songs when he was first introduced to spoken word at The 2009 Winnipeg Fringe Festival. Captivated by Kevin Gillese's multidisciplinary performance, Wisdom Teeth, Simm's exposure to a production that was not limited to a single genre inspired him to branch out into other art forms. Soon, he began experimenting with spoken word, particularly interested in how the genre made both audience and performer accessible to each other.
In 2010, he came across the Winnipeg Poetry Slam. It was a time when local veterans were transitioning into other art forms, and new voices were encouraged to fill the gaps they left. His early work was very rooted in hip hop because he had found it difficult to word his ideas without the use of rhyme schemes. Where the meaning of his pieces was more abstract and the relationship between themes was more obtuse, he was able to find more clarity in his voice and the empowerment to share his ideas in broader forms of spoken word. That said, hip hop is still very much alive in his present work, such as his pro-Pride anthem, Be Fabulous.
Soon, he began experimenting with spoken word, particularly interested in how the genre made both audience and performer accessible to each other. He found the Winnipeg Poetry Slam an encouraging space to explore this new genre further. That said, hip hop is still very much alive in his present work, such as his pro-Pride anthem,Be Fabulous.
"The rhythm of the performance, the wordplay, the importance of complementary syllables," says Simm. "These elements still form the basis of what I do onstage."
Continuing to dabble in hip hop under the alias Bull China, Simm has often collaborated alongside fellow MC Lochlin Broach, aka Loch The Monster. Calling themselvesBoth Beasts, they plan to release their first full-length album, Who We Are and What We Do, sometime in 2015.
In both genres, Simm is known for his sharp tongue and satirical wit, mining current cultural trends and using clever language tactics to create earworms that often inspire audience participation. Take, for example, the wordplay of Mickey Mouse: Simm's commentary on the politics of the Iraqi War is delivered via puns that are inspired by the Disney franchise, such as: "I want to take you on a magic carpet bombing because a lad in the grave is worth two in the bush." Performed with a marionette-like physicality, this poem brought the house down twice at the 2013 Canadian Festival of Spoken Word: once in preliminary competition and then again as part of a showcase curated by CFSW organizers, featuring the festival's most outstanding performances.
On stage, Simm has earned his spot on various Winnipeg Poetry Slam Teams (2010-2013), twice winning the titles of Grand Slam champion (2011, 2013), and Individual Slam Champion (2011, 2012). Most recently, Simm made his way to CFSW 2014 as a member of the semifinalist wildcard team The Wildcats and was the third runner-up in the Underground Championship. On the page, he's published two chapbooks (More Than Just Bandages and Marionette with a Plan, 2014) and is beginning to see his work picked up by print and online publications.
In 2014, Simm took time away from regular season competition to take part in a variety of local festivals and to co-found the Winnipeg Spoken Word Festival with his partner, Rose Jang. This was a significant evolution for the Winnipeg community because of its isolation from the rest of the Canadian spoken word scene. The pair brought in marquee names and exposed these big-name artists to a largely new audience.
"Being able to bring together so many poets and showcase them all at the same time was an incredible feeling," says Simm. "And my hope is that the audiences felt the same way."
Simm's personal highlights from the festival included hosting its headliner – and Simm's longtime favourite poet – Buddy Wakefield; a stunning performance from Mary Pinkoski; and lasting memories from Zaccheus Jackson, whose recent passing was deeply felt by the Winnipeg community.
As the feature poet for the Winnipeg Poetry Slam Finals, which kicked off the festival, Jackson manifested beatific characters with rapid-fire storytelling in gut-wrenching but stirring classics like Chief and Domino's. In a city conflicted with inner tension, it was stunning to watch an Indigenous performer speak to his experience while simultaneously electrifying and befriending the audience with an absolutely gracious charm.
"I am not sure if I have ever seen a better feature than what Zaccheus Jackson gave us on the finals stage. That was the longest standing ovation I have seen at a spoken word event in Winnipeg."
With a planned reprise of the Winnipeg Spoken Word Festival in 2015, perhaps the greatest evidence of this new festival's success is how it has contributed to stability and growth within the poetry community. Members have stepped up to organize in a way that supports increased programming capacity and future festivals and, what's more, Winnipeg has started to earn long-deserved notoriety in the national consciousness. Despite being one of the original slam series in Canada, founded in 2003, Winnipeg's spoken word community has never hosted the Canadian Festival of Spoken Word. It is now slated to host CFSW in 2016.
In July 2014, Simm's inspiration to create spoken word came full circle in a Fringe show Simm and I developed together called Hell is Other People. Peppered with poetics, the script contained a mix of storytelling, theatre and spoken word, including a hip hop monologue. The story centered on a troubled writer following an intensely emotional breakup, and Simm played three different characters who either influenced or hindered the protagonist's recovery. The play received decent reviews for a first-time outing and seemed right at home in the experimental environment of the Fringe, where the poetry components were especially well received.
At the end of a remarkable year, Simm and Jang did as many Winnipeggers do when they're fed up with the cold: they up and moved to the West Coast. Simm was drawn to Victoria's spoken word community, and also moved to be with his partner, whose work with the Victoria Spoken Word Festival has made it an essential experience for emerging poets in Canada. Simm performed at the Victoria festival in 2012 and will be returning there as part of the 2015 program. He won't have far to go this time – nor will he have much work to do in winning over audiences, having already established himself as Victoria's Individual Slam Champion.
A few other Winnipeg poets have migrated westward in recent years, finding kinship in Victoria's audiences via the Victoria Spoken Word Festival, Tongues of Fire and Victoria Poetry Slam.
"I have found that both scenes are kind of weird and quirky," says Simm."Maybe it's an aspect of being geographically isolated. They both have audiences that seem to be open to experimentation and are very welcoming places to new artists."
Simm continues to contribute to the community at large as an enthusiastic advocate for spoken word. Thriving, as always, on local stages, his work is best showcased amongst the nation's most unique and creative minds. Simm anticipates more exposure on Fringe stages in the future, but up next is representing his new home city at the Canadian Individual Poetry Slam in April.
Steve Locke is a Winnipeg writer, poet, spoken word performer, mentor, and arts facilitator. His work has appeared in in Poetry is Dead, CV2, Prairie books NOW!, and in the anthology, Mind Paintings from Silver Bow Publishing. He is an active member of the Winnipeg literary community as director of the Winnipeg Poetry Slam and board member of The Winnipeg International Writers' Festival. He has performed on local and national stages across Canada as an ensemble member, featured poet, and Winnipeg's 2013 Individual Slam Champion.
More Profiles from Issue #9