Moe Clark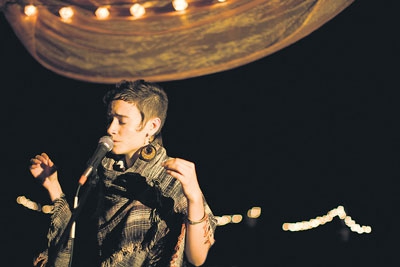 Moe Clark has a geography that is difficult to pin down. Some part of her still lives in the Rockies, where she grew up in Treaty 7 Territory, looking at the high mountains and the wide sky. Another part sits with her ancestors in Manitoba, across the Prairies. Montreal, her home of the past eight years, has a strong hold on her – where her creative community is vibrant and diverse.
Maybe it's better to describe Clark's landscape as a road. One that cuts through this country and reaches across borders, both land-based and artistic. In one place, she walks with her elders, learning Cree. In another, she is eating fresh bow whale in the Iqaluit, listening to hunting songs and sharing her own music. There is a moment where her road intersects with the Highway of Tears and, there, she collects the delicate corpses of butterflies, carrying them into the poetry-song of Butterfly Ashes. She is rarely alone on this journey. Within, there is her great grandmother's voice, crackling with old stories. There are teachers ushering her into new genres. There are elders guiding her through the process of reclaiming ancestry, and youth she is helping to find a voice.
I have been lucky enough to walk beside Clark on part of this journey, as a collaborator and friend. If you truly want to understand another person's creative process, take part in it. What I saw in walking with Clark is what I hear in her work: gratitude, generosity and risk. Her performances, from the spine of the language to the spirit of the sound, all bear these marks. I arrived at our collaborations profoundly afraid of my own voice, fearing what it could not do in song and in guttural sound. I left a different artist. I am not alone in this experience; Clark is as fiercely committed to teaching as she is to collaboration, offering intergenerational workshops in healing lodges and working with youth in schools, Friendship Centres and prisons.
"Hearing other people's stories is key to understanding our own," she says.
When you look at Clark's work, you can trace how important this search for understanding is for her. Clark meditates on her relationship to the land, to the legacy of colonialism, what it has stolen and how it can be healed. Her new album,
Within,
suggests she's found the answer to who she is and it is not a simple one. Her story is layered, deeply nuanced and resists neatly packaged dichotomies.
"That's at the essence of what it means to be Métis," she says. "I've got one foot in both worlds. As artists, we are constantly being asked to put ourselves in boxes. Thinking, 'I need to identify in one way to find a place of belonging.' What I've grown to love about my own work is that it doesn't belong in one place."
The road that Clark is on reaches far past Canada. Her newest collaboration, Transcestral, brings together Indigenous voices from across Canada with Gnawa trance musicians from Morocco, using drum, throat singing, spoken word and song. The project will soon be bringing her to Morocco.
Currently, she is on retreat in the Yucatan Peninsula of Mexico. I am reminded of a week we spent in retreat on Salt Spring Island, creating two interlocking odes to Frida Kahlo. For days, we searched through images of Kahlo's work and scraps of her published diaries, trying to understand the world the artist had come from. In the end, Moe's piece, titled Frida, spoke from Kahlo's perspective, interweaving Spanish and English with Kahlo's words. This visceral, image-driven exploration emerges from Clark's background in visual art, and the track can be found on her new album.
On the phone with me from Mexico, she tells me she performed the poem the night before with a full band: three guitars, sitar, violin, African drums.
"I'm not sure how much of it was understood," she laughs. "Besides the three lines in Spanish."
But she doesn't sound worried whether the audience got her words. Her performances convey as much with body and sound as they do with language. She's worked hard to build these bridges, through years of improvisation, experimentation and live performance.
"We can transcend the boundaries language would normally impose," she says, "When we begin to use it as sound. We can use the tone of the word to reflect the landscape we are drawing from."
The last time I saw Clark perform, she was being celebrated as 2014's Poet of Honour by the Canadian Festival of Spoken Word. There, I witnessed the truth of this statement about language as sound. The audience was there for poetry, largely expecting performances driven by language, narrative and image. In the face of this expectation, Clark stayed true to her own approach and offered us namoya.
Namoya is Cree for "no" and, in her performance, Clark built a whole world out of a single word. Layering abstract sound with song, chanting the word as she altered its volume, tone and pace, adding new language to draw out the exploration. The result was a spoken word poem that felt like a ritual – one that cut to the heart of our relationship with the word "no". Watching the performance, I travelled through a landscape of Indigenous resistance and felt the heat of the word in women's mouths over generations. I saw her making an assertion in the collective memory of language; one that has changed my understanding of the word since.
"No is a trigger," she says. "Namoya connects the landscape of my body to the landscape of the language. It is a river burning, the roots of a tree. I invoked it to create an opening, countering how 'no' is used to close things down. I used it to create pathways, to connect with my ancestors. One of my elders, Joseph Naytowhow, always says 'use your words.' Whether it's three or three thousand. We don't need so many words. It's a matter of the memory and intention of the language; the intensity that is driving the meaning."
Working at the margins of a genre is not always comfortable place. The night Clark performed namoya, she was under considerable pressure. Not just because she was receiving the Canadian slam community's highest honour, but because she knew her performance might challenge the audience's expectations of poetry, particularly an audience used to poetry slams.
Clark first arrived in the spoken word scene through slam, competing on Calgary's 2007 team in the Canadian Festival of Spoken Word. Since then, she's remained committed to the community, supporting Montreal's Throw Poetry Collective and directing the national festival, CFSW, in 2013. But it's been six years since she's taken part in a slam competition.
"I'm trying to find a way to be more free within the performance sphere," she says. "And by free, I mean open and able to give and receive without fear. I've suffered deep anxiety about my own voice and my ability to share what I have to share. I had to learn how to accept whatever my experience is, and bring that trust with me onstage. I stepped out of the competitive elements of spoken word, and I learned to honour my own voice and my own power. To not try and prove anything. To some extent, that's what makes collaboration so powerful."
Within reflects this push towards expressive freedom. Charged both spiritually and politically, rooted in resistance with an eye towards strategies of collective healing, it is the result of eight years of improvisation, experimentation and collaboration.
"At its heart," Clark says, "this album is about paying homage. To our own spirits and the lineage we are part of. For me, it's a lineage of women's voices, of coming up from the silence into a place of sound, allowing intuition to guide the way."
In the process of making the album, Clark was reminded of how difficult this can be. She faced resistance, working within a male-dominated recording industry.
"I had to work hard to remain true to my voice and vision, working with those who weren't always open to listening."
She is quick to add that many were open, showing up to collaborate with awareness and tuned into her vision. In a process largely guided by intuition, trust is crucial. This point comes up again, when we discuss what she's learned from the transformation and expansion of her career.
"Trust where you are is where you need to be," she says. "When you are in the moment of transition and transformation, it can be hard to see what is on the other side. Swim in the swamp for a little while; learn how to breathe in those spaces of discomfort because those spaces are exactly where we need to belong."
I think on these words after our interview ends. My mind travels back to the week on Salt Spring Island, and I see us standing outside the cabin one morning. There was a small bird laying on the ground beside the porch, both wings broken, clearly suffering.
"It's dying," Clark said, finding a cloth and lifting it into her hands.
She covered it completely, and I understood what she already knew – it would be kinder to help it die. It's not an easy thing to see the world starkly and honestly. To trust your place in difficult stories and offer yourself up as an instrument. Offering what you can – of your hands, your voice and your spirit – to make things better.
This is who Moe Clark is in the world, and it is the heart of her work: gratitude, generosity and risk. That morning, she didn't ask me to help. She said a prayer over the bird, helped it pass away and we buried it in the yard. It was one small moment on the long road she is walking as an artist, a teacher and a visioner of change.
A three-time Canadian national slam finalist who has toured nationally and internationally speaking about resilience, queer identity and the inheritance of struggle, Alessandra Naccarato is an MFA candidate in creative writing at the University of British Columbia. Runner-up for the 2014 CBC poetry prize, and winner of the 2014 EVENT non-fiction contest, her writing has been published across Canada and the United States, and she has facilitated hundreds of spoken word workshops for youth across the country. Past chair of Spoken Word Canada and former director of Montreal's Throw Poetry Collective, her writing is marked by a commitment to community action, deeply rooted in nature and shot through with magic. Her forthcoming album of spoken word and music, Hunger & Lightning, will be released in summer 2015.
More Profiles from Issue #9