She Mami Wata - d'bi young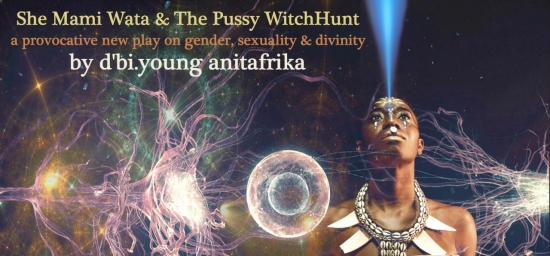 d'bi young anitafrika's newest monodrama, She Mami Wata, was presented March 24-28 as part of the 2015 Audre Lorde Works-in-Progress Festival in Toronto – and it is a powerful, riveting piece of theatre.
The show begins on a sparse stage: just a small plant, a glass of water and a dance to invoke the healing and liberating force of Afrikan ancestral, cultural, political and spiritual power – represented by the life-giving force of
Mami's water
.
The action of the play follows the lives and trials of three friends: She (the narrator), Tizzie and Michael, who are pre-teens growing up in the countryside of Jamaica. We learn that She was a baby abandoned by the Ocean, who was rescued and raised by an old woman, and that Michael's mother was tragically burnt alive by a mob because she was branded as a sodomite/lesbian. Through a series of flashbacks, we learn of their pasts in a highly-traditional religious environment that was aggressively intolerant of homosexuality.
We also find out that She and Tizzie are more than just friends. The two girls are young lovers, exploring their budding sexuality until Michael discovers them together in a bathroom one day. He is scared and feels betrayed that he wasn't told about their relationship. He threatens to tell the whole village, prompting She to leave for the capital, Kingston.
The action shifts between the village of She's youth and the provocatively-named Pussy Hijack strip club in Kingston, where She makes her living as a dancer. The atmosphere is charged, electric, foreboding, full of tension and rife with dread: government forces have been aggressively enforcing the country's sodomy and anti-homosexual laws. Gays and gay rights activists are being violently attacked, beaten and killed, and the police have shut down all the strip clubs in the city – except for Pussy Hijack.
Instead of recoiling in the pervading fear and a stupor of inaction like most of the club's strippers, She is angry, defiant and decides to rebel, organizing a queer-positive dance event at Pussy Hijack that features performers from all of Kingston's strip clubs as a way of fighting back.
At the show, She bumps into her old friend, Michael, who is now the village preacher, and she finds out about his "on the down-low" homosexuality. Under the spell of nostalgia and yearning for home, She goes back to the countryside for a visit. But tragedy awaits her there. Someone recognizes her, and a mob starts violently pelting her with rocks. The rocks continue even after her old friends Tizzie and Michael come to her defense. The three friends are tragically reunited in a hail of hatred.
With She Mami Wata, young has expanded her mastery of monodrama. She powerfully brings together all the elements of her artistic practice through an effective combination of word, sound, music, movement and dance. The show dazzles with deft renderings of a range of characters, including the probing innocence of a pubescent girl; the bass-ified tones of the village preacher; the careful, stooped walk of an old lady trickster. The show boasts smooth, tight transitions that heighten the dramatic tension between scenes, a crisp, steady, perfectly-paced and emotionally-rife narrative and the overarching word!sound!power! aesthetics of dub poetry vocalizing(s!) – which can be seen in the shifting tempo, timbre and timing of the action (one moment slow, low-voiced and somber; the next a sharp, staccato crescendo pushing the story forward).
She Mama Wata crackles with intense emotionality. young maintains a taut control over the plot and character development with confident artistry. She rails against the violence of intolerance and advances a counter-approach of liberation, love and compassion.
For this project, young brought in her first theatre teacher, Owen "Blakka" Ellis, to act as her dramaturge, and you can see his veteran influence throughout the production. Champion beatboxer and spoken word poet, Eddie Da Original One, is the sound-maker for She Mami Wata. Eddie uses dancehall reggae tunes to punctuate the show, as well as crackling, foreboding sounds of blistering lightning and thunder, which play under the preacher's long soliloquies as he admonishes his flock. This adds a sense of tension and heightened urgency to the narrative – the sound acting both as a device for the transitions between scenes and an overall soundtrack to the action.
Great show. Great production.
Dubzz/poet/at/large, Clifton Joseph is a poet and journalist living in Toronto. A founding member of the dub poetry movement in Canada, he has performed widely across this country, the U.S, U.K., Europe and the Caribbean & released a book of poems called Metropolitan Blues, and the CD Oral Trans/Missions.
He has written for the Toronto Star, the Globe and Mail, This, Toronto Life and Canadian Geographic & has worked with ciut, ckln and cbc radio. He is a movie reviewer for CTV's Canada AM, works with Imprint, TVOntario's literary talk show, is a national reporter for cbc tv's The National and an investigative reporter for undercurrents and Marketplace. Among his awards are two Gemini Awards, a Silver Fleece Award from the Chicago Film Festival, a Time-Warner Freddies Award for international health reporting, and the Peter Tosh Memorial Award from the Canadian Reggae Music Awards. Currently he is chief content producer at www.eglintontv.com.
More Reviews from Issue #10