Dépareillés and Les éclats - Queen Ka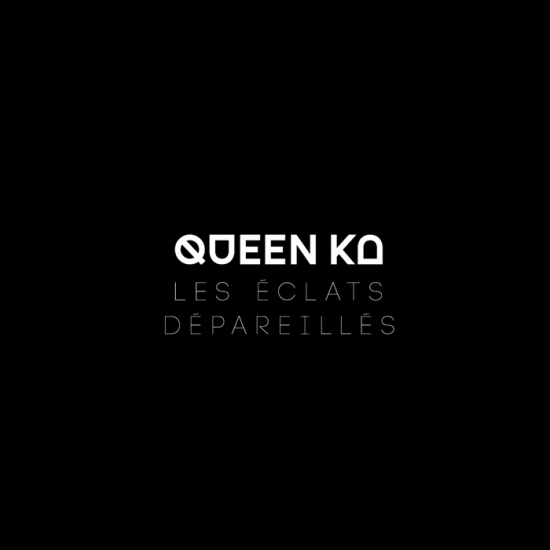 English translations of excerpts can be found at the end of the review.
The two collections, Dépareillés and Les éclats, make up Queen Ka's new double EP of spoken word. They are really her. As you listen to her poems, it is as if you see her standing (tall, alone and still) in front of the screaming universe.
Her poems are at once Québécois, Canadian and universal. They speak to topics like the Révolution Tranquille, referenda on independence and Radio-X in Quebec City – whose DJs have claimed that they are pirates and, therefore, can say whatever they want on air:
"Prenez-nous. Nous sommes de confession fragile ou du jour souvent tranquille même en révolution. Ici y'a pas juste les connifères qui se résignent. Dommage. On ne passera pas à l'histoire. On ne se souvient jamais des indécis faut croire. Nous sommes des pirates sans bateau. Pirate qu'à la radio."
[i]
The words travel well within us. They make us an
us
because "nous sommes si petits. Si fabuleusement petits."
[ii]
If Queen Ka's spoken words are intriguing by themselves, they live fully – in all their colour and texture – with Blaise Borboën-Léonard and Stéphane Leclerc's musical touches alongside them. The music is haunting. The electroacoustic sound energizes the poems, gives them dimension and texture and wraps them up; holds them together.
Dépareillés
is a quest. Through the haunted vocals of Queen Ka, this work brings us into our nature: it traces a path, even if we don't know for sure where it's headed. It gives us a very organic sense of communion with both human nature and the natural environment. "Pas un mot alors que la mort était assise à côté t'as fait comme si. (…) la conne."
[iii]
In
Les éclats
, the spoken word is inimitably poetic. The poems often discuss rather mundane, everyday topics but also address political issues like poverty, religion and protest, and how members of the media all speak about the same issues and leave the listener uninformed on purpose. This EP is more open to the world – and to critiquing it. In her piece
Héros silencieux
, Queen Ka addresses a child victim of domestic violence, telling him that she can only imagine what he's been through: "Parce que, chez nous, quand on tombe y'a toujours quelqu'un pour nous rattraper."
[iv]
Believing is central in Queen Ka's poetic universe. Wait for me, she asks in Dépareillés, and we wait; we listen wrapped up in her words until the last song of her second EP ends. We feel she has arrived somewhere. She is home at last, and we are there with her.
To take a listen, go
here
.
Catherine Cormier-Larose is the head of Les Productions Arreuh, which organizes readings and workshops all around Quebec. Their main events are "le Festival Dans ta tête: 10 days and nights of Spoken word" every March. Cormier-Larose published a zine called "Balades pour Ai Wei Wei" and was heard in readings all around Quebec, Ontario and Europe.
__________________________
[i]
Take us. We are from fragile confessions, often of the day, we are soft even in revolution. Here, we've lost our sense of self like the trees. to bad. We won't make history. We won't make it as undecided. We are pirates without a boat, pirates only on the air.
[ii]
We are so small. So fabulously small.
[iii]
Not a word…but, with death sitting across from you, you fake it. (…) That bitch.
[iv]
Because in the home I grew up in, when we fell, there was always someone to catch us.
More Reviews from Issue #10