Devotion by Brandon Wint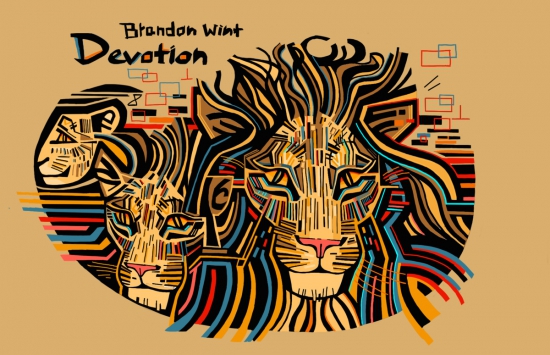 Brandon Wint's free, four-track EP, Devotion (2015) is a gentle wash of words lifted up by piano, drums, horns, guitar and vocals. The collection features Wint's trademark honesty, compassion and depth.
On the first track, Laugh, breezy, jazzy percussion by Joy Mullen bounces off the walls of the East Vancouver apartment where this EP was recorded, giving it a homey feel that suits Wint's candour. The sweet dance of piano by Marta McKeever under his words gives this love poem a cheerful momentum despite the battle between fear, hope, worry and wonder in the piece: "She says she can see fear in these eyes whenever love approaches me.... We're just two scared beauties, playing show and tell with our favourite masks."
In the second track, Rain, water metaphors are used to delve into the sensual possibilities of the body. Wint addresses themes of desire, attraction, devotion and worship here – including of one's own physical being ("In the moments before the world is wet, I think of my body. My long, ever-curious fingers…"), as well as that of the other ("Remember me as the storm that drenches you.") Unfortunately, there are several moments in this poem when the swell of horns and percussion make it difficult to hear Wint's soft, low voice. That said, the musical accompaniment is definitely well-matched.
In the third track, Poetry Rocks, we see Wint turn a moment that is rife with potential for ego on its head. He enumerates the many complex experiences and relationships that have made poetry possible and necessary for him: "…trying to chip away at my past, all I'm left with are rocks. Like my mother, who has been the rock I have leaned on…. Rocks, like my father, who is tired of pushing the boulder of his childhood uphill..." We get a sense of the role of struggle and pain in his life and how that has spurred him on to create work. Tess Kitchen does a beautiful job here of creating thematic cohesion and a perfect musical gravity through trumpet and voice.
In this collection, Wint saves the best for last. The final poem is the sweetest and most cohesive. Mortal Woman is about the preciousness of memory and connection, as well as the inevitability of aging and death: "I watch people become mortal art, as mortality finds home in the folds of their skin. There is art in the way age bends us. Pulls our ears long toward the floor. I watch it come down jagged like a knife, carving fat away from bone, severing things: mind from body, reality from dream. Life becomes a game of counting and sorting the names of those who remember the rituals of your youth." While it's a potentially heavy topic that could easily go the way of navel-gazing, Wint resists this; he also leaves space for wonder and celebration: "Our laughter and our bonds of love are more impregnable, less imperishable than our time-weathered frames."
To listen to Devotion, visit
here
.