Poets on the rails, Part 3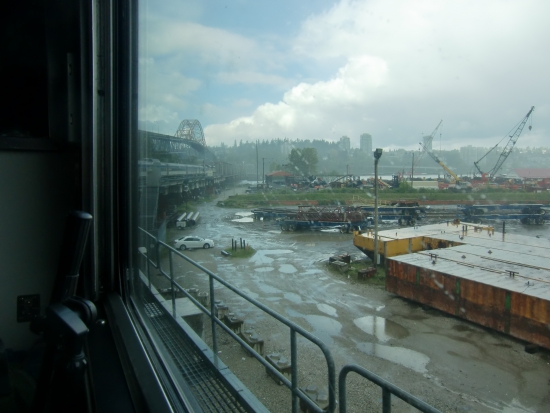 In April 2015, Ian Ferrier and 21 other poets hopped on a train across Canada as part of David Brydges' Poetrain project. What follows is the final dispatch in a three-part series on Ferrier's experience…
Sometimes, on long bends where there are not too many trees close to the track, you can see all dozen cars ahead and the lit windows of the lives of all of us. Throughout this trip, I will wander these narrow halls innumerable times, dragging an electric guitar, a little amp, a mic, a mic stand and a bag of effects pedals. It's been amazing and surreal.

I awake again this morning and, this time, I am in the sienna desert hills outside Kamloops, the hills eroded and a few spare bushes poking up from the orange brown soil. Then, as we enter the coast range, we tunnel through what is almost rain forest. When we hit the Thompson River, my mind is fully and completely blown. Blue water is firing through the Rockies, tearing a gorge to the south side of the moving train, and I'm thinking back to David Thompson's journals about the first time he crossed this land.
Thompson has been looming large on this trip. One wild feature of this train journey is Kulturbot, a robot developed by Krauke Zeller and David Harris Smith that came along for the ride. Built from the shell of a vacuum cleaner and a pasta strainer, the robot was programmed with some syntax rules and the journals of David Thompson. The robot contained its own printer (which worked at least some of the time), and it would spit out dozens of poems a day. When I get home, I will find the grave in Mount Royal cemetery – just two kilometres from my apartment – where David Thompson and his partner, Charlotte Small, are buried to pay my respects.
Thompson's day-by-day account of travel portrays such a tortuous journey it's hard to consider. Yet, each clear evening, you'd find him on the highest point of land, sighting a star to mark the latitude and longitude of that day's bushwhack. If you fire up Google Earth, you can follow his progress a few miles one day, a few hundred meters another: Latitude 50.07.00 N Longitude 116.47.08 W. And, because of those jotted figures (for better or worse), the result is a railroad that follows the south arm of the river he mapped.
Once, on a wild afternoon two years ago, days after the Alberta Flood, I rode down the David Thompson Highway on my motorbike, seeing huge glittering deltas of lake and South Saskatchewan River mixing together into intense Ansel Adams landscapes of immense majesty and emptiness. Then, I was tossed into the glamourous town of Rocky Mountain House, which looks like every gangrenous strip mall in America.
I stopped there for coffee and gas. Probably for blaspheming the name of Rocky Mountain House, the gods of Alberta tourism turned on me and, just south of Red Deer, me and my motorbike entered into a wall of rain so dark I couldn't see the road. That crazy afternoon, when I almost died, is like one of thousands of even more crazy afternoons that David Thompson survived, sighting by the sun and stars.
There is a poignant, terrifying passage in The Last Spike where Pierre Berton talks about how First Nations people felt as though the railroad was tearing through the southern prairie. At its height, the rail crews once laid 400km of track in a summer, once over 10km of new track in a single day. Each new kilometre killed off the possibility of there ever being a wide open prairie filled with free-roaming buffalo. Each kilometre defined another 1000 meters of what we now call Canada.
For the First Nations people who relied on the herds, the end of the buffalo was almost the end of everything – livelihood, food, clothing and culture. We are all human beings, and supposedly as adaptable as hell, but how would we adapt to that, to the loss of everything? We would become ghosts in our own landscape, wondering how to live in it.
And, now, the Thompson River has merged with the muddy Fraser and we are headed for Hell's Gate, the tight passage where they blew up so many boulders putting the rails through that they almost blocked the river. And now we are down in the delta, in that deep, green, wide river country where the Fraser widens and widens and finally empties into the Georgia Strait. The rusted hulls of old tankers crowd the edges of New Westminster and, as we cross the bridge into Vancouver, it take me six tries before I can capture an image of the whole width of the river without metal bridgework bisecting the photo.
The next night, we will all be hanging at Les Deux Soleils café, doing our last reading of the tour with Canada's poet laureate, Michel Pleau, and Vancouver's poet laureate, Rachel Rose. It will be one of those wild, wonderful, relaxing, beer-filled nights with at least one poet behaving badly (not me, of course) and a great set by Brendan McLeod and the Fugitives to end a fine evening and a fabulous tour.
I am still processing what happened. I have not told you any of the x-rated stories, nor even half the stories and poems that made up that amazing ride. I have not talked about the writer and performer friends I saw in Toronto, in Winnipeg, in Edmonton or in Vancouver. And I often wonder how much of this story is true. When I look over the pictures I took, I do not know why I thought the Qu'Appelle Valley was green. In photos it looks as dry as a river in a desert.
Do I have the wrong valley on film? Perhaps, that evening, I saw it a month into the future, when the grass was new and the bushes had all just sprouted leaves and everything grew green around the cool flow of the water heading East.
More Features from Issue #10