The Many Languages of Cabaret Montrealaise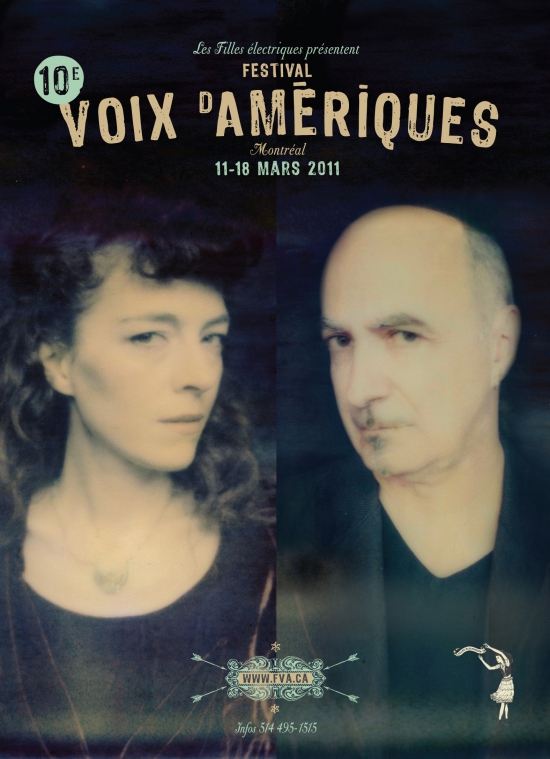 This talk was first presented May 29, 2015, at "Langues poétiques / Poetic languages, le colloque du Festival de la poésie de Montréal marque les 70 ans du grand roman de Hugh MacLennan Les deux solitudes."
Today, I am going to speak about a variety structure in performance that I call 'cabaret', particularly, 'cabaret Montrealaise'. I will suggest that the variety – or shared stage – format of cabaret emerges from and produces, or is mutually constitutive of Montreal. This place, this city. For my purposes here today, I define cabaret as a multilingual night of performances that often includes poetry, music, dance, circus arts, performance art, theatrical performance, video and film, as well as other co-animating and intra-disciplinary art forms. While cabaret, or the shared stage form, is a translocal form with global genealogies, cabaret Montrealaise is characterized by performances that happen predominantly in English and French, untranslated. There is usually an emcee, un conférencier, who introduces each different act, alternating between French and English, but again, without translation.
The acts in a night of cabaret in Montreal happen predominantly in French and English, but also, increasingly, other languages that live in Montreal. Additionally, each genre of performance that shares the stage of a cabaret is a form of expression that has a disciplinary language, and some of these languages communicate without speaking, without words. Thus, I want to begin by making a friendly departure from the terms of bilingualism and suggest that cabaret is multilingual, just as Montreal is. And that cabaret offers us an opportunity to experience, to be frustrated by, to enjoy, to learn from, to be confused by, and to live in this frustration, enjoyment, vulnerability, humility, confusion and learning simultaneously. Rather than staging the fantasy of homogenous cultural expression, cabaret asks audiences to be together in difference rather than in sameness, and asks spectators to be active and agential, to perceive themselves as cultural learners and cultural knowers.
As a multidisciplinary cabaret performer myself and as a theorist of cabaret and other shared-stage forms, I hope to communicate some thoughts about cabaret as an expressive site of potentiality. And I hope that, later, we can discuss together how world-making events like this festival, for example, stage the possibilities for multilingualism, for shared precarity and for an aleatory aesthetics that is at once ludic and serious. When I speak of cabaret Montrealaise, I am speaking from my experience and study of cabaret predominantly in the feminist, queer, spoken word and performance art scenes in Montreal. Certainly, cabaret Montrealaise extends well beyond this scope, and I invite you to add your own cabaret stories to what I am discussing here today.

The cabaret landscape
Miriam Ginestier's Le Boudoir (1994-2008) was an annual lesbian cabaret, the centerpiece of which, for several years, was an operetta by the artist Nathalie Claude, Le Boudoir created the aura of an early 20th Century cabaret, with handbills designed like naughty postcards but merged this sensibility with a very contemporary sense of the variety of queer cultural production in Montreal. Ginestier also produced the long-running, almost monthly Meow Mix (1997-2012), a short cabaret and dance party "for bent girls and their buddies" – a more amateur-friendly night with five or six acts. The show would run for less than an hour before the chairs and tables would be cleared away at the Sala Rossa on Boulevard St. Laurent to make room for a dance floor. Le Boudoir and Meow Mix were occasions for neo-burlesque and drag king culture to emerge and thrive in Montreal, alongside the development of other aesthetic forms, including poetry, video and film, comedy, spoken word performance, storytelling, and many genres of music and dance. Although Meow Mix has ended, Ginestier, along with many collaborators (including Jordan Arsenault) recently launched Cabaret Tollé, a cabaret that invites performers to make explicitly political performance – in the context of the Charter of Values, and various Conservative initiatives like Bill C-51 at the federal level.
Danette MacKay's Kiss My Cabaret ran from 2001-2008, every six weeks from September-June. It was less explicitly queer than Ginestier's cabaret, but many of the women and queers in the Montreal performance scene – including MacKay and her performance partner Danielle Desormeaux (who together perform the duos, "Madame et Ma Tante" and "The Trashy Nieces"), Alexis O'Hara, Dayna McLeod and 2boys.tv (Aaron Pollard and Stephen Lawson) – were central figures at KMC, developing work that would become career-defining. KMC has just started again, with the most recent installment happening on June 26 at La Sala Rossa.
The Montreal festival scene also provided rich cabaret opportunities, notably, D. Kimm's Festivale Voix d'Ameriques, which began in 2001 as a predominantly spoken word festival. Since spoken word itself is such an interdiscipline, the festival always had a cabaret feel but, in recent years, D. Kimm has renamed the festival Phénomena, a multidisciplinary performance festival, with variety and experimentation at its core. The Dada Cabaret – an evening in which "all living species invite you to partake in the biodiversity of their art and urge you to go where you usually don't go" – has been carried over to Phénomena and remains an anchor of each year's programme. Miriam Ginestier has also cultivated cabaret-style performance (that is to say, short, experimental and/or political, satirical works) through the Edgy Women festival, which began in 1993 and is ongoing. After scene-making in Vancouver in the mid-2000s with cabaret parties including Queeruption, Bent, and The Bicyclettes, Laura Boo MacDonald shot into the Montreal scene as an important cabaret artist, curator and collaborator with shows like Cabaret Faux Pas (with Johnny Forever), which features an anarcho-queer art-school punk aesthetic. And of course, most of you will be familiar with the Words & Music series, produced for many years by Ian Ferrier & Fortner Anderson, which features a range of literary performances in improvised collaboration with a band.
I want to suggest that cabaret is not just a structure or mode of performance. I see cabaret as an intra-disciplinary, multilingual expression of differential consciousness; as a mode and method of living, being and knowing in confusion and contradiction, resisting coherence. The tendency is to think about cultural production as a product of something – as made by a culture. And it is tempting to think of cabaret in a reflexive mode – as a reflection of the scenes from which it emerges. However, reflexivity takes for granted the idea that representations reflect (social or natural) reality. That is, reflexivity is based on the belief that practices of representing have no effect on the objects of investigation. Reflexivity, like description, still holds the world at a distance.
Rather than thinking of cabaret Montrealaise as a product of Montreal society, I want to suggest that cabaret is materially entangled with Montreal society – that it is simultaneously a product of, and produces, a multilingual, many-cultured place. And cabaret performs the skills we need to be together as a multitude: the skills of living in confusion, of frustration, of not-knowing, of trying to understand. Thus, for example, if you are Anglophone and many performances happen in French in the cabaret, you may be frustrated; when you can only understand half of what the conférencier is saying, you may be confused, may feel like you are missing out. But the challenge of cabaret is to live in, and with, this confusion and to accept that you don't know or understand everything. Similarly, across generic languages, on peut dire, les langues du genre: What happens when you go to a cabaret to see your friend perform poetry in a language that you understand and you find yourself sitting through a series of drag performance, improvisational dance and stand-up comedy? Can we understand cabaret to be an enactment of a mode of openness rather than closed-mindedness? And if we don't understand, if we don't like something, or if are bored, can we live with it?
In performance studies, there are many theories of audience. One of the theories of audience identifies two different kinds of audience: the integral audience – that is, an audience of insiders, of people in the know, of your friends, of people who already understand, appreciate and value what you are doing. And there is the accidental or incidental audience: an audience that happens upon a performance without insider knowledge. Certainly, multilingual cabaret has its own integral audience – people who know and support each other across linguistic and disciplinary languages – but, oftentimes, each performer brings her own audience; in a good cabaret, these audiences to some extent experience the work of artists they don't know by accident. The encounter of the unknown in cabaret requires a kind of patience and living-in-frustration. Maybe we don't understand one or more of the languages being spoken. Maybe we are not oriented towards poetry, but came for the dance or the music. Cabaret asks that we orient ourselves toward the unexpected and allows us to be surprised by what we see and hear. We are asked to experience across language, but also across genders and genres; across heritage; across immigration; across class and nation.
Cabaret asks us to move beyond a duality that bilingualism implies: language is not the only or even the most important difference staged in a cabaret. As a multidisciplinary and diverse format, we experience difference across artistic expression and experience and language. As a mode, cabaret performance might be understood as a site of hope; a space in which we enact, or act on, our optimism for a world in which we listen to each other. Cabaret is a vote of confidence for a society in which we live together in difference and improvise and experiment across difference (genre, social, language, etc.), rather than attempt to produce, reproduce and enforce a homogenous and predetermined set of values across disciplines and languages. As a form with numerous authors, creators and actors, cabaret might be understood as an ongoing manifestation of a long, translocal moment in which sexual and racial minorities push back against the individualist, exemplary modern subject, cultivating instead tactical cultures of collaboration, shared resources and coalition politics. Rather than focusing only, for example, on the dialectic between French and English, les Francophones et les Anglophones, cabaret is a constellated site that proliferates contradictions.
I offer these notes toward our broader discussion today and will conclude by suggesting that cabaret and other shared-stage performance spaces can be understood as a world-making project in which we rehearse the society in which we want to live.
T.L. Cowan is the 2015-16 Bicentennial Lecturer of Canadian Studies in the MacMillan Center for International and Area Studies and Digital Humanities Fellow at Yale University. T.L.'s work focuses on the cultural and intellectual economies and social lives of trans-feminist and queer grassroots performance, especially cabaret, and on the shifting practices of self-expression across digital and analog media. T.L. is also a practicing performance and video artist. Recent publications include articles in ephemera: theory and politics in organization; Transgender Studies Quarterly; Women's Studies Quarterly and chapters in Queer Dramaturges: International Perspectives on Where Performance Leads Queer (Palgrave 2015). T.L. is currently completing two books: a monograph entitled Sliding Scale: Transfeminist and Queer Cabaret Methods - Mexico City, Montreal, New York City, and a co-authored book, with Jasmine Rault, entitled,Checking In: Transfeminist and Queer Labour in Networked Economies.