Isis Giraldo Poetry Project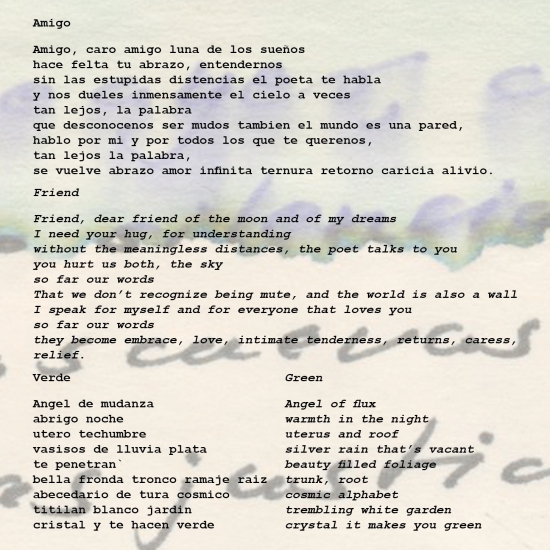 Isis Giraldo Poetry Project is a collaboration I've been following for a couple of years now. Its core composer, Isis Giraldo, is an accomplished and highly original singer, composer and pianist. Her father was Ruben Dario Giraldo, a Colombian born in El Carmen de Viboral, Antioquia, and named after a poet. After his untimely death in 2000, Isis found a whole series of poems he had written, and in an amazing tribute, has created an entire album around his words.
The poems are in Spanish and the people gathered on this record are part of the rich music scene that's grown up around Café Resonance, in the Mile End district where you can find so many of Montreal's top musicians. Café Resonance is owned by musicians and has been especially rich as it features live jazz and new music every night of the week. It has become a home to a lot of the musical talent that arrived here to participate in the McGill University jazz program and ended up staying. This is how Isis arrived here, and how many of the other players on this record got here as well. For the sake of the Montreal music scene we hope they all decide to stay! All the players feature in multiple musical collaborations that are right up there with this one, and after this record if you're still interested you can check out music by Nomad and Chronicle Infinitas, among others.
Right off the top the choice in this record is to put the poetry front and centre. The first cut features a full spoken recitation of the poem followed by a soaring beautiful musical answer to it, based on Giraldo's quiet but driving piano melody and a really ecstatic response by the horn section: Mike Bjella on saxophone and Simon Millard on trumpet.
The second piece is darker and more introverted but just as interesting, commencing with music this time, but again presenting the poem as spoken word. This time it is not as much call-and-response as it is different dimensions of a focused exploration, some presented by poetry, others by music. Towards the end of the piece we hear Isis Giraldo's singing voice for the first time, and it is remarkable. Unfortunately for we poets, there is a huge difference between people whose natural focus is singing and poets who can sing. Here we get a real singer, and in this piece we almost want to hear more of it taken by her vocal., which contains no words. Fortunately we will get more in the later tracks on the album.
The third piece starts as a duet between bowed bass or cello—I can't tell which—and the words of the poem. The time signature is doubled and in the midst of the poem's recitation a horn steps in to drive the urgency of the first section just a little harder. The denouement is a beautiful turn of phrase by Giraldo—the first time on the album where words are sung instead of spoken: a really beautiful moment. It answers the urgency with calm and the inquiry with melody.
As the album progresses we hear the words of his poems sung more and more. There are broad, cinematic musical landscapes presented here, and an unusual, soaring melodic sensibility. This music has both originality, depth and heart, and I suggest it to anyone who wants to see how poetry and music can complement each other so well.
The best place to find Isis Giraldo Poetry Project is on bandcamp. They don't take a cut of the online price, and the link is:
https://isisgiraldo.bandcamp.com/
You can also find her work on Itunes by searching her name. The album is also available on Spotify and streamable from her web-site: www.isisgiraldomusic.com.
As a poet I would have liked to have seen the poems themselves included as part of this compilation, and a few samples are presented with this review. As a musician I'll take this album any way you can serve it up.
IF